Art critic Tabish Khan brings you 'The Top 7 Art Exhibitions to see in London' this week. Each one comes with a concise review to help you decide whether it's for you. Catch them quick as they all end soon: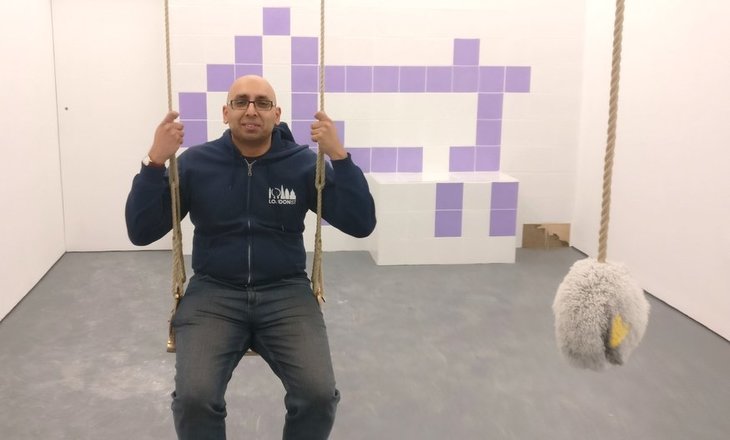 Amanda Mostrom: Doing it in the park, doing it after dark @ Castor Projects
Two types of swings, and a pixellated dog in the tiling on the back wall. Amanda Mostrom is asking us to be curious and playful when engaging with art — don't disappoint her and take her up on that offer. Until 17 March. 
Ryuichi Ishizawa: zkop @ Yamamoto Keiko Rochaix
Photographer Ryuichi Ishikawa has documented various aspects of Okinawa, from the LGBT community to a rather aggressive fighting cock which is made all the more threatening by the cowering dog in the background. Even though he's capturing run-down areas and the island's poverty, there is a tenderness in his images that removes any sense of judgement. Until 15 March.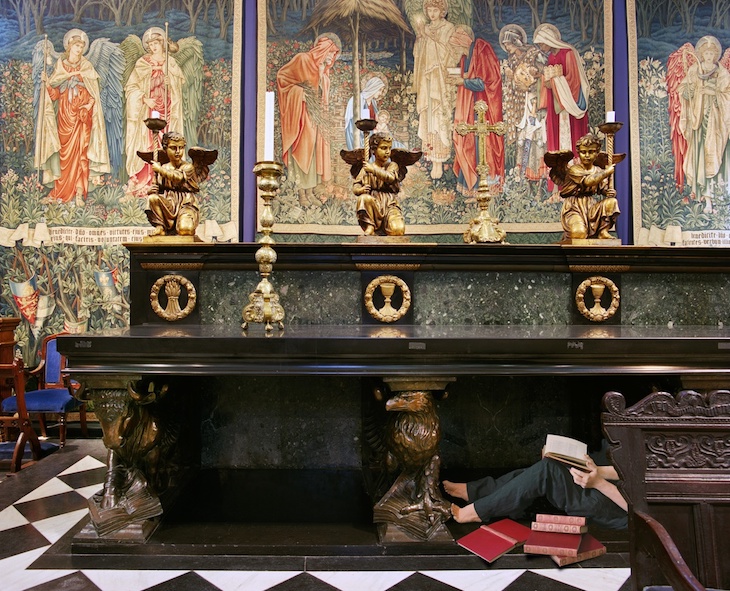 Liane Lang: Old School @ James Freeman
As artist in residence at Eton College Liane Lang has photographed the historic chapel populated with eerie mannequins and created bronze casts of the carvings on the wall. It's a great idea to highlight the personal touches to present the centuries of history in this quirky accessible manner. Until 3 March.
Jason Brooks: The subject is not the subject @ Marlborough Fine Art
Romantic paintings are taken in a new direction with beautiful impasto works drawing inspiration from other artists, both famous and hobbyists. Alongside a series of portraits of well known figures upstairs these are the works of a highly skilled artist. Until 10 March.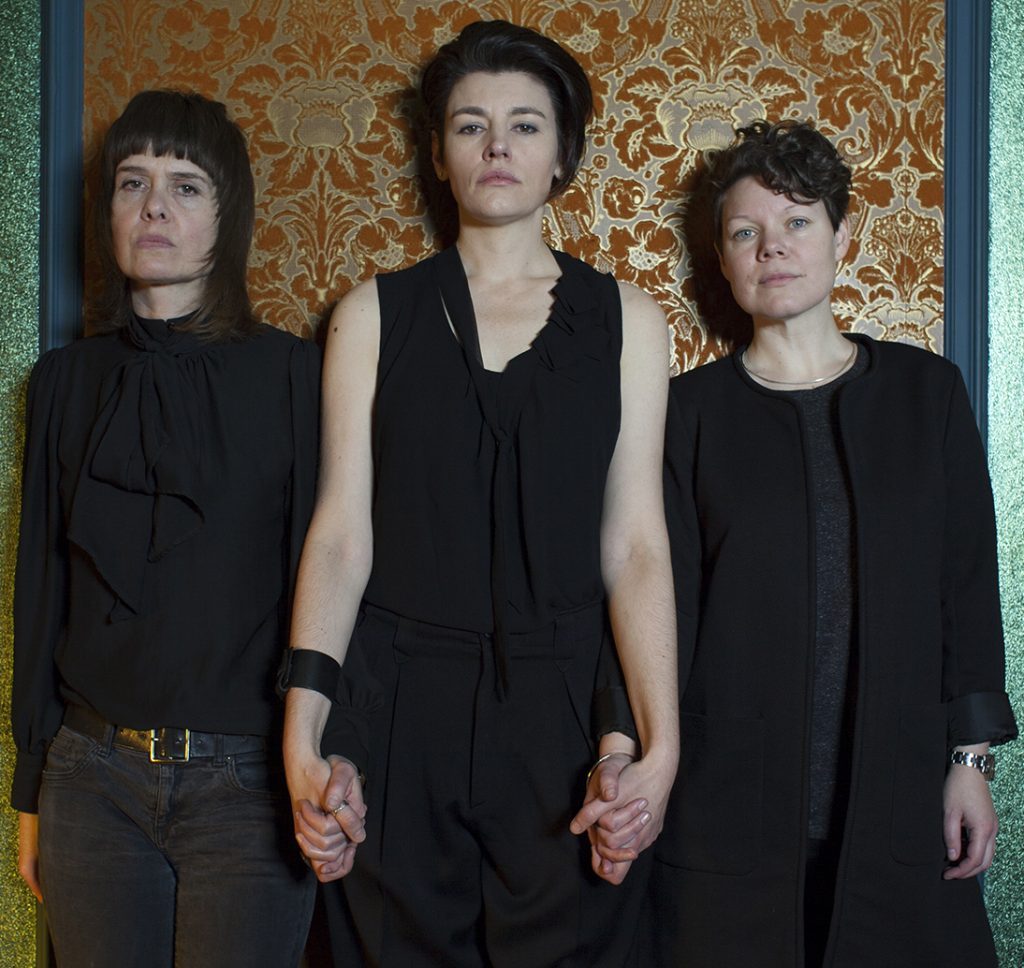 Threesome & 3×3 @ New Art Projects
It's all women in this show of three painters and nine photographers all exploring the female gaze. Particularly impressive is the three painters painting each other in their own styles, what better way to reflect on your own identity than to paint other artists and see how they paint you. Until 4 March.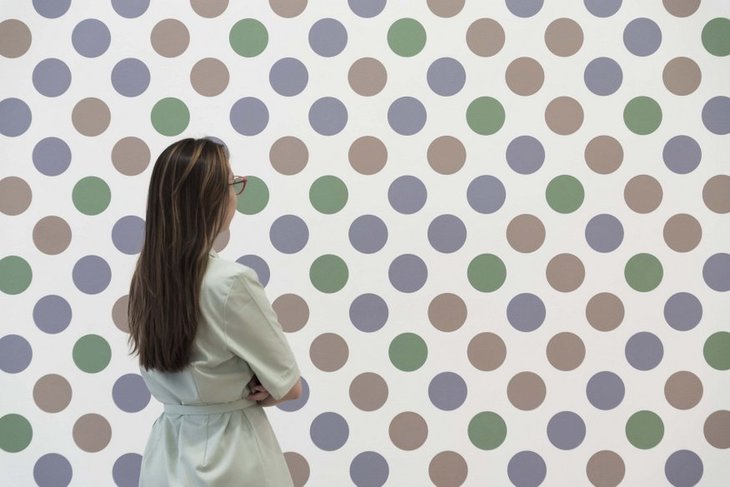 Bridget Riley: Recent paintings @ David Zwirner
The artist known for her stripe-y works has traded in her stripes for spots and triangles. Look at them in the flesh and your eyes start doing strange things creating 'ghost circles' and blurring lines that follow you even once your gaze switches to the bare walls. Until 10 March.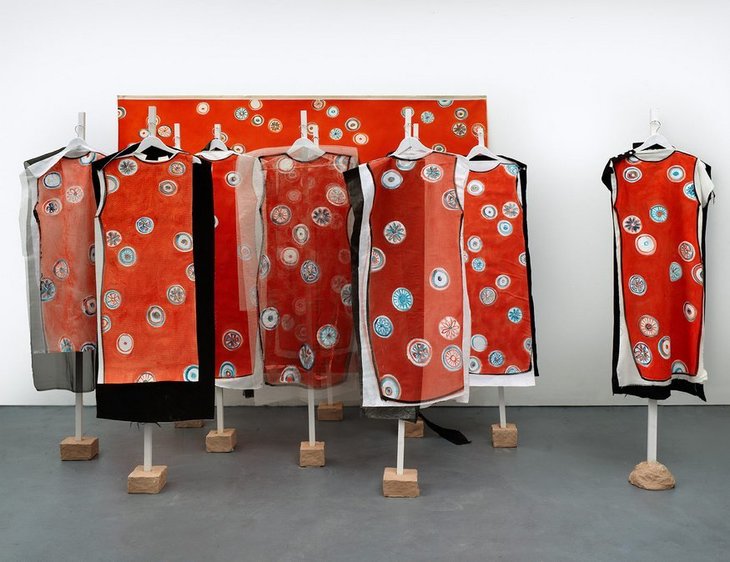 Here and there: Paintings by Lisa Milroy @ Parasol Unit
Grab four different dresses off a rack and arrange them into a composition of your choosing — anyone can be responsible for curating part of this fun exhibition. In other works, pieces of clothing become part of the art as they inhabit a space in between the flat world of painting and the 3D world of fashion. Until 18 March. 
Categories
Tags