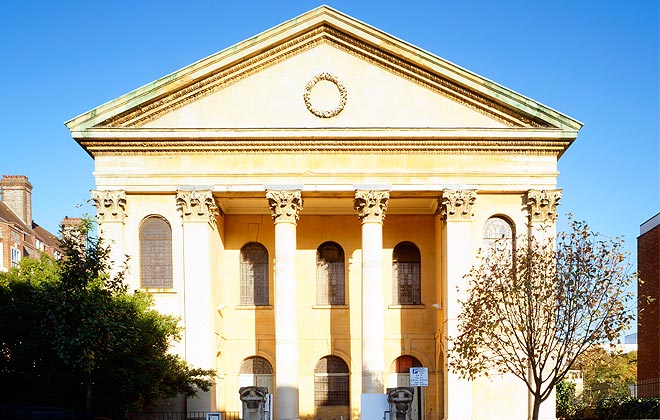 Founded in 2007 by artists Isaac Brest and Alex Perweiler as an online viewing platform, over the years The Still House Group has developed into a self-supporting artist-led organization, operating in the heart and soul of Brooklyn's Redhook. Fostering "creative sustainability" for future generations of artists seeking non-traditional career progressions, these opportunistic frontiersman have pushed out numerous exhibitions in New York, Los Angeles and Miami and continue to host residencies and exhibitions alongside the facilitation and promotion of work by its key members.
In a former 1960's Methodist church the Zabludowicz Collection London project space was inaugurated in 2007 to present exhibitions of collection works and new commissions by artists linked to the collection. Its varied program includes group and solo exhibitions, commissions, residencies, and Testing Ground, an annual initiative for higher education in the arts and curating.
Installation view, The Still House Group at Zabludowicz Collection. Photo: Tim Bowditch
For this year's annual Testing Ground for Art and Education season, the two have joined concentric forces. And for their first appearance in London, with aims to keep it as real as their founding initiatives, The Still House Group has presented the scope of the group's most up to date activities which sensibly test out the provincial waters across the pond.

Nick Darmstaedter, Pop Shove It, 2013. Image courtesy the artist / The Still House Group
Visit this two storied megalithic of a space and prepare to be greeted by works which have been poetically dispersed by Still House artists and their extended network and new, site-responsive works by Joe Graham-Felsen, Zachary Susskind and Augustus Thompson. While sincere accounts of the quotidian are cooperatively speculated, each breadth of the individual artist remains astutely attune.
Louis Eisner, Bootleg II, 2013. Photo: Tim Bowditch
The exhibition will also be accompanied by a new publication featuring specially commissioned artists pages by each of the exhibiting artists and an extensive interview with Still House co-founder Isaac Brest.

Alex Perweiler, Sideburns, 2014. Image courtesy the artist / The Still House Group
Exhibiting artists: Isaac Brest, Nick Darmstaedter, Louis Eisner, Andrew Gbur, Joe Graham-Felsen, Jack Greer, Alex Ito, Brendan Lynch, Dylan Lynch, Haley Mellin, Alex Perweiler, Dominic Samsworth, Zachary Susskind, Peter Sutherland, Augustus Thompson and Brad Troemel.
FREE ENTRY!
The Zabludowicz Collection is located: 176, Prince of Wales Road, London
To know more about The Zabludowicz Collection go: HERE
The Still House Group is located: 81 Van Brunt Street Brooklyn, NY 11231
To know more about The Still House Group go: HERE
Read more at TRICKmagazine. com
About VC Maurer