'Sunday in the park with Ed'. Is the current exhibition showing at Display Gallery, Holborn Viaduct until March the 28thth.
In a funky exhibition curated by Cedric Cristie and Pascal Rousson, artists have been invited to look at what is transgressive in their work. Rousson highlights
"Our idea was to have a 'salon des indépendants', as it used to be called, just between artists, to open a discussion through the works and artist talks to ask if something remotely close to the avant garde still existed. It was obvious for us to choose Le Déjeuner as a starting point. it's hard to understand how revolutionary and heretically scandalous it was when it now seems quite harmless. We're attempting to ask each artist if they think it's possible to still achieve something equivalent."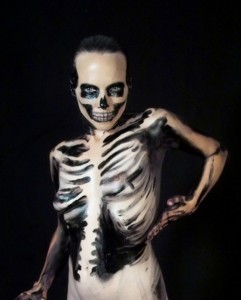 The artist Saskia Edens achieves this brief with her mesmerising performance captured on video. It features the artist painting her body in front of the camera. Already adorned in white she skilfully takes black paint and finds the lines of the bones on her body, filling them in with the black paint, transforming herself into a skeleton. She describes this piece as a death dance under the impressive soundscape of the rattle of old bones.
Picnics inspired by Manet's Le Déjeuner painting , I'm guessing the guests are fully clothed unlike Manet's painting, are organized in the gallery infront of this impressive 'No Trespassing" piece by Gavin Turk.  The gallery provides chairs and tables, the host provides the food and the conversation. These picnics will be held in the evenings and guests are invite by the host/artist. The gallery still takes picnic submission at info@displaygallery.co.uk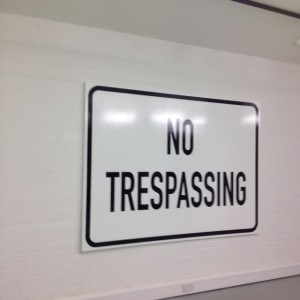 Downstairs in the gallery the walls are adorned with many paintings giving a nod to Manet 'l and the controversy his paintings created.  I was immediately drawn to a large sculpture called 'Pelt' (after living skin) 2014/15 by artist duo Ackroyd and Harvey, together they have been exhibiting work for over 25 years. This vast green sculpture is made out of Stencilled seedling grass, hessian and rope, hangs like an animal skin on a washing line.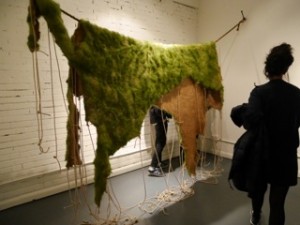 Rounding off the preview evening was a performance piece by Jennifer Taylor, she described this piece as a farcical homage to Manet's Boy blowing Bubbles. Jennifer has created a giant white ball, which is slowly inflating while the audience stood for what seemed like hours is suspended disbelieve unable to avert our gaze in case we missed the inevitable moment, will the balloon would burst. It burst… my night felt complete.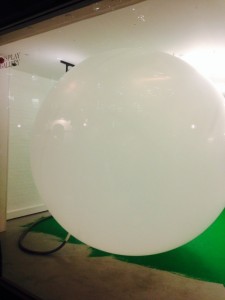 There are some innovative processes used in this show. The work covers traditional figurative sculpture, sculpture with found/ reclaimed objects, painting and conceptual performance, definitly something for the weekend.
Exhibition closes March 28th at Display Gallery 6 Holborn Viaduct EC1A 2AQ, London www.displaygallery.co.uk
Categories
Tags