Graham Fink -Drawing with my Eyes;
Last week Graham Fink was drawing live all week 'with his eyes' in the darkened top floor of Riflemaker Gallery on Beak Street, I tried to catch him out and surreptitiously ask him questions while he was intently drawing, turns out he managed to do both at the same time.
Toni ; Oh my gosh, this is amazing when did you have the idea of this technology?
Graham ; I had the idea about a year ago, I had been looking at ways in which advertising from the 50's and 60's were analyzed. Some sort of basic eye tracking technology to look at Ads, with this it was possible to track the viewers eye to determine whether they look at the headline first or if they look at the picture first and then down to the logo, or whatever. You can find these pictures and they are a bunch of straight lines from the headline to picture or the logo, and I thought well if that's possible then it must be possible to be able to track an eye moving all over the place, but actually it worked out that its wasn't possible.
So I worked with this Swedish company Tobii, they make eye trackers for people like Steven Hawkins. Tobii sent me a coder and I spent 3 months with him designing this technology, working out exactly what I wanted. I wanted it set to the sensitivity of my eye because I wanted to draw a completely free line, and this is one continuous line. After a lot of experiments I think he cracked it.
Toni: So these drawings are made up of one continuous line, so you can't stop and start again?
Graham: you can stop and start again, but you cant rub out your mistakes but I quite like that.
Toni you've mentioned that you don't touch the work why is that?
Graham: I love the purity that this is completely from my eye onto the canvas. There is no arm involved with a pen or a pencil because what ever is going on in your mind will change the image through that fibernetic process. I didn't want anything to get in the way so it's literally from my eyes, onto the screen, it draws the picture but then it's printed out. I have an assistant that stops and starts the machine and then prints it out. I have a stamp that the assistant then authenticates the drawing with my signature so that it is all untouched by me.
Toni; I can see you are doing a limited edition on paper and you also have some pieces of work printed on marble, they look really beautiful by the way, the marble gives the pieces an extra dept and a slight sparkle, why are you printing on marble.?
Graham; Its important to ground it in a sense because this s very much head and heart I suppose and the marble being deep from the earth grounds it. Also I like working with marble its something I've worked with in the past it's a medium that im familiar with. It definitely grounds the work.
Toni; I feel like I recognise some of these faces, who do you chose to draw? are you inspired by people you know?
Graham; I've looked at more faces than any other object, if you think about it all day long you are looking at faces. In my early work I was photographing faces I could see in clouds and cracks in walls.
Toni; That was your first show here wasn't it, Nomads.
Grahame I see faces everywhere, with this work I don't start drawing faces I start by drawing lines and after a while I start to see a face and then I begin to work with that form and create a face.
Toni; This is a question I like asking at the moment, what is the best piece of advise you have ever been given?
Graham; Be yourself be your real self.
Toni; Finally I have to ask, which character would you like to be in Star Wars?
Grahame; I would be yoda.
Graham looks away from the computer screen and covers his eyes from the sensor as his assistant jumps in and turns everything off. That is how it is done.
I hope it wasn't my final question about Starwars that distracted him. On that note I'm going to leave Graham to finish off the preparations for the show that will open with a Private view on Monday the 16th. I had to see this to believe it, I left feeling amazed and it's just the beginning of a very exciting new language of drawing.
Graham Fink: Drawing With My Eyes at Riflemaker 79 Beak Street, London W1F 9SU www.riflemaker.org
Monday 16th March – Saturday 21st March Private View Monday 9th March.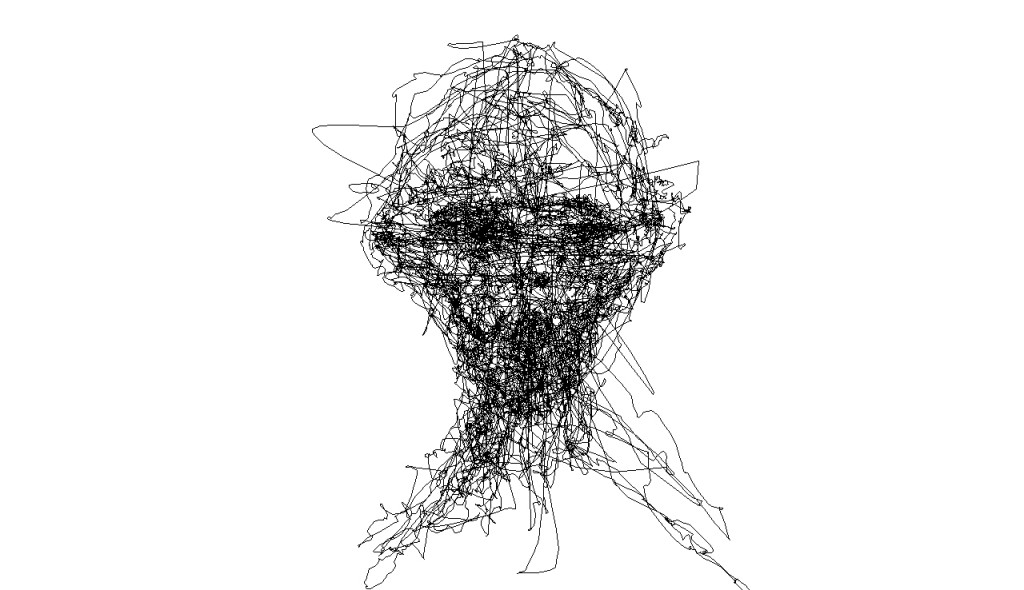 Categories
Tags