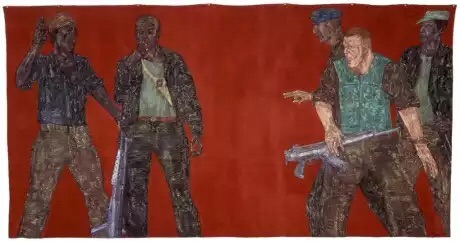 ---
This article titled "Leon Golub: Bite your Tongue review – so terrific, the paintings roar off the walls" was written by Adrian Searle, for The Guardian on Tuesday 3rd March 2015 17.52 UTC
Lions prowl, ravening dogs bark, someone fixes you with a grin. You could get stuffed in a car's trunk and beaten senseless. Or you might end up coerced yourself. A job is a job. You could end up doing anything, given the circumstances. One day you'll be dead anyway.
Leon Golub found a way to paint the world and human beings that was raw and brutal. His paintings often reek of sweat, testosterone, fear, malice and degradation. Everyone in his art, victims and oppressors alike, has been brutalised by their condition. Golub showed the mentality of violence, its menace and contempt, as well as the act. He paid witness, and even put his own capacity for violence into his paintings.
Densely hung and at times claustrophobic, the Serpentine's new exhibition of Golub's art brings you up close and personal with battles of naked gods and men. We find ourselves in squad rooms and torture sessions, on the back streets of El Salvador and in conflict zones everywhere. Golub's paintings invite an uncomfortable proximity to the terrible; the same intimacy the artist himself had as he painted them. He rubs your nose against an image, just as he rubbed and scraped the images themselves into the canvas. The way he painted was as horribly intimate as the things he described.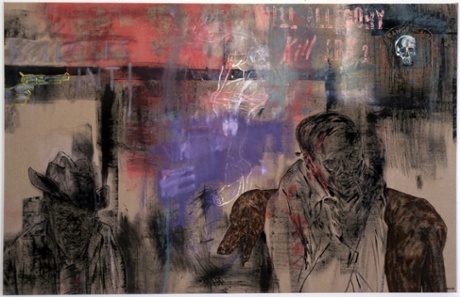 The exhibition's density feels right, even though it is nothing like as large as his 2000 retrospective in Dublin. The Chicago-born artist, who died in 2004 aged 82, has never had the retrospective he deserves in the US. Perhaps the museums are afraid. Golub painted the war in Vietnam, "white squads" in Latin America, disappearances, beatings on the street, good old boys, monsters, all the creatures of his imagination. His art has never been more timely. You recognise what came after him; ongoing violence.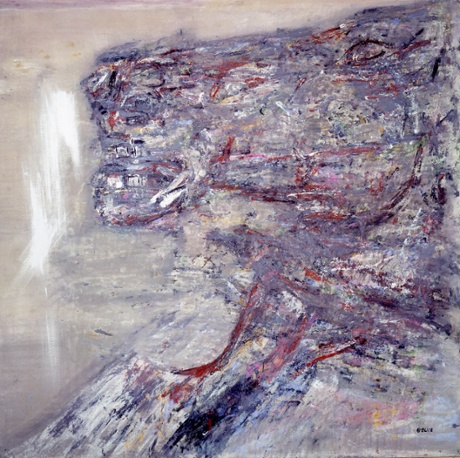 Looking at his work, it doesn't take any imagination to be reminded of the doings of American contractors in Afghanistan and Iraq, the CIA agents who sat in the shadows while locals did the dirty work; Guantánamo, Abu Ghraib and countless other locations and non-locations both abroad and closer to home – on the streets of Ferguson, St Louis and on LA's skid row, in a black-hole police facility in Chicago, or anywhere else that power is exercised without restraint. It is always more of the same.
For all that, the Serpentine's show, which takes us from the early 1950s to the artist's death, is still a powerful and sometimes shocking experience. Golub's personality shines through, and in a room of his late work, in which slogans and jokes litter the paintings, we see his humour. One late drawing, of a randy satyr grabbing his crotch, declares Satyr Lib! A skeleton, drawn just before the artist's death, is appended with the words 'Man! I've got to get myself together!' 'Fuck death!' answers a skull. 'Are you ready for Jesus?' asks another painting. 'It doesn't matter,' comes the reply. Raging in old age, Golub also had fun, painting mad cyborgs among sphinxes, new mythologies with old.
His early paintings are curdled, overworked and overwrought, and he managed to develop this into a dreadful meatiness. He had a great sense of pictorial drama, his figures erupting against a theatrical emptiness filled with dread. Sometimes he cut whole irregular sections out of large works, leaving us wondering what pictorial nightmares he had redacted.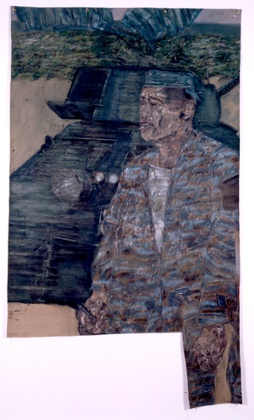 Never an expressionist, Golub's art was founded in abstract expressionism, art brut and wisecracking Chicago Monster Roster figuration. Add to this an enduring love of Cycladic, Greek and Roman sculpture, the frescos of Pompeii and much besides. Politically active (not to say loud), Golub and his wife, the late Nancy Spero, were at the centre of a committed New York art world that has all but vanished.
This is a terrific exhibition. The paintings roar off the walls. It is full of variety, and even though there are raging canvases of flayed, naked battling figures (often derived from photos of footballers and baseball pitchers, as well as Greek fragments, including the Pergamon frieze on the Great Altar of Zeus), your eyes snag on the details in the paintings he became best known for in the 1980s and 1990s – the interrogation scenes and mercenaries. Golub took as much care over a wristwatch, belt-buckle or a twist of rope as he did of the larger picture. A shirt carelessly unbuttoned to reveal a sliver of skin, a gun in its holster, a burning cigarette: this is the stuff a victim might fixate on to avoid looking authority in the eye.
It isn't just the naked woman on a lump of foam on the floor, her eyes and mouth covered in duct tape, loomed over by her two male tormentors – one of whom is Golub himself – that is upsetting. The scrap of her clothing, perhaps a bra, left on the wooden bench beside her is a telling and horrid detail. Five figures in blue wait in the squad room in The Go-Ahead. Their uniform pants are a lurid blue. A guy with one bloodshot eye looks out at us. The woman behind him clasps her hands over her knee. Her fingernails are pink, her manicure cruel. They're ready to get going. You don't want to be there when they do.
Jabbing fingers (like Botticelli, Golub takes great account of hand gestures), sinewy wrists, a toothy leer, a face turned towards the audience: all these things have dramatic weight in Golub's paintings. They stay with you. And when one of his characters turns, as if noticing us for the first time, the effect is vertiginous. Time stops. It is a face composed for a rolling camera, someone else's death, for our complicity.
guardian.co.uk © Guardian News & Media Limited 2010
Published via the Guardian News Feed plugin for WordPress.
Categories
Tags