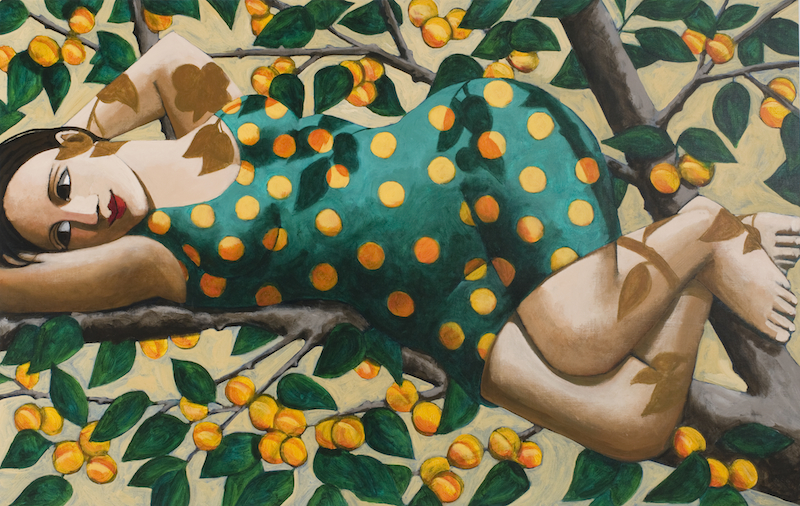 Anita Klein: 'Dea del Albicoca'
Bermondsey High Street has both a high end gallery (White Cube) and an alternative space which I frequently commend (Vitrine). Just now, though, there are two extra art reasons to visit, making it a destination of some breadth. Eames Fine Art is showing paintings by Anita Klein. She has a clean and vibrant way with the human figure with a knowing hint of the naïve: I liked her series of 'goddesses': archetypal versions of herself as everywoman, perched in the fruit trees which she regularly passes on a daily walk when working in her Italian studio. Her goddesses' clothing often takes inspiration from the relevant fruit, reinforcing an air of fecundity which will evidently carry into her next project, about becoming a grandmother. Cecelia Brunson Projects is actually about 50 feet from White Cube if you could pass through the behomoth's south-western corner wall. 'The Many Colours of the Sky Radiate Forgetfulness' shows film, slide show and photographs by the Egyptian artist Basim Magdy, whose subject is colour as much as what's depicted by it. Trained as a painter, he experiments by placing analogue film in household chemicals, re-colouring, degrading and splattering landscapes as if to suggest man's effects on it. His short film uses an arduous process of converting digital film into analogue frames in order to process them in that way, then converting the result back to a beguilingly 'pre-aged' end product.
Basim Magdy: Still from 'The Many Colours of the Sky Radiate Forgetfulness'
Most days art critic Paul Carey-Kent spends hours on the train, traveling between his home in Southampton and his day job in London. Could he, we asked, jot down whatever came into his head?
Categories
Tags