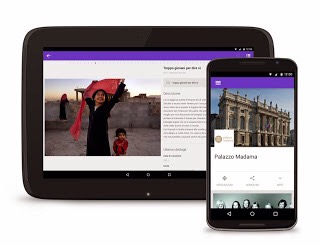 Google announced today it's making a platform available to museums that enables them to build mobile applications that take advantage of Google technology, including Street View and YouTube, to bring their exhibits to anyone with a smartphone.
Museums and institutions in Italy, France, the Netherlands and Nigeria, such as the Museum of Arts et Métiers, MAO, GAM, Palazzo Madama, Musee Curie, Museum of Le Havre, Monnaie de Paris, MAGA, Rijksmuseum van Oudheden, and the Pan-Atlantic University have used the platform to create their apps and they are now available to download from Google Play.
The efforts are being headed up by the Google Cultural Institute, the division of Google tasked with bringing cultural treasures from around the world online and making them accessible to all.
Offine access is also available, as those who are touring the museums may be traveling abroad and don't have an internet connection.
The museums are able to launch these apps without any in-house technical expertise because of their partnership with Google.
Museums, institutions, and private collections interested in partnering with Google on their own applications can request info here: cisignup.withgoogle.com
Categories
Tags