Martha Beaumont is currently taking part in the artist residency program at DegreeArt's gallery space alongside other City & Guilds alumni; Estella Castle, Mark Morgan Dunstan and James Mansfield. Ambitiously building a life size log cabin in the space, Martha's personal practice revolved around creating sets or 'artificial worlds' as she refers to them as. The incredible project the collective has set themselves has turned the gallery space into a work shop where they have created a scene of rural tranquillity through installation and painting. We speak to Martha to find out more about the Lake Island project, and how she has applied her own practice to the task at hand.
You're currently taking part in a residency at DegreeArt in East London, how has this been for you yourself to develop your work?
It has given me confidence to take on ambitious projects, and given me knowledge about building large structures with limited man power and funding. It has helped me articulate concepts and equally not to over-explain narratives, leaving some ambiguities for the viewer.
You're collaborating with three other artists, have you learned anything more from each other that hadn't previously arisen on other projects together?
Obviously skills like chiselling wood, measuring up on the logs, and how to maximise your strength when lifting heavy objects! I think also general team work skills, being open to ideas, and staying calm instead of getting stressed when things aren't going right.
The set design aesthetic you apply to your work is very interesting, what made you first want to create works such as these?
I was drawn to the aesthetic of Wes Andersen films as well as pre-1970's films when the sets were largely handmade rather than computer-generated. I specifically like scenes with artificial landscapes in the background that seem to hover between the theatrical and the suspension of disbelief.
What would you say you have applied from your own practice to the Lake Island residency?
I have overseen the wall painting landscape diorama, even though we have all had a part in it. In one sense the whole gallery has become an elaborate set. We all share interests in reality, artifice and fiction and we've have had an ongoing dialogue about how the whole thing will evolve and come together at the end of the residency.
How do you set about composing your pieces, and where do you draw inspiration from?
Cinema, things in everyday life as well as art historical sources. It depends on the constraints of the space that I'm using for that set, but I usually come up with a subject and work the composition around that. I'm currently working on a composition based on a Ucello painting, in a similar way to Jeff Wall.
Obviously there is a theatrical element to your work in the sense that you create spaces, has theatre set design played any specific role in your practice?
I'm not really into theatre so much as theatrical-looking film sets or photography sets. I like the handmade aesthetic in the wall paintings and pushing the artifice of the whole set.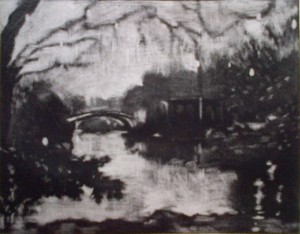 With your other works such as Berlin Zoo Gardens, how do you go about creating these?
That is a mezzotint made by gradually polishing a 'rocked' copper plate, then inking it up and rolling it through a printing press. It's quite laborious, but I tend to like processes that are. And you can get incredible tonal variety doing mezzotints.
You use a number of different mediums when creating your pieces, what denotes the medium that you use?
With choice of materials, cost comes into the equation quite a lot. Oil paint is by far the most versatile but expensive, so I often use acrylic or wall paint in my sets. I use found objects that relate to the narrative, or objects are sometimes chosen that could denote tropes used in a particular film I want to reference.
As an artist, do you ever reference any other past or contemporary artists, and who are you inspired by?
I look at a variety of artists from old masters to current. Any artists involved in staging and artificial worlds such as Gregory Crewdson, Ann Hardy or Saskia Olde Wolbers, Elmgreen and Dragset and Ilya and Emilia Kabakov.
Categories
Tags