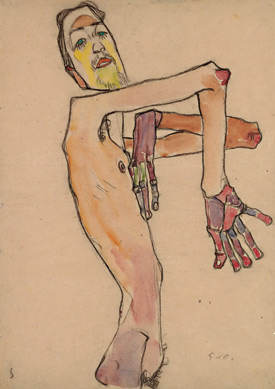 Egon Schiele (1890-1918) Erwin Dominik Osen, Nude with Crossed Arms, 1910
Black chalk, watercolour and gouache 44.7 x 31.5 cm The Leopold Museum, Vienna
Egon Schiele: The Radical Nude through to 18th January 2015 The Courtauld Gallery, Somerset House, Strand, London, WC2R 0RN www.courtauld.ac.uk
The Courtauld Gallery is showing the first major museum exhibition in over 20 years of one of the 20th Century's most exceptional artists, Egon Schiele (1890-1918). A central figure of Viennese art in the turbulent years around the First World War, Schiele rose to prominence alongside his avant-garde contemporaries, such as Gustav Klimt and Oskar Kokoschka. He produced some of the most radical depictions of the human figure created in modern times, reinventing the subject for the 20th Century. The exhibition will chart Schiele's short but transformative career through one of his most important subjects – his extraordinary drawings and watercolours of male and female nudes.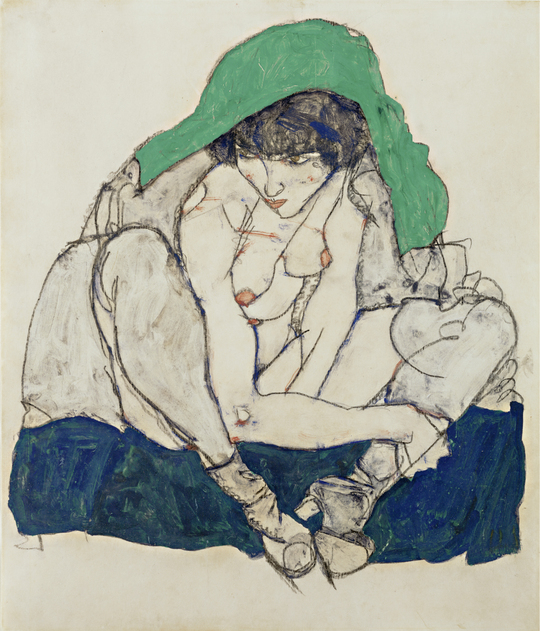 Crouching Woman with Green Kerchief, 1914 Pencil and gouache 47 x 31 cm The Leopold Museum, Vienna
Egon Schiele: The Radical Nude concentrates on the artist's drawings and watercolours. It brings together an outstanding selection of works that highlight Schiele's technical virtuosity, highly original vision and uncompromising depiction of the naked figure. This sharply focused exhibition is a unique opportunity to see thirty-eight of these radical works drawn from both international museums and private collections, with many works shown in the United Kingdom for the first time.
The exhibition also looks at works from Schiele's final years before his untimely death in 1918 from Spanish influenza, aged just 28.
Dr. Ernst Vegelin, Head of The Courtauld Gallery comments:
'Egon Schiele's works illuminate a radical approach to a traditional subject. His unflinching portrayal of the human figure distinguish these works as among his most significant contributions to the development of modern art.'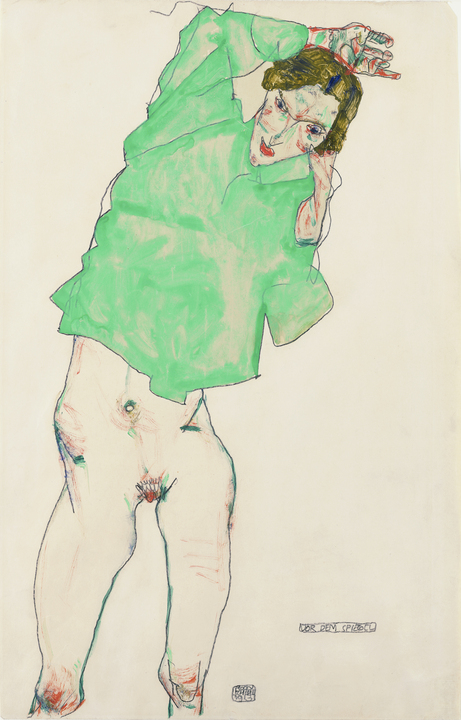 Before the Mirror 1913 Pencil and Gouache 48.3 x 32.1 cm The Leopold Museum, Vienna
Read More: Egon Schiele: The Radical Nude review – a feminist artist ahead of his time The Guardian
Egon Schiele, Courtauld Gallery, London The FT
Categories
Tags