Tate will announce details of the works that have been acquired at this year's Frieze Art Fair through the Outset/Frieze Art Fair Fund to benefit the Tate Collection at a special event at Tate Britain on Wednesday 15th October 2014. The annual fund allows Tate to buy important works at the fair for the national collection.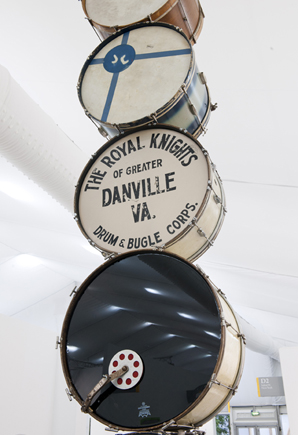 Terry Adkins (b. 1953) Muffled Drums (from Darkwater), 2003 Bass drums, mufflers Dimensions variable Fund acquisition 2013
The fund has made an impressive contribution to the Tate collection. Over £1million has been spent and 94 works by 64 artists have been collected, including major pieces by international practitioners including Hideo Fukushima, Thomas Hirschhorn and Anri Sala. Acquisitions in 2013 included works by Terry Adkins, Christina Mackie, James Richards and Sturtevant.
This year the fund is set at £150,000 and the selection panel includes Agustín Pérez Rubio (Artistic Director, Museum of Latin American Art of Buenos Aires (MALBA) and Laurence Rassel (Director, Fundació Antoni Tàpies, Barcelona) as well as Frances Morris (Head of Collections, International Art, Tate), Ann Gallagher (Head of Collections, British Art, Tate), Tanya Barson (Curator, International Art, Tate) and Clarrie Wallis (Curator, Contemporary British Art, Tate).
The fund is organised and financed by Outset and in 2014 enjoys continued support from Leviev Extraordinary Diamonds.
Nicholas Serota, Director, Tate said:
"For more than a decade, the Outset Contemporary Art Fund has played a major role in helping Tate to build the national collection of contemporary art for the benefit of audiences across the country and in London. We are immensely grateful to Outset for this support."
Outset Contemporary Art Fund
Outset Contemporary Art Fund was founded in 2003 by Candida Gertler and Yana Peel as a philanthropic organisation dedicated to supporting new art. The charitable foundation focuses on bringing private funding from its supporters and trustees to public museums, galleries, and art projects. The fund uses its independent platform to give new audiences proximity to the visual arts, building long-lasting relationships within the international artistic community. Addressing the need for flexible, early-stage funding within the public arena, Outset enables ambitious non-commercial ventures and acquisitions. Since its inception, the fund has supported numerous leading visual arts institutions with capital campaign, education, outreach and programming needs and donated nearly one hundred works of challenging contemporary art to public institutions across Britain and abroad. Outset's patrons have a great interest in supporting Tate's acquisition of international contemporary art. In 2010 Outset was awarded the British Montblanc de la Culture Arts Patronage Award.
Categories
Tags