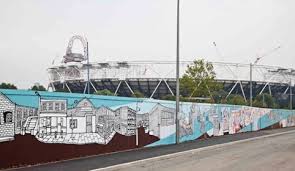 Jo Peel 'Meet Me In The City'
Living Walls is a major new art project as part of the London Legacy Development Corporation's Arts & Culture strategy, aiming to create world-class art for everyone to enjoy in and around Queen Elizabeth Olympic Park.
Curated by Moniker Projects and Create, 'Living Walls' covers approximately 2.5km of hoarding and comprises of five main projects, 'Your Ad Here', 'Tapestry', 'Uphoarding', 'Meet Me In The City' and 'The Review', all of which will be on display at various locations around Queen Elizabeth Olympic Park for up to five years.

All of the projects work on a curatorial premise focused on the active participation of residents and businesses from the local community that border the Park. Featured artists include Turner Prize winner Jeremy Deller, David Batchelor, Ben Eine, David Shillinglaw, Jo Peel and Mark McClure, many of whom are locally based.
Over the next week FADwebsite will be showcasing videos from the artists involved in the creation of some of these great
artworks up next we have Jo Peel
Jo Peel 'Meet Me In The City'
An animation was made over 30m of hoardings at The Queen Elizabeth Olympic Park.
Images were carefully painted, documented using a camera, erased and repainted to further the animated sequence.
This painstaking procedure took the artist approximately 2 months to produce the 3 minute stop motion animated video.
Traces of the process remain in the form 'ghosting' on the mural which continues over 210 meters …
Animation & DIrection: Jo Peel Executive Producers: Moniker Projects
Camera Operators: Zoe Genders, Helen Perrault-Newby
Art Assistant: Tamara Venn, Imogen Bennet
jopeel.com/
Music by Tunng tunng.co.uk/
livingwalls-london.com
Download a Map and go see the ART HERE
monikerprojects.com
Watch Ben EINE Review
Watch Mark Mc Clure Uphoarding
Watch David Shillinglaw – 'Tapestry'
Categories
Tags