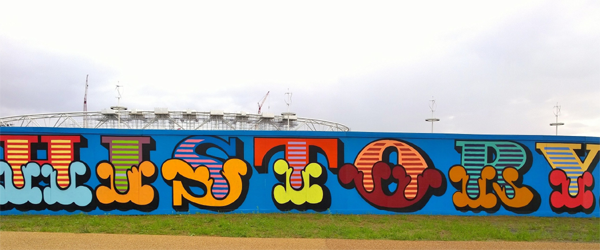 One of FAD's favourite Art Companies Moniker Projects have just curated and launched another great art programme: Living Walls.
Living Walls is a major new art project as part of the London Legacy Development Corporation's Arts & Culture strategy, aiming to create world-class art for everyone to enjoy in and around Queen Elizabeth Olympic Park.

Curated by Moniker Projects and Create, 'Living Walls' covers approximately 2.5km of hoarding and comprises of five main projects, 'Your Ad Here', 'Tapestry', 'Uphoarding', 'Meet Me In The City' and 'The Review', all of which will be on display at various locations around Queen Elizabeth Olympic Park for up to five years.

All of the projects work on a curatorial premise focused on the active participation of residents and businesses from the local community that border the Park. Featured artists include Turner Prize winner Jeremy Deller, David Batchelor, Ben Eine, David Shillinglaw, Jo Peel and Mark McClure, many of whom are locally based.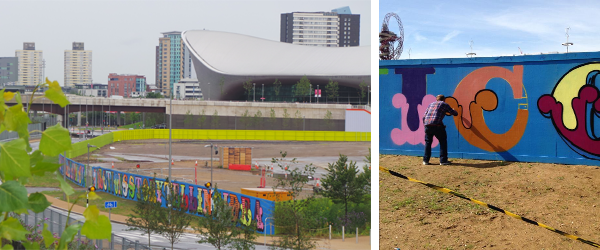 Over the next week we will be showcasing videos from the artists involved in the creation of some of these great artworks first up we have Ben EINE with 'The Review':
'The Review' is a 400-metre mural by artist Ben Eine; arguably one of the most enigmatic and prolific artists to be involved with Living Walls, his largest mural to date takes inspiration from the Victoria & Albert Museum and the proposed plans for a new cultural quarter on Queen Elizabeth Park. The mural features Eine's trademark circus font depicting a continuous line of adjectives.
livingwalls-london.com
Download a Map and go see the ART HERE
monikerprojects.com
Categories
Tags