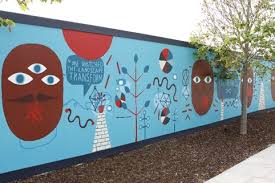 Living Walls is a major new art project as part of the London Legacy Development Corporation's Arts & Culture strategy, aiming to create world-class art for everyone to enjoy in and around Queen Elizabeth Olympic Park.
Curated by Moniker Projects and Create, 'Living Walls' covers approximately 2.5km of hoarding and comprises of five main projects, 'Your Ad Here', 'Tapestry', 'Uphoarding', 'Meet Me In The City' and 'The Review', all of which will be on display at various locations around Queen Elizabeth Olympic Park for up to five years.

All of the projects work on a curatorial premise focused on the active participation of residents and businesses from the local community that border the Park. Featured artists include Turner Prize winner Jeremy Deller, David Batchelor, Ben Eine, David Shillinglaw, Jo Peel and Mark McClure, many of whom are locally based.
Over the next week FADwebsite will be showcasing videos from the artists involved in the creation of some of these great
artworks up next we have David Shillinglaw
'Tapestry' by David Shillinglaw, launched at the beginning of July 2014 at Chobham Manor, the first new neighbourhood at Queen Elizabeth Olympic Park. The 385 metre mural inspired by the Bayeux tapestry represents the story of the Olympics, as told through the eyes of the local community. This intergenerational project weaves together the community's journey from the announcement that London won the bid to the end of the 2012 Olympics and beyond. David Shillinglaw has brought to life these stories and connects the Park to the local community and the outside world.
livingwalls-london.com
Download a Map and go see the ART HERE
monikerprojects.com
About Mark Westall