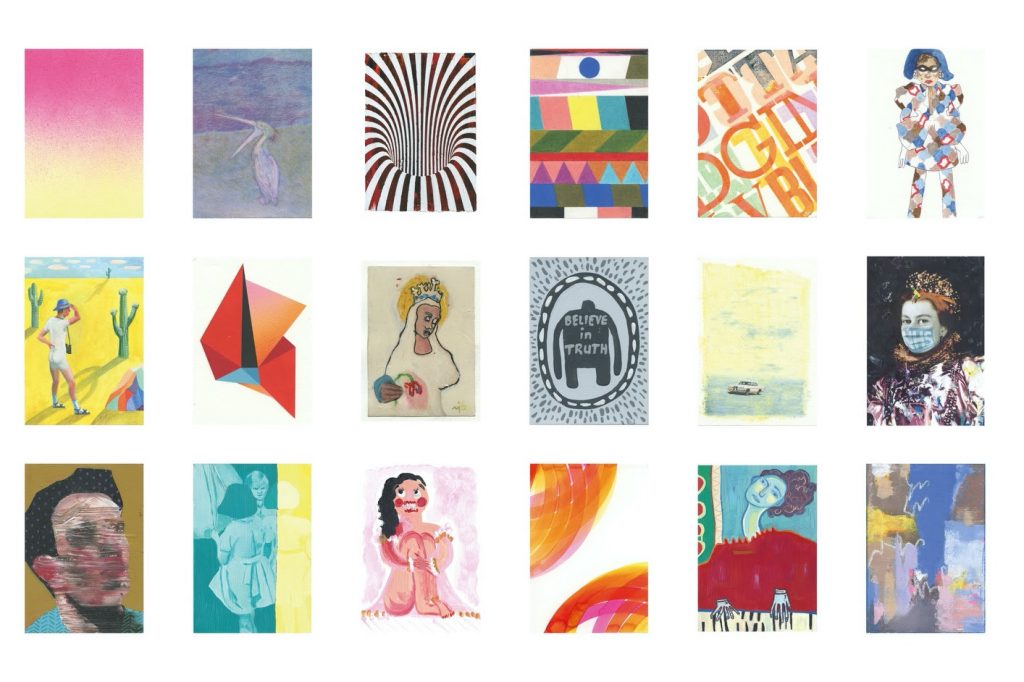 Art on a Postcard returns this June with a strong line-up of beautiful mini masterpieces for its annual Summer Auct ion. 120 artists have produced unique original works for the auction which will raise funds for the Hepatitis C Trust.
Boy George will make his Art on a Postcard debut this summer. George has turned his hand to art in recent years with a sell-out show in Monaco last November. Other confirmed names include Julian Opie, Jake and Dinos Chapman, Lothar Geotz, Molly Brocklehurst, Schoony, Eliot Dörr, Remi Rough, George Morton Clark, Mike Perry, Kev Munday, Susie Hamilton and David Shillinglaw.
"Art on a Postcard is hoping its Summer Auction is Corona proof as their auctions have always taken place online,"
says founder Gemma Peppe.
"The Summer Auction will miss out on having a private view but with Julian Opie's blend of pop art and minimalism, Jake and Dinos Chapman's distinctive iconoclasm and Oh da Laval's erotic expressionism the auction is set to be as big a success as always."
During lockdown The Hepatitis C Trust has been collecting and delivering hepatitis C medication for patients, to ensure that they can stay safe and that nurses can focus on other priorities. The Trust are supporting both homeless and drug services for essential work and running a needle exchange from their outreach van. It is still on course to eliminate Hepatitis C by 2025.
Art on a Postcard is partnering with Dreweatts Auction House established in 1759 with whom they have successfully partnered with previously. Fulllist of artists:artonapostcard.com
About The Hepatitis C Trust
The Hepatitis C Trust is the national charity for people with hepatitis C. It is a patient-led and patient-run organisation; most of its board, staff and volunteers have had hepatitis C themselves. It is committed to eliminating hepatitis C in the UK by 2030. Its strategy is based around pillars of better prevention, increased diagnosis and treatment for all.
It has established strong partnership models of working with substance misuse and homeless service providers across the UK. In substance misuse services, it delivers staff training, peer-led education about the importance of testing and availability of new treatments, and personal one-to-one support from initial diagnosis through to treatment. It runs a range of support services, including a confidential national helpline run by staff and trained volunteers who have all had personal experience of living with hepatitis C.
Helpline staff also provide patient-centred responses via email and run a designated prison freephone helpline service for prisoners across the UK. Its policy and parliamentary team works across the UK Parliament and the devolved nations to ensure hepatitis C stays firmly on the political agenda. It also publishes a range of reports and resources on aspects of the hepatitis C care pathway.
Art on a Postcard
(AOAP) is a unique platform that offers the opportunity to purchase beautiful limited-edition artworks by celebrated artists at affordable prices. Art on a Postcard is perhaps best known for its coveted secret postcard auctions. These eagerly anticipated events feature special edition artworks by renowned names that are auctioned anonymously for charity each year. Bidding starts at £50 and they offer a truly rare chance to own mini masterpieces by highly collectible artists, whilst supporting a worthwhile cause, The Hepatitis C Trust.
Categories
Tags