Artist Caroline Thomson, featured in the auction curated by Louise Fitzjohn, in conversation with Lee Sharrock: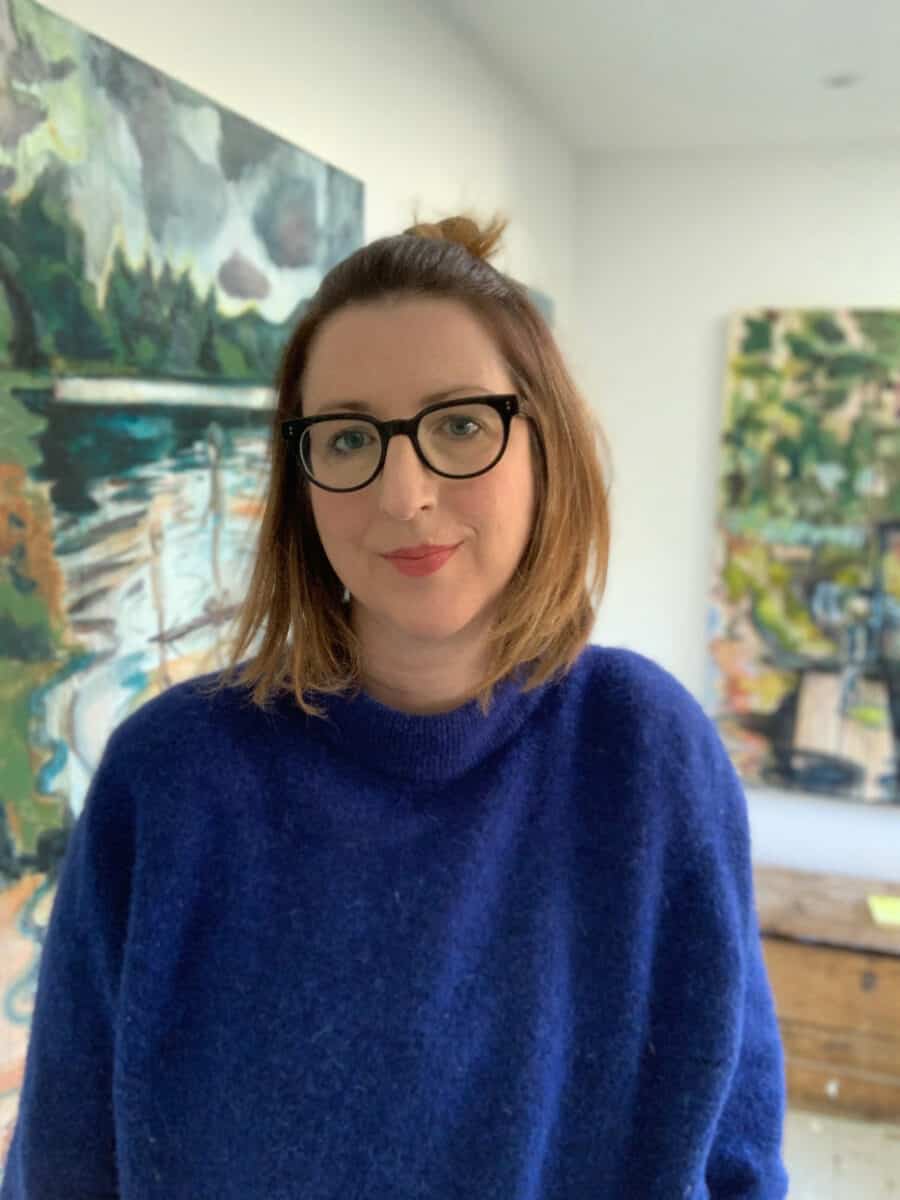 Lee Sharrock: 7 women curators have selected artists for a special International Women's Day 2023 Art on a Postcard auction, which will raise funds for the Hepatitis C Trust. Who is your curator and how did you get to know them/ get involved with the project?  
Caroline Thomson: Louise Fitzjohn, of Liminal Gallery invited me after seeing one of my paintings whilst on a studio visit at my friend Catherine Lette's. She got in touch and explained that she wanted to curate a collection highlighting the work of Artist Mothers for International Women's Day 2023 Art on a Postcard auction. As a much-underrepresented group I was delighted to be invited.
Could you tell me a bit about your artistic practice, the materials you use, and your path to becoming an artist?  
I did my BA in Fine Art Painting at Kingston in the Late 90s followed by an MA at Chelsea a few years later. I have been painting ever since whilst working it around other jobs and for the past decade around children. Just before the Covid pandemic I joined Turps Banana's Off-site Painting Programme, which has been brilliant for meeting other Artists and having brilliant conversations with mentors about painting and pushing my work forward.
My work changed radically since becoming a mother. Motherhood is this incredibly intense period of transition and I found that was reflected that in my work. I now make paintings of figures, often children immersed within a landscape, woods, forests, and caves abound. The paintings explore ideas around childhood, memory, and the nature of imagination. I work predominately with oil paint often on linen or wood panels. The initial composition is often drawn from photographs that I take of my own children at play. The paintings emerge from thin washes of oil paint combined with more calligraphic drawn elements. The resulting paintings transcend their photographic origins to become altogether otherworldly, exploring ideas around the rich artistic and literary history of woodlands and forests which act as a metaphor for retreat or transformation.
Can you explain what you've created for AOAP? 
I often repeat certain motifs or figures within my work. The works I made for AOAP are smaller versions of some of those current motifs. A seated boy who is part of series I made called 'Nature Spirit Army' and another one of a child in a cloak which is part of a series called 'Funny Games' The children are the protagonists, in a world seemingly without adults. 
There were certain challenges of making work on such a small scale and on paper too, but I tried to treat them in the same way as I would a larger painting.
Who are the artists that inspire you the most?  
Gosh, there are so many! The ones that I come back to time and again are, in no particular order, Edvard Munch, Lois Dodd, Charles Burchfield, Tilo Baumgartel, Édouard Vuillard, Kaye Donachie, Chantel Joffe, Peter Doig, Maeve Gilmore, Caspar David Friedrich, Paul Nash.
As a woman artist, have you come across many obstacles that you don't think a male artist would face?  
It's well documented that as a women in the artworld the odds aren't stacked in our favour. If you look at any of the world's museums and galleries collections women artists are vastly underrepresented. Even commercial galleries have given male artists greater representation. I think whilst now there is a conversation happening around equality within the Artworld, and there are many who are bringing to light all the amazing women artists who have been overlooked historically, much more needs to be done to level the playing field for artists working today. 
What exhibitions do you have coming up in 2023 that you're most excited about?  
Myself and another couple of Artists who I met through Turps have been working on a really exciting exhibition proposal which we are hoping to get off the ground this year. I have work in group show coming up at Studio 1-1. I was also delighted to have multiple paintings included in Anomie Collections 1, their inaugural Art collections scheme the publication of which is due out soon. 
To find out more about the Art on a Postcard International Women's Day Auction, and to bid, go to: artonapostcard.com
Categories
Tags