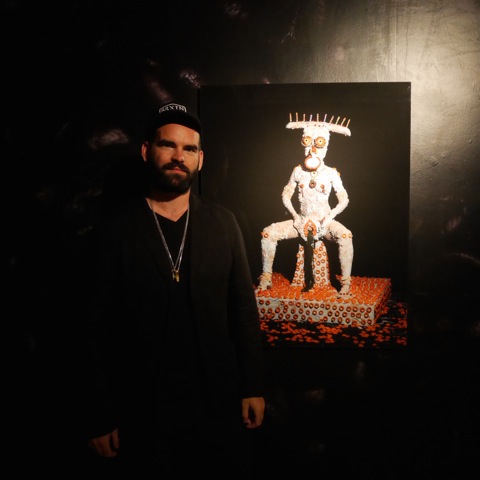 James Ostrer Photo:Toni Gallagher
Wotsit all about, by James Ostrer, the Jackson Pollock of confectionary, on at the Gazelli Art House until September the 11th.
I was fortunate enough this week to take a stroll on the Heath with the Artist James Ostrer, prior to his solo show which opened at Gazelli Art House on the 31st July. The idea of doubling up an interview with a dog walk seemed like a good plan, one lost dog and two and a half hours later we did manage to get in a good chat.
The charming, funny and perceptive Ostrer turned his back on scenic painting for the Royal National Ballet eight years ago after a life changing accident at work. This turn of events put a camera firmly in James hand, propelling his career as an artist. I wanted to know more about what drives this fiercely creative soul, at the same time hoping he would let slip the secret of where he buys his cream cheese.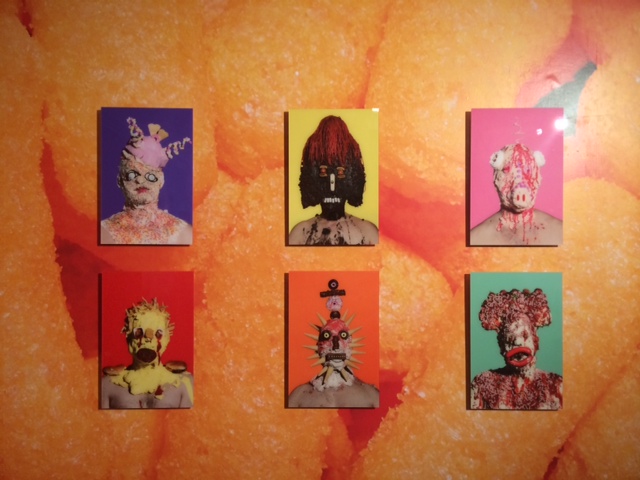 1. If you weren't an artist, what would you be?
Probably dead as making my work has acted as a kind of shamanic self help therapy to expel my deepest demons……
But if i had to give up being an artist tomorrow and had the money and brain power I would go to University and study to be a surgeon..
2. Who or what makes you laugh?
My mum's hand made cards she sends me…..
My best mate when we go for a kebab together….
My dog's crazy movements when he is having dreams…
3. What challenges have you faced in your career to date?
None I would complain about but I can get a bit stressed out at the point where I move from simply conceptualising and making the work to acknowledging that people are going to see it.
I suppose in the early days the main challenge was with my fear of validation and a complex relationship with wanting to attract attention and not wanting it, this is a dichotomy I still have.
4. Can you tell us more about your work and the main ideas you would like to express?
My latest show "Wotsit All About" at the Gazelli Art House is all about my personal relationship with sugar addiction and the issues at large with the human race's desire to accumulate and use up more and more while at the same time killing the very planet that sustains it.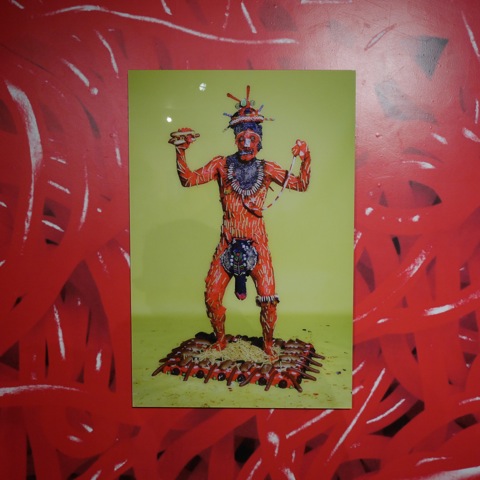 5. How do you start the process of making art work?
Totally depends which project…..It can range from collecting dozens of mattresses off the street, taking my whole family to a morgue to photograph them on a slab, going to brothels to get my picture taken by prostitutes, convincing friends to do things they never thought they would, finding people I haven't seen for 20 years and interviewing them or burying myself in vast quantities of food….
6. Do you consider the viewer when making your work?
Sometimes especially when the reaction between the viewer and the artwork is part of the work itself.
"The Journey" installation I was involved in was about Human trafficking had 2,500 people a day walk through several co-joined shipping containers often very quickly. It was necessary for me to get a complex dialogue about prostitution and the people that go to them in as little as 10 seconds with a multiple sensory experience. This project required a huge amount of research around human behaviour.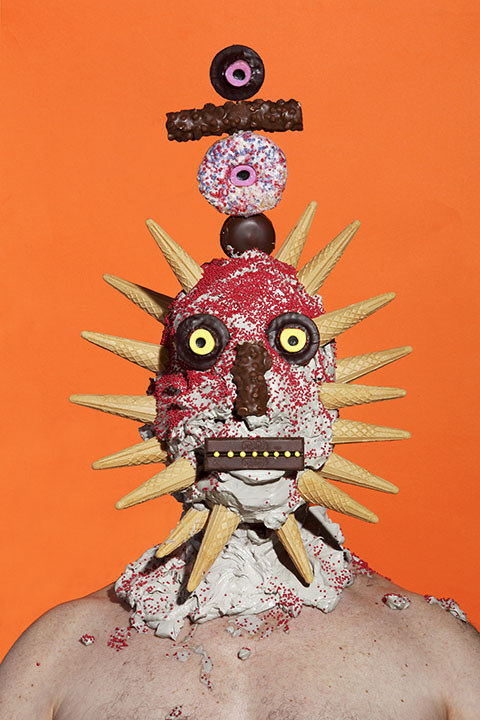 James Ostrer, EF 145.4, 2014, archival pigment print on diasec mount, 50 x 33cm
7. Name 3 artists that have inspired you?
1- My best friend as he is so talented and hard working…
2 – Caravaggio…..no need to explain….
3 – Francis Bacon because when I saw his big restrospective at the Pompidou centre when I was a kid it just blew my mind and he still does over and over
8. What defines something as a work of art for you?
A drawing, a painting, a sculpture, mixed with a bit of intent behind it and sometimes the context in which something is presented.
9. Anytime any place – which artists body would you most like to inhabit?
Honestly, I don't wish to be anyone else as I love what they have done and what I do, but at a push probably Caravaggio so that I could have one of his works to stare at on my wall at home as I would have painted it…..
Also maybe Picasso's body when I am old as he looked in such great shape even up until he died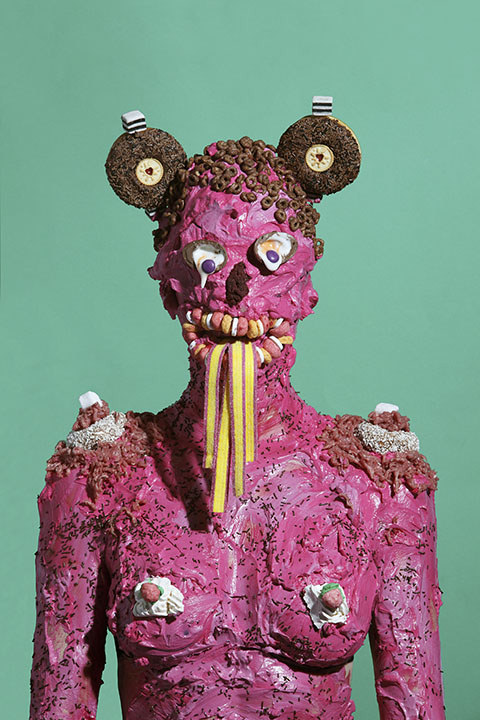 James Ostrer, EF 135.16, 2014, archival pigment print on diasec mount, 50 x 33cm
10. What is the most intelligent thing that someone said or wrote about your work?
I have always had a bit of a problem with the word intelligent and what it actually means but the most inspiring thing anyone has ever said about my work was when Lucian Freud told me that he loved the portrait I took of Nicky Haslam.
11. Do you consider what your art costs? State your reasons.
Not really as I dont drink, smoke or take drugs anymore so each week thats at least a couple of hundred quid I am saving so if I cant make something with that then I am not creative enough so shouldn't bother…
As the work sells for more, there are wider options in terms of materials and scale etc. So rather than making something out of toilet rolls you can make it out of bronze if that works better. This is the real benefit to selling and working with galleries…
12. What is the one big question you would like answered ?
How can we stop war when governments and private individuals profit so much from it?
13. What is next for you?
My next projects are always a secret but on a personal level I would say:
Focusing on eliminating refined sugar out of my life as much as possible. As well as, reducing how much I wear Hawaiian Shirts, baseball caps and reading glasses all at the same time. This is because recently a curator introduced me to someone else saying that I had just made a film and the person said "Oh my god I have always wanted to meet Michael Moore as they reached out to shake my hand" and they weren't joking….
Categories
Tags