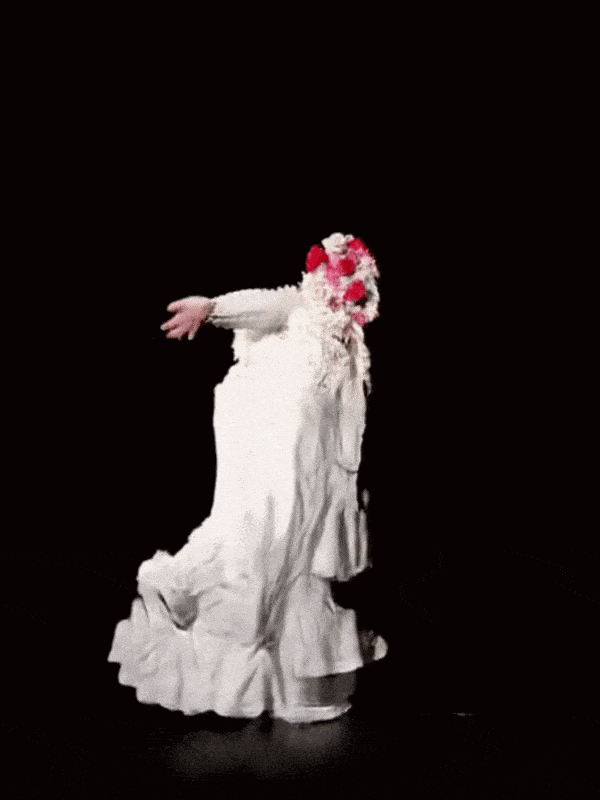 In Data • Glitch • Utopia, Jake Elwes brings together a body of work that demystifies, opens up, and plays with Artificial Intelligence (AI). From past to present, artworks range from digital pieces combining strange properties of data with human traces in technology to more recent investigations seeking out alternative and more hopeful queer futures through AI and drag performance collaboration. 
Elwes' practice is based on their research into AI and Machine Learning and instigates playful critiques of
human and technological relationships via explorations into underlying codes, philosophies, and ethics.
This show traces pathways through these technologies that offer insights and interventions into their dangers and potentialities.
From the physical remnants of fingers across iPhone screens, and an algorithm's filthiest imaginations, to the dragged out fantasies of queering datasets, Jake's work illuminates the fleshy figurations and fantastic failures of these digital processes

(Dr. Joe Parslow)
Works such as Closed Loop (2017), sets two algorithms – one for labelling what it sees in images, another that creates fake images from scratch – against each other. Stuck in a feedback loop, they continuously interpret one another and unveil the process and limits of human-inputted data. This work shows generative AI technology in its infancy, five years before Midjourney and Dall-E. Elsewhere, Machine Learning Porn (2016) explores what an algorithm trained to remove explicit imagery has learnt of human biology, recreating the computer's warped version of pornographic visuals.
Elwes' most recent projects explore the intersection of AI and drag performance. By including drag in the
dataset as the ultimate form of gender nonconformity, subversion and celebration, they set out to investigate bias and queer representation in AI systems and research. This work is deeply collaborative, working with members (and legends) of London's drag community to find ethical, unconventional, and joyful ways to play with AI, to drag it out of the black box to stage, screen, and gallery.
Elwes' work explores popular ways to stage artificial intelligence systems, allowing an inclusive entryway for diverse audiences to engage with the issues and conversations presented. Tracing eight years of work, from phone screen to cabaret stage and beyond, Data • Glitch • Utopia offers glimpses of messy manifestations of queer technological futures.
Jake Elwes  Data • Glitch • Utopia Preview: 1st June, 6 — 8 PM (BST), 2nd June — 8th July 2023, Gazelli Art House, London
The V&A commissioned Elwes to make a new iteration of The Zizi Show in 2020. This exhibition at Gazelli coincides with a display of Elwes' commission at the V&A, on view from May 2023 to February 2024.
About the Artist
Jake Elwes is a media artist who explores machine learning and artificial intelligence. Their work finds poetry and narrative in these systems' success and failures, their sophistication, and limitations while investigating their code and ethics. In notable work, the Zizi Project, Elwes exposes AI bias by queering datasets with drag performers, simultaneously demystifying and subverting AI systems.
Elwes lives and works in London, having studied at The Slade School of Fine Art, UCL (2013-17). The
artist's work has been exhibited in museums and galleries internationally, including the Victoria and Albert
Museum, London; Somerset House, London; ZKM, Karlsruhe; Today Art Museum, Beijing; Yuz Museum,
Shanghai; Pinakothek der Moderne, Munich; Frankfurter Kunstverein, Frankfurt; Fotomuseum Winterthur,
Winterthur; Honor Fraser Gallery, LA; Fundacion Telefonica Museum, Madrid; Ars Electronica, Linz;
Zabludowicz Collection, London; Sculpture in the City, London; Science Gallery Dublin; RMIT Gallery,
Melbourne; Onassis Foundation, Athens; Arebyte Gallery, London; E-WERK, Freiburg im Breisgau; Museum
für Naturkunde, Berlin; Nature Morte, Delhi; Leverhulme Centre for the Future of Intelligence, Cambridge,
and they have been featured on TV: ZDF aspekte (Germany) and the BBC Arts (UK).
Categories
Tags