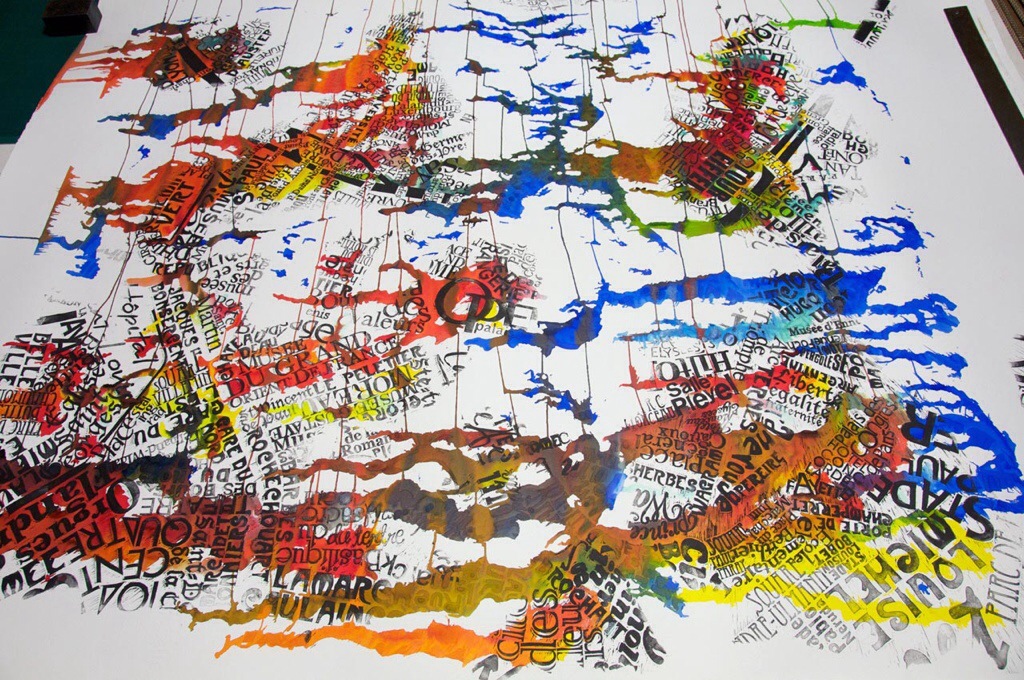 The Future Tense in association with Londonewcastle Arts Programme is to present 'Wonderlust', the first major London solo show from award winning British artist Mark Andrew Webber. Over 2 years in the making, Wonderlust opens with a reception for the artist on Thursday 24th July and will see the debut of a number of new and highly anticipated works as well as a unique opportunity for the public to actively participate in the printing of his most ambitious piece to date. Best known for his highly influential and much aped typographic city maps, as well as a mastery of complex linocut techniques, Wonderlust will also explore the artist's obsession with line and form, bringing together all 30 mini-studies from the FORM series for the first time.
This installation will be complemented by several new large-format paintings on canvas, which bring the ideas behind FORM to a dizzying scale where the boundaries between pre-considered contours and auto-response drawing become blurred. Webber's iconic city maps will be on display in the second room, including for the first time some of the original linocut carvings, allowing people to see up-close the levels of detail and craftsmanship that have gone into their creation. Room 2 will also feature a number of hand-finished originals of the previously unreleased Paris map, as well as examples of London, New York and Amsterdam.
The centerpiece of the show is the unveiling of the brand new map of Berlin, which will be featured as part of a working print studio in the third and final room. Carved on a single 3.4 x 1.7m sheet of linoleum, it took an extraordinary 16 months to research, design and carve, and was conceived and completed in the full knowledge that there was no printing press in the world large enough to accommodate it.
You can see a stop-motion video of the Berlin map carving process below:
Throughout the duration of Wonderlust, Webber will work experimentally – with and without assistance – in an attempt to print and hand-finish a series of the Berlin map. Over the course of the first and second weekends of the show, members of the public will also be invited to participate in collectively hand-burnishing an edition – a rare chance to not only see an artist at work but to actively get involved. To complement the works on show, an anteroom will also play Webber's short film, 'Dehisce' made using a process he developed called 'linomation'. Commissioned originally for 'The Art of Lost Words' exhibition in London in 2008, he spent nearly 500 hours carving the 296 individual frames of the looping 30-second film, which will be displayed together with the carvings and prints for the first time.
Mark Andrew Webber said,
'I realised whilst developing the FORM series that a lot of my inspiration comes from uncertainty, or feeling lost. That for me can either be in the literal sense, such as wandering the streets of a new city to research my maps, or in the creation of a totally new work or process or series like the line drawings. Rather than fear, it gives me a sense of awe, and calms my thoughts down. With the completion of the Berlin map and FORM series, this show feels like a perfect time to pause and reflect, as well as to consider how to push my work in new directions.'
A limited number of complete matching sets of the FORM series will be also available at the launch of the show on a strictly first-come first-served basis.
www.thefuturetense.net
www.markandrewwebber.com
About The Artist
Mark Andrew Webber Born and raised in Reading, UK, Mark Webber was diagnosed with Juvenile Chronic Arthritis at the age of 12, placing severe restrictions on his movement. Determined to not let his disability stand in the way of his passion for art and design, Mark endured several years of intensive medication and therapy, eventually leaving him well enough to study graphic design at Art College. In 2006 Webber conceived and created the first of his 'Where in the World' series of typographic maps that have rapidly become his trademark. Each map takes many months to create, from research and paper prototype design to hundreds of hours painstakingly hand-carving the relief from a single sheet of linoleum, from which the images are then printed and often hand-finished. In 2007 Mark was awarded a prestigious Silver Cube award from the Art Directors Club of New York and has subsequently exhibited alongside graphic design luminaries such as Alan Fletcher, Margaret Calvert, Ken Garland, and Derek Birdsall, as well as being featured in leading design magazines including Creative Review and Blueprint Magazine. Mark's most recent work is his map of Berlin, measuring an astonishing 340 x 170cm, taking over 16 months to research, design and carve.
About Mark Westall