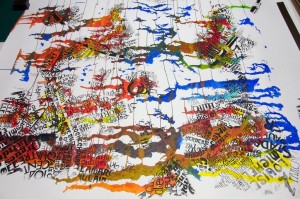 The Future Tense Presents Wonderlust the First Major London Solo Show By Mark Andrew Webber.
This introspective, confessional corpus of work, developed over the last 12 months whilst living in self- imposed exile in Paris, speaks not only of mortal sins and desires, but also of fears and the acknowledgement of one's own absurdity.
The exhibition will also offer attendees a unique, once-in-a-lifetime opportunity to become part of art history by participating in the final Wonderful World composition, which will be shot entirely on-site at the Londonewcastle Project Space.