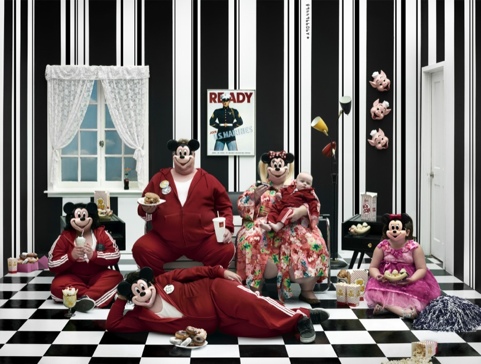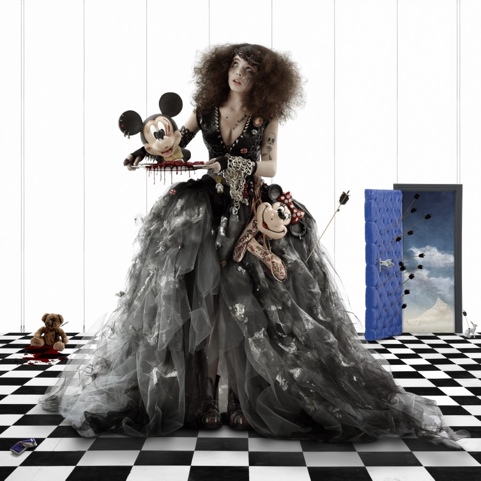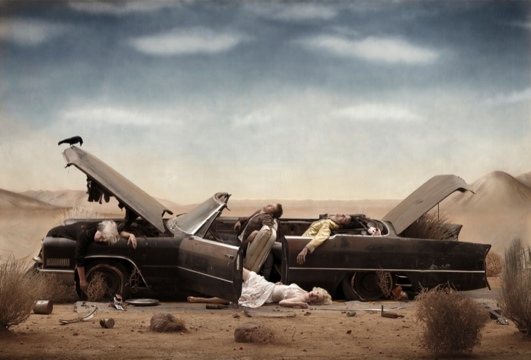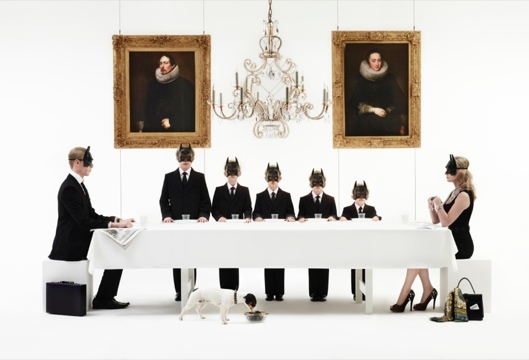 JUNE 8th – JUNE 24th
The Future Tense in association with Opera Gallery and Londonewcastle presents Gérard Rancinan: Wonderful World
The concluding part of this seven-year trilogy will offer attendees the chance to be immortalised as part of the final composition in the series. The concluding act in Gérard Rancinan's Trilogy of the Moderns. Situated somewhere between comedy and tragedy, this vivid photographic tableau and accompanying texts paints a picture of a confused humanity, groping blindly in the darkness, obsessed with the cult of celebrity and guided only by an absolute desire for generalised, prescribed happiness.
As committed witnesses of the metamorphoses affecting society, photographer, Gérard Rancinan, and writer, Caroline Gaudriault, have engaged in an ongoing dialogue, delivering their dual observations on a generation seeking relentless progress at any cost.
Fresh from La Triennale di Milano, Rancinan brings this revolution in three acts to a close, debuting the complete Wonderful World series to the UK public.
The exhibition will also offer attendees a unique, once-in-a-lifetime opportunity to become part of art history by participating in the final Wonderful World composition, which will be shot entirely on-site at the Londonewcastle Project Space.
With galleries one and two housing the main exhibition of 15 large format works from Wonderful World, gallery three will feature a purpose-built set and studio, offering a voyeuristic glimpse behind the scenes of a fine art photo shoot. Repeat visits will reveal the organic nature of studio life – part art installation, part film set, part soap opera – as the shoot moves from concept, through production and postproduction, to the climactic unveiling of the finished work at a special reception on Wednesday 20th June.
Gérard Rancinan said, "Developing Trilogy of the Moderns has taken us all over the world but Shoreditch and East London has a very special energy, particularly in this Olympic year, much of which resonates closely with the ideas behind Wonderful World. It's truly a fitting location to bring this project to a close and we are very excited about working with The Future Tense to deliver some dramatic ideas."
To celebrate the completion of Trilogy of the Moderns,
The Future Tense will publish a new print edition by Gérard Rancinan. Limited to a signed edition of 20 + 4 Artist Proofs, the work will be available only to those attending the show. A pop-up store will also sell related merchandise including the supporting books.
Wonderful World will open to the public at a launch reception from 6.30pm on Thursday 7th June 2012 (part of East London's First Thursday late night art openings) and will remain on view until Sunday 24th June 2012.
About Gérard Rancinan
Born in the Bordeaux region, Gérard Rancinan travels the globe, bearing first-hand witness to events of historical importance. With his imperious need to express himself, he delivers startling images of the contemporary world filtered through an ever-evolving aesthetic prism.
His original perspective is applied both to real-life situations and authentic mises-en-scène, veritable simulacra of our world. His oeuvre is entirely original. He uses photography as a means of expression and commitment. For Rancinan, photography is above all an instrument of thought, a militant perspective on our era. His approach is recognised by the world of contemporary art.
Rancinan eschews conventional codes, preferring instead to travel a road, which, while not solitary, is certainly unique. Known throughout the world, Gérard Rancinan's works are displayed in the most prestigious international galleries and museums and feature in leading collections of contemporary art. Rancinan is a Chevalier des Arts et des Lettres.
www.rancinan.com
About Caroline Gaudriault
An independent journalist, Caroline Gaudriault has, for many years, published articles and features in international magazines including Paris Match, The Sunday Times, Stern and Time, working on major projects around the world. She has collaborated with Rancinan for more than fifteen years.
At the same time, she creates portraits of major contemporary figures, with a particular emphasis on artists. As an author, she has always entertained a dialogue with photography. She applies a Universalist perspective in her observations of the world around her. Expressing a particular interest in human commitment and historically significant events and movements, she works ceaselessly to preserve traces of memory.In order to further her research into contemporary society, she regularly interviews the leading thinkers of our time.
www.gaudriault.com

About The Future Tense
The Future Tense seeks to challenge preconceived notions of the traditional static gallery space, delivering a rigorous, inspiring and engaging contemporary art programme to a discerning international audience.
Founded with the primary aim of supporting the career progression of emerging artists, The Future Tense works with a focused roster of represented talent as well as a broader cross-section of established artists via its curated exhibitions and events.
Beyond its core arts platform, The Future Tense also develops a range of highly ambitious special projects including the prestigious annual 'RE:DEFINE' benefit art exhibition and auction, featuring artists such as Damien Hirst, Tracy Emin, Gavin Turk and Shepard Fairey. Debuting in Dallas in November 2011, the event was established with the MTV Staying Alive Foundation and Goss-Michael Foundation and has raised almost $800,000 for the AIDS charity to date.
www.thefuturetense.net
About Opera Gallery
Opera Gallery is a global network of art galleries.
Created by Gilles Dyan in Singapore, in 1994, Opera Gallery has since opened spaces in Paris (1994), New York (2000), Miami (2003), Hong Kong (2004), London (2006), Seoul (2007), then two galleries in Dubai (DIFC in 2008 and Dubai Mall in 2010), Geneva (2009) and a second Singapore gallery in 2010.
Their strategy is to open galleries in prime locations, rubbing shoulders with leading luxury brands in the world's great financial and cultural capitals.
www.operagallery.com
About Londonewcastle Project Space
The Londonewcastle Project Space is a gallery and exhibition space in Shoreditch created by property brand Londonewcastle as a platform for creatives and artists to display their work and further their practice.
The gallery is donated to users who might not otherwise have the opportunity to show their work and forms part of the ongoing local cultural discourse.
www.londonewcastle.co.uk
Categories
Tags