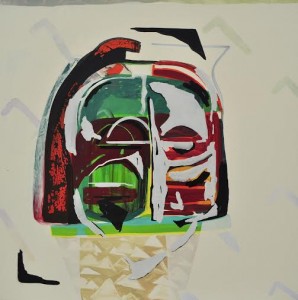 http://www.rookandraven.co.uk/exhibitions/laurence-owen-vivien-zhang/
7 Rathbone Place, London, W1T 1HN
The exhibition will draw on London's Royal Academy show of 1981, entitled A New Spirit in Painting, which set the tone for a Renaissance in painting in the 1980s. Lauren Owen (Royal Academy School graduate, from the UK) and Vivien Zhang (Royal College of Art graduate, who grew up in Beijing, Nairobi & Bangkok) are both fascinated with form, inviting a dialogue between painting and sculpture, and its place within the context of the prevailing art scene.
About the artists
Viven Zhang (B. 1990) has a strong desire to reclaim a culture in her work, having lived in Beijing, Nairobi and Bangkok. In past years, Zhanf revisited specific objects of significance, particularly artifactual bronze vessels from the ancient Xia, Shang and Zhou dynasties. Earlier this year, Vivien Zhang came in second place in Saatchi Showdown: In Glorious Colour, and has won multiple awards of significance in the past.
Laurence Owen (B. 1984) utilises his work as an investigation into the evolution of a thing – be it an image, a letter or a word. In an attempt to see what happens in that hornet, when these things are taken out of their original contact and placed into another, a different level of investigation is triggered. The representation of the form often maintains an underlining recognition as to where its influence has been drawn. Laurence Owen's work has been exhibited at Frieze London as well as at the Serpentine Gallery, in an exhibition curated by Damien Hirst.
About Art Map London