After spending some time reflecting on mirrors, I decided to spend the rest of my week focusing on clay.
The medium took me to two shows, one at Hotel Contemporary and the other at Josh Lilley.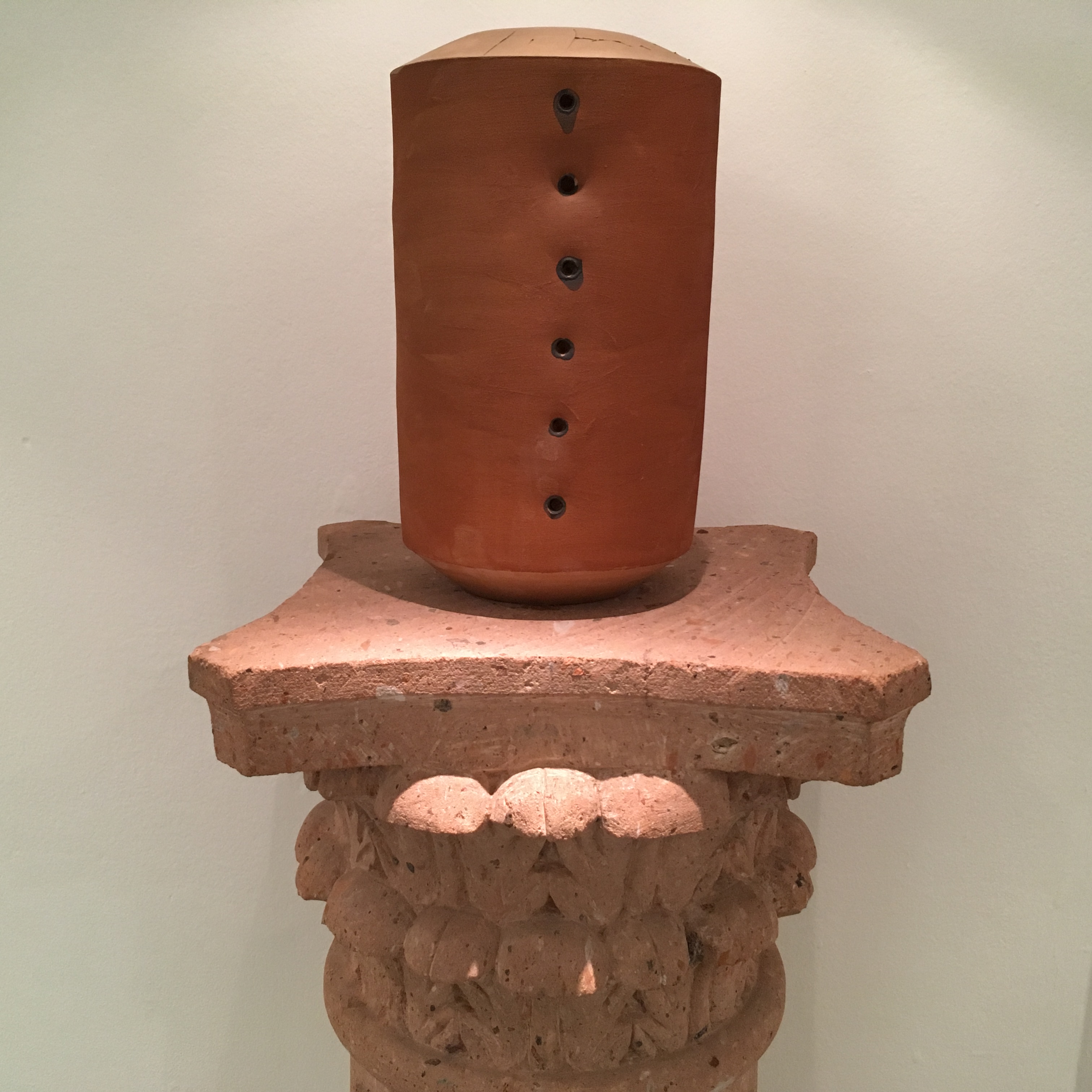 Lucio Fontana, Senza Titolo (1957)
Terra – A contemporary history of clay is Hotel Contemporary's second show, after their inaugural exhibition in Milan. Curated by three extremely young and talented women – Ilenia, Sophie and Carmen – the group show surveys the use of clay from the 1950s to today. As a starting point we find Lucio Fontana, whose Concetto Spaziale (1961-62) and Senza Titolo (1957) are both on display. In Concetto Spaziale we see Fontana imbuing the clay with an action as his fingers dig into the malleable material.
Unlike painting, where artists traditionally find themselves removed from the canvas through the use of a tool – such as a brush – sculpting clay is a far more personal and corporeal experience. The artist physically moulds the work, channeling energy into it. This charge is palpable and released to visitors upon viewing.
Jonathan Baldock's work, in particular Mask I (2018), takes direct inspiration from Fontana and is therefore placed in dialogue with it. This is what makes the show truly special: the contemporary artists on display, such as Daniele Milvio and Florence Peake, are all perfectly integrated yet different in their practices.
Mai-Thu Perret's vision of a utopian feminist commune, the Crystal Frontier, informs Again this thousand year old eggplant root (2016) and Actually know your own mind (2016). We also find Lindsey Mendick's Matisse-inspired, heavily patterned camp vignettes, chronicling daily life. She collaborates with Paloma Proudfoot on a series of toiletries on view in the first room. I first saw Paloma's work at the Sluice Biennial, where she performed Blush.  Her glazing technique is superb, as evident in Glover (2017). She is capable of deceiving viewers into believing the boxing glove is made out of anything but clay.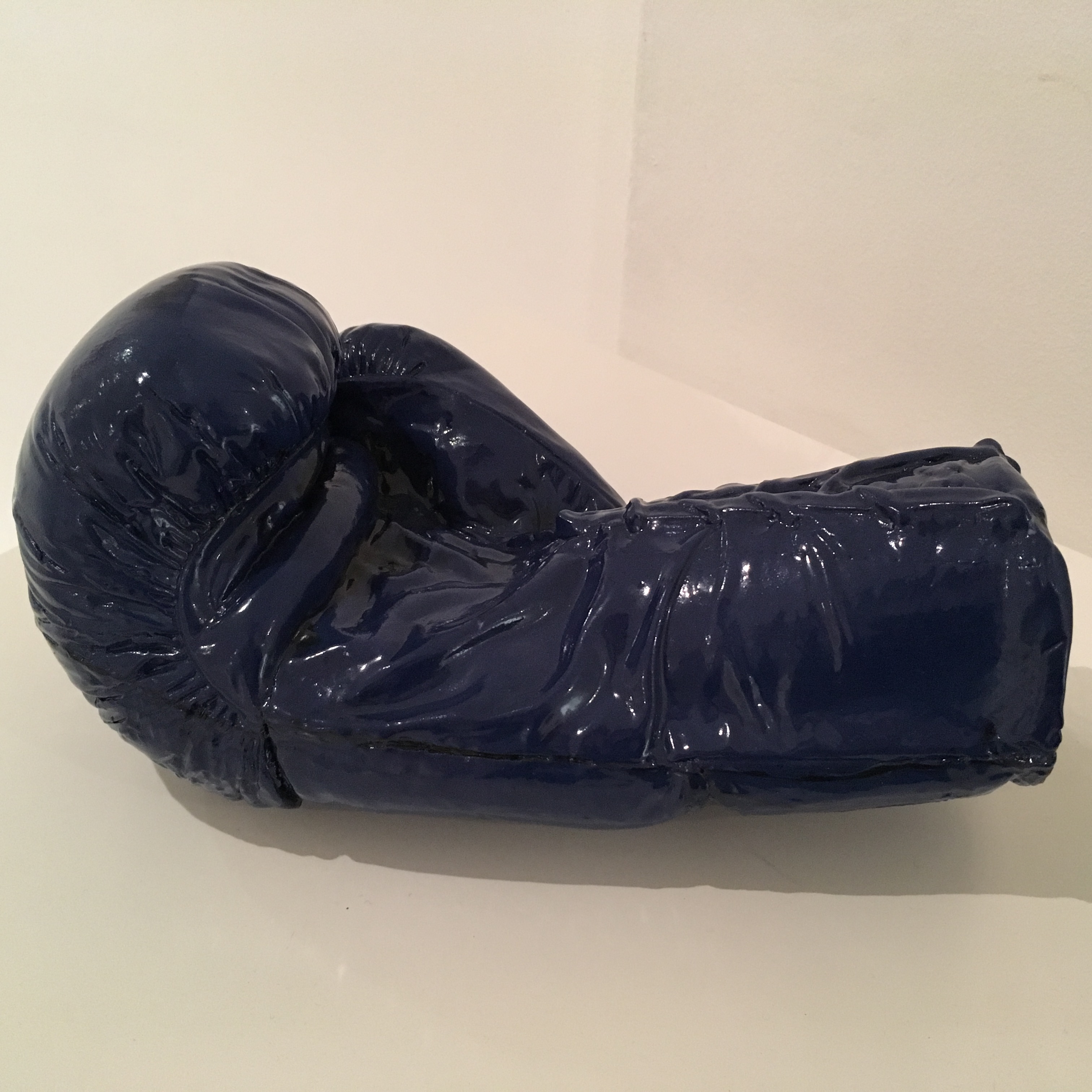 Paloma Proudfoot, Glover (2017)
The show is curated incredibly well as works by Paloma, Zoe Williams and Laurence Owen, reminiscent of esoteric relics (see Paloma's eels) populate the crypt downstairs.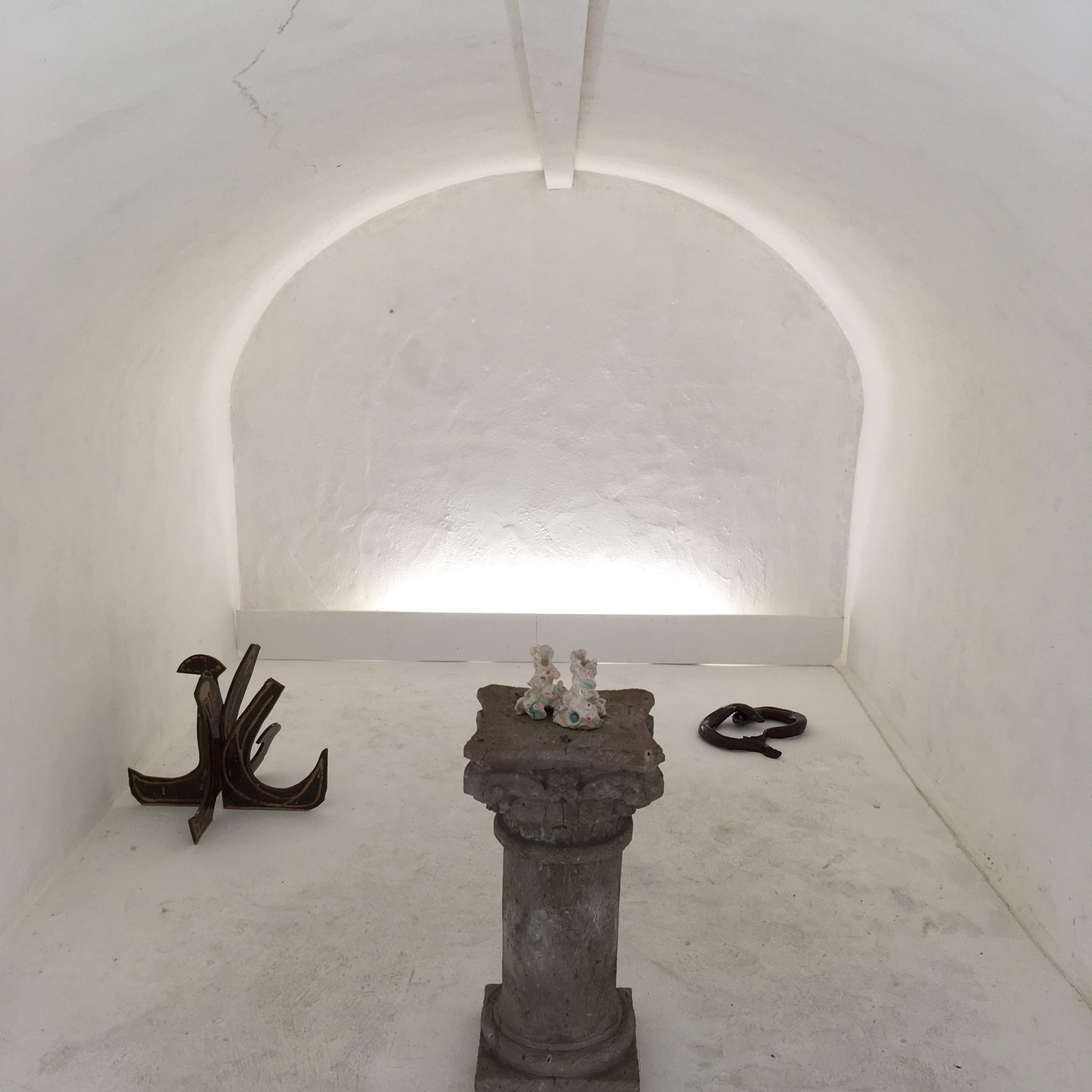 Laurence Owen – Hook (2018), Zoe Williams -Village Baroque Candle Stick 1&2 (2016) and Paloma Proudfoot – New Lovers (2017)
Terra has been extended until Wednesday, 28 February and I cannot wait to find out what Hotel Contemporary has in store next.
After 10 White Horse Street, I made my way to Josh Lilley for yet another group show, I Had the Landscape in My Arms.
The works were not united by a single medium, yet they carried a common thread as the artists on show worked primarily with found objects and hardware store classics. Kathleen Ryan who participated in the 2015 Frieze Sculpture Park, welcomes us with her il Volatile (2018). Two oxidised bronze snakes hang around a granite block, reminiscent of a well.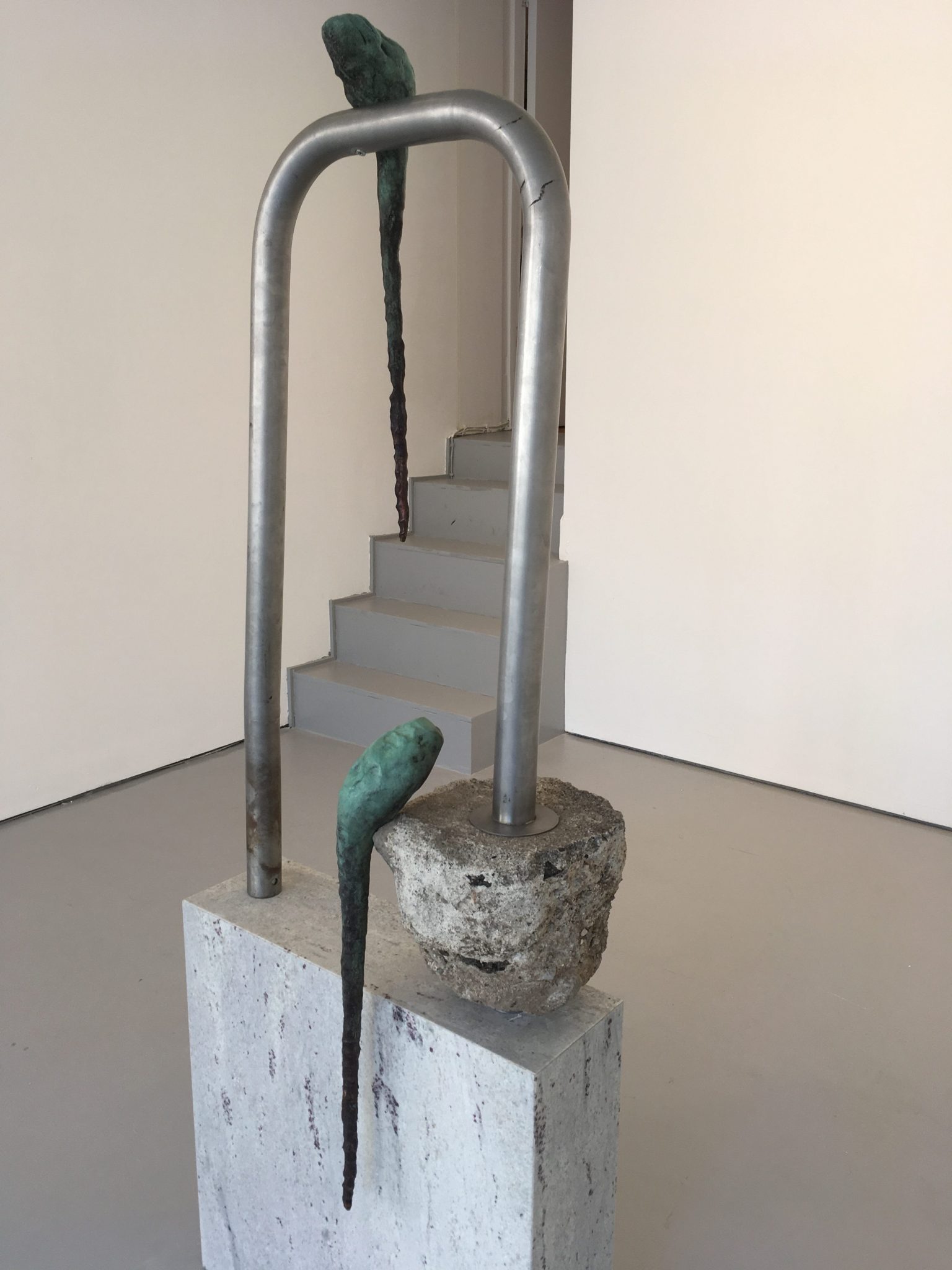 Kathleen Ryan, il Volatile (2018)
Unlikely combinations such as this are carried throughout the works downstairs with Sarah Pichlkostner's KAY, turned around, KUY, "don't stress me, I'm gonna have a walk now" (2018) and Nevine Mahmoud's Wet Curve (2018).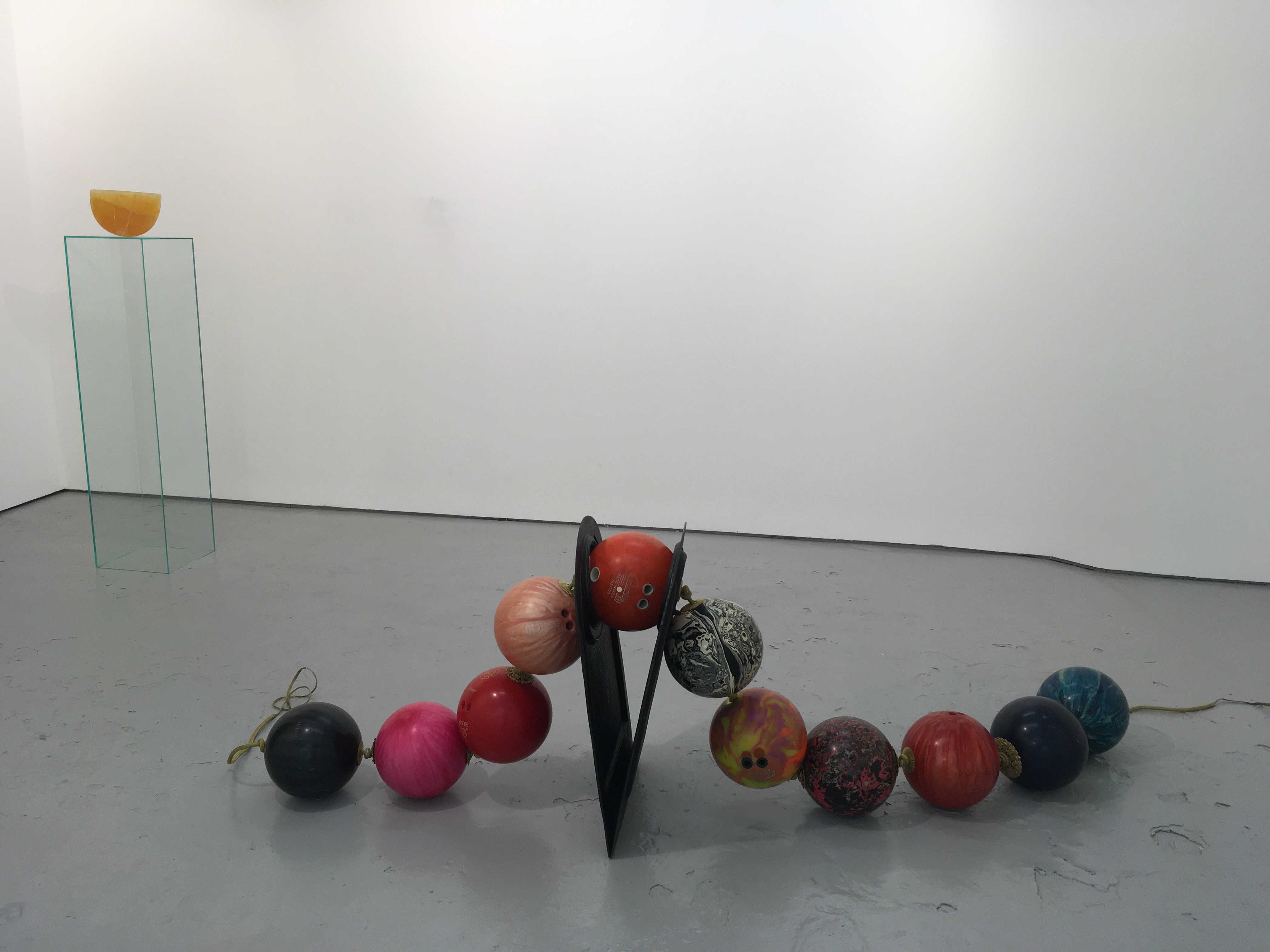 Nevine Mahmoud, Wet Curve (2018) and Kathleen Ryan, Peal Hole (2018)
Although the six artists do not belong to the same school, they all seem to take their surroundings and compress them into a single piece – as if they were trying to elegantly contain a landscape within their arms, hence the fitting name.
To explore more contemporary sculpture, visit Josh Lilley before 29 March.
Categories
Tags