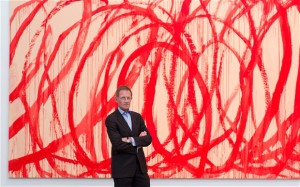 Sir Nicholas Serota in front of one of Twombly's Bacchus paintings. Photp: Justin Tallis/PA
The Tate has this week received its most valuable and exciting bequest in quite some years: Sir Nicholas Serota announced a donation of three stunning paintings from the Bacchus series by Cy Twombly. Along with Rothko's Seagram Building Murals, the Bacchus paintings remind us that, in an age where art is so reassuringly expensive, the way the work is displayed is crucial for aesthetic experience.
The Bacchus paintings are monumental. These vast, sprawling canvases with their frenetic yet logical loops of dazzling red paint initially scream for attention with an air of total ecstasy. But, following the mystifying coherence of the Bacchanalian rite itself, they eventually recede warmly into the background, as if this state of intoxication is the soundtrack to some higher purpose. These three all-consuming paintings tap in to the hinterland between revulsion and unadulterated delight like the interior of a cathedral simultaneously inspires reverence and the fear of the divine. It is important, as Twombly himself remarked on seeing the room, that these paintings are shown together: in being surrounded by such luscious variations on a theme one experiences the annihilation of reason and pure sensual pleasure of these paintings.
Meanwhile, in Switzerland, the artworld's great, good, bad and ugly have gathered around the wine cooler for another kind of Bacchanalian rite. In case you've had better things to do than watch the shrill exclamations fly in on 21st century tickertape that is Twitter, it's Art Basel. Like any global art fair, it's all big money and delicious spectacle; London's Skarstedt Gallery, on the first day alone, made sales worth $40million. It's not really a place to enjoy art, even if it is a place to see it; but sometimes commercial galleries are not places to see art because exhibitions are mounted on some hopelessly truncated, tenuous theoretical principle designed to conceal their commercial intentions. At least the fair has the decency to strip the work of all pretence to anything but commercial intent; there's a purity to this, but one which is marred by the constant noise.
This year's Basel has the curious flavour of a whistle-stop tour through contemporary art history. White Cube, for example, is showing a Damien Hirst Medicine Cabinet, of the old-school MDF and paper packaging variety, which reminds us of when his work was unassuming and diffidently indebted to minimalism before the money turned everything to gold. Bernard Jacobsen shows a still immensely popular Larry Bell glass cube, which takes us right back to the 60s, while Andrea Rosen gets out its best Felix Gonzalez-Torres, who remains one of the greatest conceptual artists to have ever lived. And Galerie Thaddaeus Ropac has Joseph Beuys' last sculpture – morose, tiny chairs encased in a pristine vitrine – alongside a fairly recent Baselitz.
Here, in the madness of the fair, are some great works of art which, by themselves, are the sources of much aesthetic pleasure; but they are also, and importantly, textbook pieces in the history of contemporary art that are about to disappear into private collections. It is the opportunity to see such pieces that softens my vague outrage with the rabid capitalism of art fairs because sometimes they are you only chance to see works of art that seem intrinsically valuable regardless of their market value, even if the fair does everything in its power to distract you from perceiving it as such.
In the case of both the Tate's Twomblys and the treasures at Art Basel, there is a sense of reverence, but of markedly different sorts. We tend to think of reverence, with its religious overtones, as a magisterial feeling reserved for Titian, Caravaggio or van Gogh because it is a feeling that responds to the way that the artist, in virtue of exemplary craftsmanship, conjurors a pure aesthetic experience which includes simultaneous attention to the qualities of the object itself and the quasi-spiritual world into which it gives us a glimpse. One explanation for why we don't revere art anymore is it has become so ordinary – a urinal, a Brillo box, an unmade bed, a photograph of a pair of jeans hung on a radiator are so commonplace that there appears to be no world lurking just behind the sensuous that only art could give us access to. Art is, in Arthur Danto's wonderful phrase, the transfiguration of the commonplace, rather than a step into an otherworldly dimension.
But if art is to survive the ravages of capitalism, so painfully exemplified by the hubris of Art Basel, then we have to return to reverence as a basic cornerstone of the experience of art, which it is possible to encourage even when the character of art has changed. The fact is that, given the right environmental conditions, even the ordinary can be revered; indeed, Danto's point is precisely that the commonplace is transfigured into something else, namely art, which changes the way we respond to it. Reverence, in this sense, is that feeling that a work of art, in and of itself, elevates consciousness to some higher insight which could not be obtained by anything other than art.
Although there is some great work at Basel right now, the mystical feeling is not for the art but for the immaculate conception of yet another way of dressing economics up as culture. It is a sublime sense of awe at the beautiful violence of the capitalist machine, which strips art to its purist form for delectation, giving the impression of pure disinterested attention, and then fills the air with a noxious sense of uneasy excitement. It is thus, at such a fair, impossible to feel anything like the giddy exhilaration one feels in the Twombly room because every nerve in your body is always already infused with the buzz of the market. The sense of reverence, which might just be applicable to some of these works, is lost because the work is presented in an environment that excludes it.
It is not, after all, that the quality of the art being produced has stooped so low that reverence is no longer a viable aesthetic category. If you saw those Twomblys at Basel, they too would dissolve into an irritating mess; or, if you catch one of Hirst's Natural History works alone in a quiet room, the mythology and spectacle suddenly give way to a moving aesthetic experience. In the final analysis, a moment in the Twombly room reveals that we are losing the ability to display art respectfully and appropriately. As art becomes ever more entwined with money, the conditions for that elusive reverential aesthetic experience are fast disappearing in precisely this way. Twombly's gift to the Tate is also a gift to the continued good health of art because it brings us back to a fundamental aesthetic principle, which is so often lost at the jaws of the art market.
Words: Daniel Barnes



About daniel barnes