Zang Huan: 'Spring Poppy Fields 32', 2014
The skull has a long tradition as the vanitas in still life meditations on mortality, but in Hirstian times I've tended to feel there are a few too many around. Almost as well-worn, though still enjoyable, is the trope whereby a work looks like one thing from a distance but another when you close in. Two recent shows feature initial views – of ants and flowers – which prove on getting nearer to be composed of skulls. Doubly predictable? Oddly, no – they're among the most arresting gallery moments currently on offer. Pace's Burlington Gardens space has the latest from Chinese Buddhist artist Zhang Huan, well-known for using of temple ash to make paintings and sculptures. From twenty feet 'Spring Poppy Fields' look like psychedelic vistas of bloom in line with the title's heroin overtones. From two feet they come out as Ensor-like carnivalesque skulls – hinting perhaps at one possible end of drug addiction. The Saatchi Gallery (to 31 Aug) features 440 giant ants swarming over the walls. Each, it turns out, is made by Rafael Gómezbarros out of two cast human skulls: branches act as legs, and the whole is held together by dirty bandaging. The ants, which have been shown on the colonial facades of public buildings in Colombia, represent the displacement of peasants due to war and strife, but it's the creepy Kafkaesque weirdness which hits home.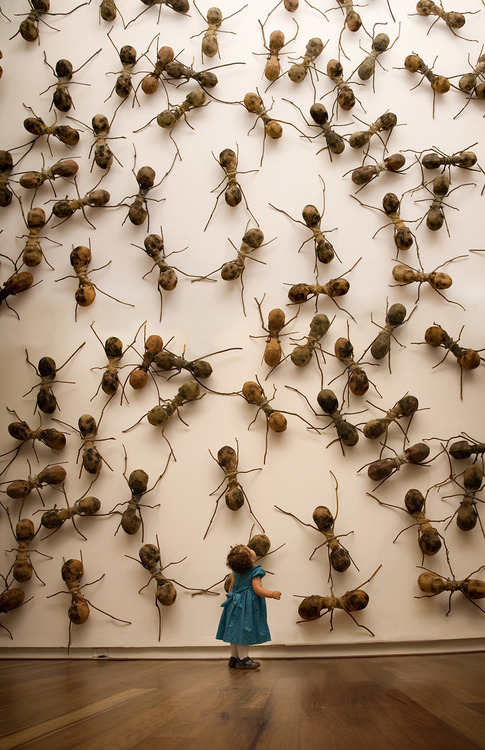 Rafael Gómezbarros:'Casa Tomada' (Seized House)
Most days art Critic Paul Carey-Kent spends hours on the train, traveling between his home in Southampton and his day job in Surrey. Could he, we asked, jot down whatever came into his head?
Categories
Tags