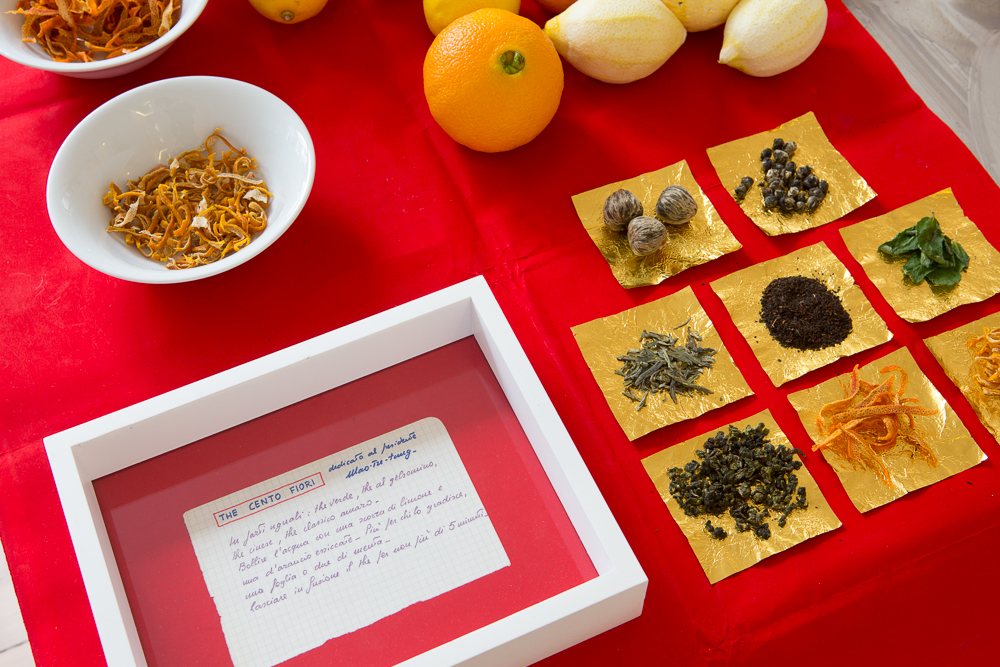 Leone Contini (Italy), THE CENTO FIORI [Hundred Flowers Tea], 2014 Paper, Chinese New Year red paper Photo © Tim Bowditch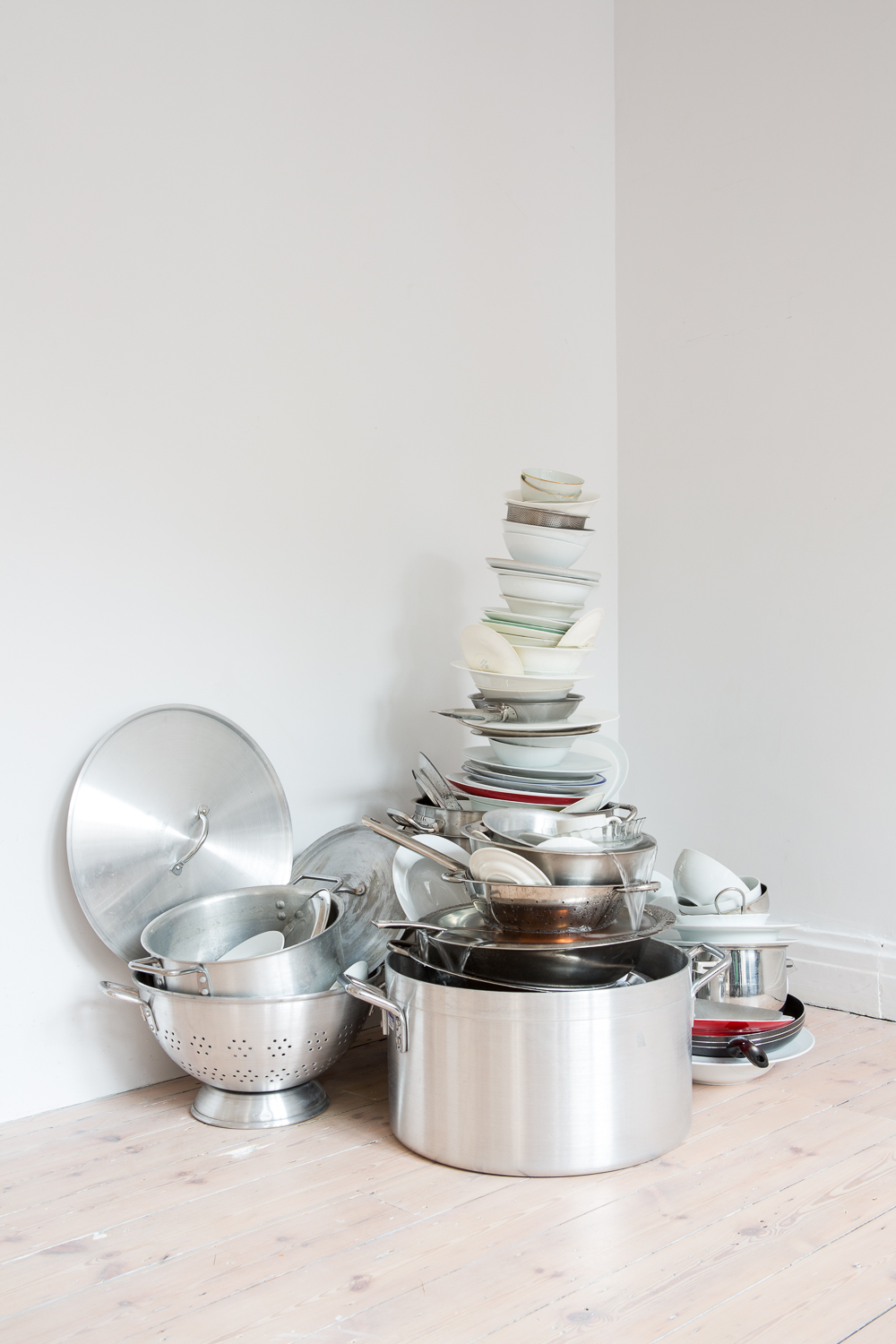 Abbas Akhavan (Iran/Canada, WELL from VARIATIONS ON GHOSTS & GUESTS, 2011 Pots, pans, water Photo: © Tim Bowditch

Candice Lin (USA), BACIUM SUB CAUDA, 2012 Tar, papier-mâché, hair, epoxy and audio/video for stop- motion animation and video. Duration: 7 min Photo: © Tim Bowditch

Jae yong Ree (South Korea), MEMORIES OF THE GAZE, 2012 Archival pigment prints
Photo © Tim Bowditch

Gayle Chong Kwan (UK), WASTESCAPE, 2012 Used and new plastic food packaging, sound (English and Spanish), media player, headphones Photo © Tim Bowditch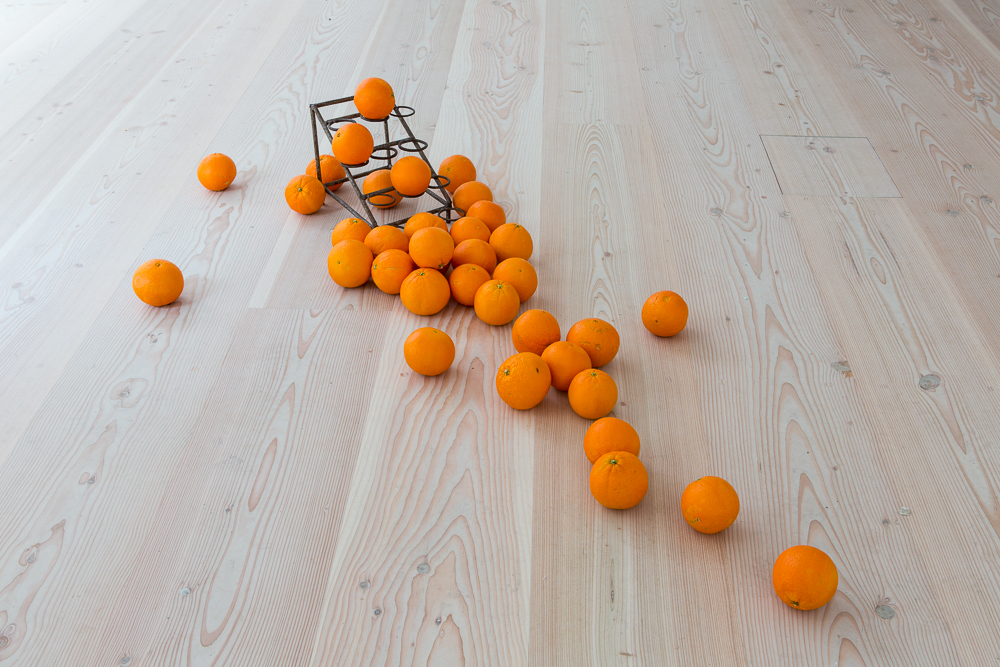 Senam Okudzeto (Ghana/UK/USA), PORTE-ORANGES (CM), 2012 / PORTE-ORANGES (detail), 2004-2007
Metal sculptures, oranges, video, sound. Duration: 6.32 min Photo © Tim Bowditch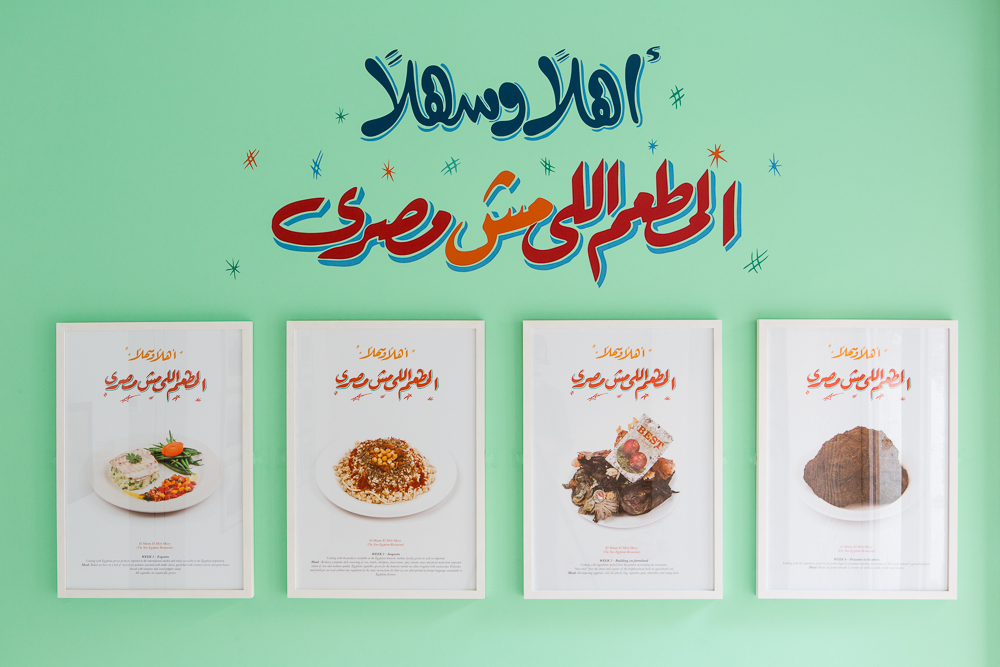 Asunción Molinos Gordo (Spain/Egypt), EL MATAM EL MISH- MASRY [The Non-Egyptian Restaurant], 2012 Digital prints, video, sound. Duration: 4.42 min Photo © Tim Bowditch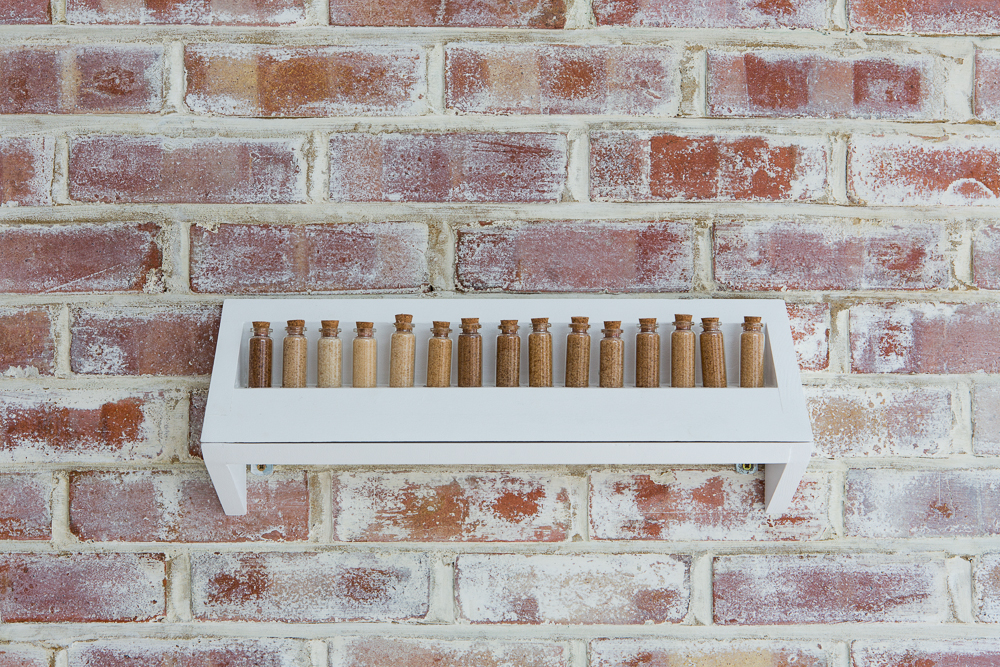 Zineb Sedira (France/Algeria/UK), SEAFARING (Antilles, Brazil (x2), Burkina Faso, Cuba, Guadeloupe (x2), Guyana (x2), Madagascar, Mauritius, Reunion, Swaziland (x2), Zambia), 2013 15 bottles, sugar cane, wooden box Photo © Tim Bowditch



Delfina Foundation Installation View, 'The Politics of Food', 2014 © Tim Bowditch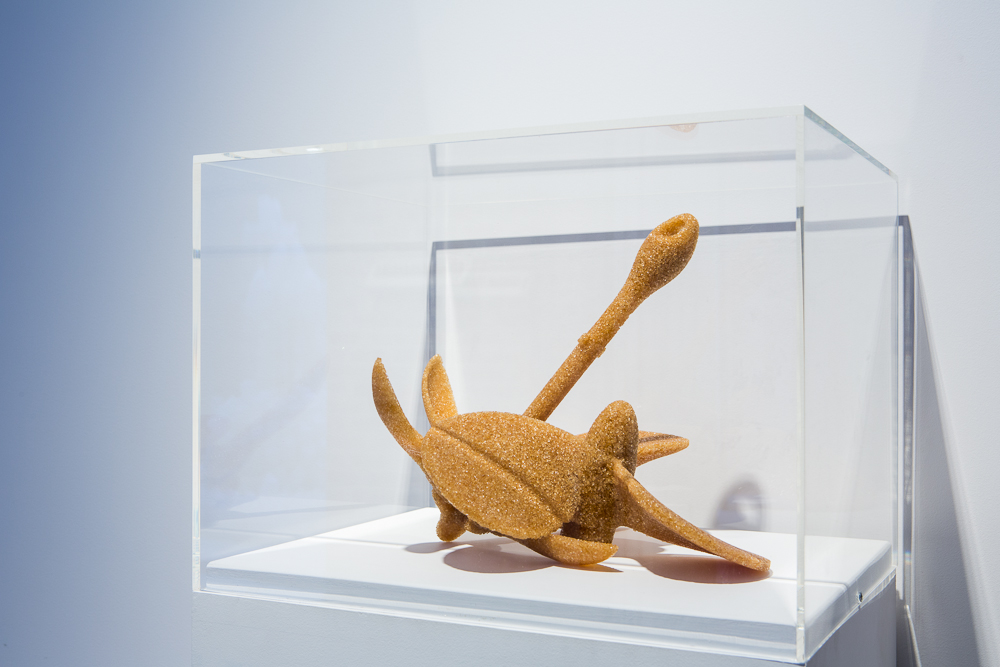 Zineb Sedira (France/Algeria/UK), SUGAR ROUTES II, 2013 C-Prints, sugar cane Photo © Tim Bowditch
Through to 15th February 2014 The Politics of Food Delfina Foundation 29/31 Catherine Place London SW1E 6DY
The Delfina Foundation reopened to the public this week following a £1.4m transformation of its building, making it the largest international artist residency provider in London. Currently located in an Edwardian townhouse in Victoria, the Foundation has expanded into the adjacent building, doubling its residency and exhibition space.
To coincide with the reopening, ten artists, curators and thinkers have been chosen to take part in the first theme-based residency at Delfina Foundation, which will explore 'The politics of food'.
The first exhibition in the new space highlights key issues within this theme and act as a starting point for the research undertaken during the residencies. Some of the participating artists include: Abbas Akhavan who will exhibit a water fountain created using stacks of dishes pots and cooking pans that explores the politics of hospitality; Zineb Sedira whose large-scale photographs and sugar sculpture references the history of sugar, race, migration and globalization; Tadasu Takamine reflects on the consequences of the catastrophic nuclear meltdown at Fukushima in a series of performative videos; Asunción Molinos whose work in the show originates for a 'pop-up' restaurant she ran in Cairo which dealt with issues related to Egypt's export/import policies and Senam Okudzeto whose work Portes-Oranges features metal sculptures used by Ghanaian fruit sellers to display oranges.
From Marinetti's Manifesto of Futurist Cookery to Gordon Matta- Clark's conceptual restaurant to Michael Rakowitz's Enemy Kitchen, artists have long employed food within their creative process and practice. In recent years, a host of cultural practitioners has been interrogating relationships between food and environmental, economic and social concerns, as well as notions of cooking and eating as performative acts and of dishes, recipes, and cookbooks as oft- contested markers of cultural memory.
Artists in the Exhibition
Raed Yassin (Lebanon) presents three images from his photographic series Self-Portraits with Foreign Fruits and Vegetables (2011) in which the artist poses with different foods that were once exotic but now are common to European diets.
Asunción Molinos (Spain/Egypt) presents documentation from El Matam El Mish-Masry (The Non-Egyptian Restaurant), her four-week 'pop-up' in Cairo, which dealt with issues related to Egypt's export/import policies and the side effects of uncontrolled growth of suburban areas on agricultural land. As the food deteriorated over the four weeks of the project, the restaurant highlighted Egyptians' diminishing access to food.
Candice Lin (USA) presents the video and sculpture Bacium Sub Cauda (Kiss Under the tail) (2012) which narrates the true story of U.S. backed pig genocide in Cuba, the Dominican Republic, Haiti, and Egypt. The incident is both an example and a metaphor of how racism and the inequities of power play out within foreign aid and intervention, the politics of representation, and the ways in which access and empathy are influenced by racial dynamics.
Zineb Sedira (Algeria/UK) showcases a sculpture of sugar collected from the St. Louis sugar silo at the port of Marseille, where sugar from Brazil, Mauritius, and Cuba is imported for processing. The work considers the history of sugar, race, migration, and globalization. It is complemented by two large photographs of the same silo.
Senam Okudzeto (Ghana/Switzerland) presents Portes-Oranges, an installation featuring metal sculptures used by Ghanaian fruit sellers to display oranges. Questioning the status of the art object in a manner reminiscent of Duchamp, Okudzeto's work references the marketplace of art and food, raising questions about the politics of necessity (food) versus the politics of luxury (the art object).
Jae Yong Rhee (South Korea) exhibits Memories of the Gaze (2012), a series of painterly photographs of traditional rice mills that are symbolic of the disappearing rural culture and the increasing corporatization of farms in modern Korea.
Gayle Chong Kwan (UK) inaugurates Delfina Foundation's external courtyard by re-imagining Wastescape (2012), a vast collection of plastic bottles and food packaging items, predominantly discarded or recycled, crafted into an immersive installation.
Abbas Akhavan (Iran/Canada) returns to Delfina Foundation to install Study for a Garden(2011). Stacks of dishes, pots, and cooking pans are converted into a water fountain that suggests a relaxing atmosphere but cross-references domestic labour with themes of leisure and highlights the complex relationship that binds them.
Tadasu Takamine (Japan) screens Japan Syndrome (2012) a performative video work that reflects on the social consequences of the catastrophic nuclear meltdown at Fukushima.
delfinafoundation.com
Events for The Politics of Food: delfinafoundation.com/whats-on/all-events-the-politics-of-food/
About Delfina Foundation
Founded by renowned arts patron Delfina Entrecanales CBE in 2007, Delfina Foundation is an independent, non-profit foundation dedicated to facilitating artistic exchange and developing creative practice through residencies, partnerships and public programming, with a special focus on international collaborations with the greater Middle East & North Africa. In January 2014, Delfina Foundation expands into London's largest international residency programme, also broadening its geographical remit beyond the greater Middle East. The redevelopment was designed by award-winning architects Studio Octopi and Cairo-based Shahira Fahmy Architects and combines existing historical features of the house with contemporary elements. Delfina Foundation has hosted over 100 artists, curators and writers in residence from 20 different countries to date, partnering with institutions such as Tate Modern, ICA, V&A Museum, Frieze Art Fair Projects, Art Dubai and Chisenhale Gallery.
Categories
Tags