Jake and Dinos Chapman The Sum of all Evil (detail), 2012-2013 Fibreglass, plastic and mixed media in four vitrines
84 5/8 x 50 11/16 x 98 3/8 in. (215 x 128.7 x 249.8 cm) Courtesy White Cube © Jake and Dinos Chapman

Jake and Dinos Chapman The Sum of all Evil (detail), 2012-2013 Fibreglass, plastic and mixed media in four vitrines
84 5/8 x 50 11/16 x 98 3/8 in. (215 x 128.7 x 249.8 cm) Courtesy White Cube © Jake and Dinos Chapman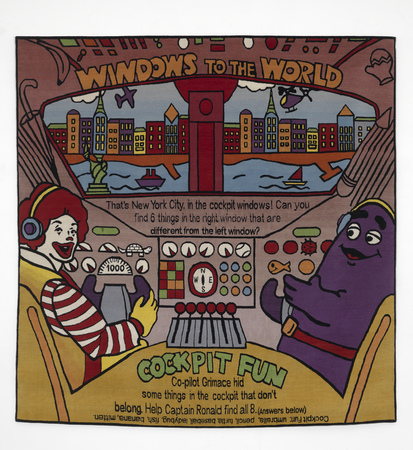 Jake and Dinos Chapman The Axminster of Evil, 2008 Edition of 5 Wool 96 1/16 x 96 1/16 in. (244 x 244 cm)
© Jake and Dinos Chapman Courtesy White Cube Photograph: Todd-White Art Photography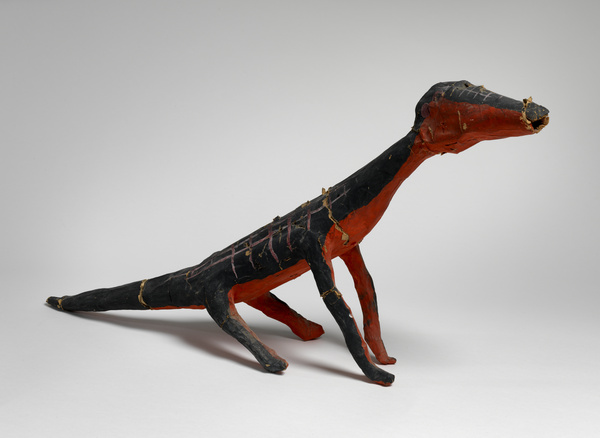 Jake and Dinos Chapman Early Works 1977 – 1983 1977-1983 Mixed media Dimensions variable © Jake and Dinos Chapman
Courtesy White Cube Photo: Todd-White Art Photography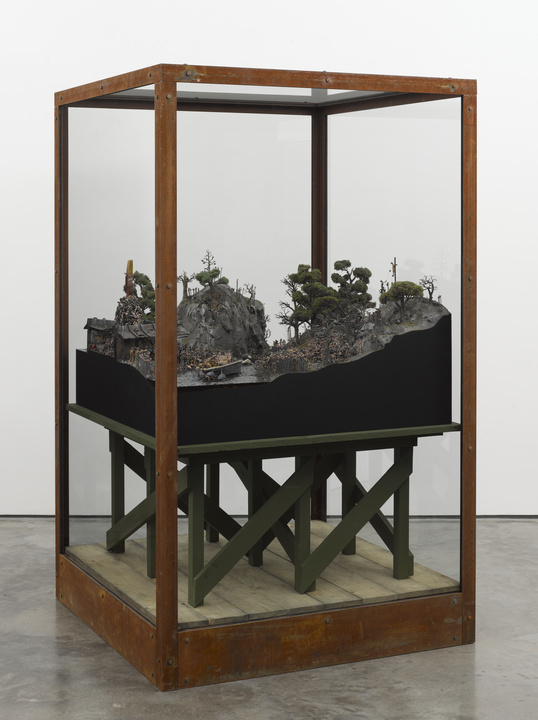 Jake and Dinos Chapman
When the world ends, there'll be no more air. That's why it's important to pollute the air now. Before it's too late. After the end of the world, also, all the technological advances which have been made in this century, which could at this very moment allow a leisure society for all but a few technicians, and a few women with wombs, – so that there will, I mean there could, be no more social class – after the end of this world when humans are no more, the machines for human paradise will run on their own. Just as McDonald's now runs. (Free Willy) 2012
Glass-fibre, plastic and mixed media 80 11/16 x 50 5/16 x 50 5/16 in. (205 x 127.8 x 127.8 cm) © Jake and Dinos Chapman
Photo: Ben Westoby Courtesy White Cube
29th November 2013 – 9th February 2014 Serpentine Sackler Gallery Kensington Gardens, London W2 3XA www.serpentinegalleries.org
Come and See will demonstrate the range of Jake and Dinos's output – from painting, drawing, printmaking and sculpture, to film, music and literature – providing a unique insight into the complexity of their practice and their prolific career.
It will be the first exhibition in a London public gallery to encompass the breadth of their work since Chapmanworld at the ICA in 1996.
Jake and Dinos Chapman create iconoclastic sculptures, installations and two-dimensional works that address a wide range of themes including morality, religion, history of art and consumer culture. Their work is provocative and deliberately confrontational, approaching controversial subjects with irreverence and dark humour.
Julia Peyton-Jones, Director, and Hans Ulrich Obrist, Co-Director, at Serpentine Galleries said:
"Since their surreal and sometimes nightmarish imagery took up residency in our collective subconscious in the early 1990s, Jake and Dinos have continued to prod, provoke and entertain. Whether subverting artists' original works – including their own – twisting historic narratives or peeling back the surface of consumer-driven culture to reveal the horror and humour that lies beneath, the Chapmans compel us to confront the nagging fears that lie at the dark heart of the Western psyche. Their use of film, music and literature as well as painting, drawing, printmaking and sculpture anticipated the multi-disciplinary approach of the 89plus generation for whom they are heroes and trailblazers. We are thrilled that they are exhibiting at the Serpentine Sackler Gallery this winter."
The Chapmans began collaborating in the early 1990s and first gained attention for their work Disasters of War, a three-dimensional recreation of Goya's series of etchings of the same name, for which they reconstructed Goya's scenes of brutal violence using miniature plastic figurines that they carefully reshaped and painted by hand. Goya, and the Disasters of War particularly, have remained a continued presence in the Chapmans's work. In 2003, they famously acquired a set of Goya's etchings and altered them, painting clown and cartoon heads over the original faces of the figures.
Their large Hell landscapes, such as Hell (2000) and The Sum of All Evil (2012-13), are at once monumental in scale and minutely detailed. These apocalyptic landscapes, teeming with miniature figures, depict scenes of excessive brutality involving Nazi soldiers and, in more recent works, McDonald's characters. The grotesque and often surreal violence of the scenes is offset by the overwhelming detail and painstaking labour evident in these and many of the Chapmans's works.
An exhibition featuring the work of Egyptian artist Wael Shawky runs concurrently at the Serpentine Gallery. Shawky's and the Chapmans's work is linked by their employment of models and marionettes to re-cast myths, stories and historical events.
About the Artists
Jake (b. 1966, Cheltenham) and Dinos (b. 1962, London) Chapman were nominated for The Turner Prize in 2003 and have exhibited their work extensively since the 1990s, including recent solo exhibitions at SongEun ArtSpace Museum, Seoul, and PinchukArtCentre, Kiev, (both 2013); The Hermitage, St Petersburg (2012); and Tate Liverpool (2006).
More Details: jakeanddinoschapman.com
Categories
Tags