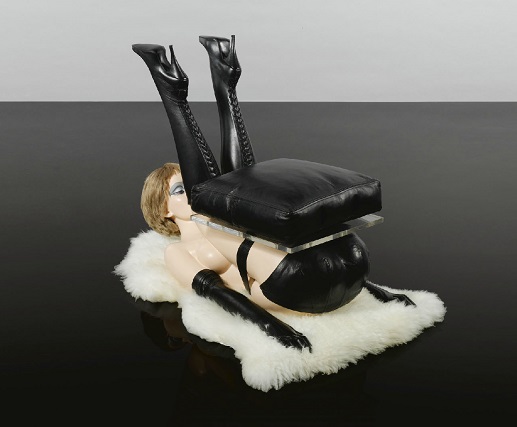 Allen Jones: Chair, 1969
How much is more than enough? Allen Jones' still somewhat notorious invitation to sit on a woman (Chair, 1969) sold for close on £1m last year. The acrylic on fibreglass in leather piece is an edition of six, and hardly a rare sighting. Overload was surely reached during October, though: I've seen it at Tate Britain (to demonstrate, as part of 'Art Under Attack', how well it's been restored after an acid assault), at the Barbican (a good fit for the mostly predictable 'Pop Art Design'), in Christie's first exhibition in the former Haunch of Venison space ('When Britain Went Pop!') and in Luxembourg & Dayan's booth at Frieze Masters. In the latter two its almost-as-notorious siblings, Table and Hat Stand, accompanied Chair.
They still get a strong reaction. I'm pretty sure it's the sex, not the art, which generates that, though a case can be concocted for Jones' trio as the pop art equivalent of Richard Artschwager's sculptures which pretend to be furniture, their apparent female submissiveness offset by the way they invade the viewer's space. There's nothing wrong with sex, of course, but you need to go to British Museum's magnificent Shunga show (to 5th Jan) to see a more even balance of effect between it and art.
www.britishmuseum.org/whats_on/exhibitions/shunga
Most days art critic Paul Carey-Kent spends hours on the train, traveling between his home in Southampton and his day job in Surrey. Could he, we asked, jot down whatever came into his head?
Categories
Tags