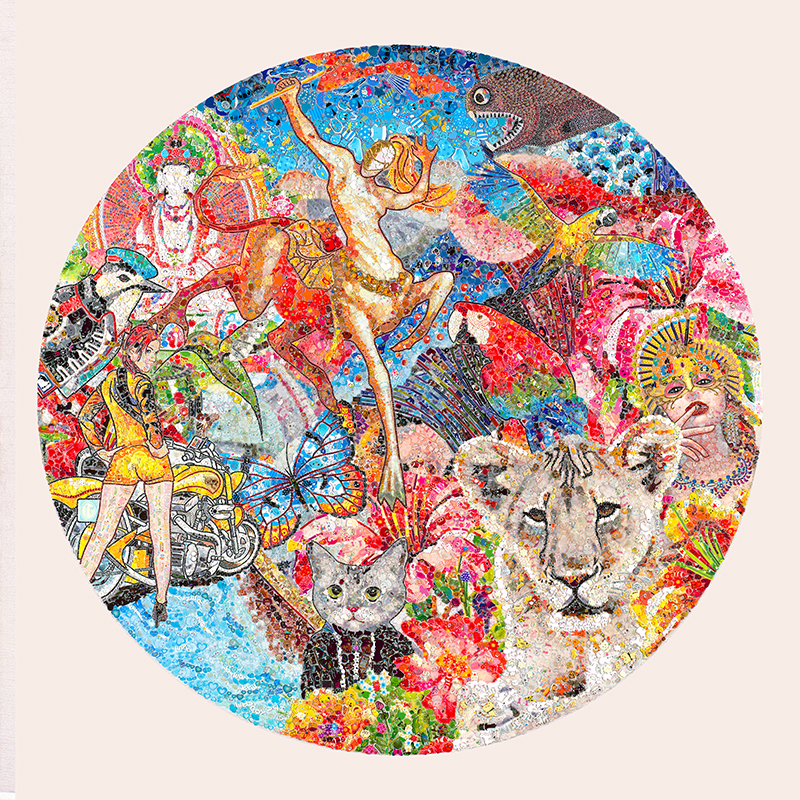 Ye Hongxing – East of Eden No.2 – 2013 Crystal sticker collage on canvas 150 x 200 cm (59 x 78.7″)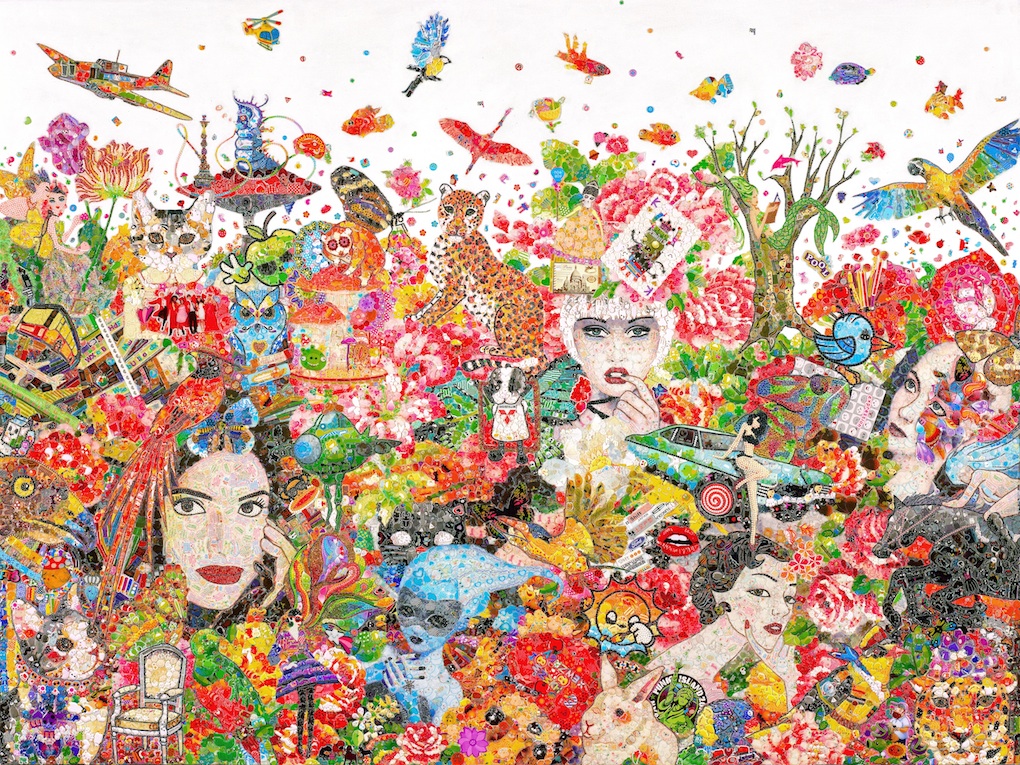 Ye Hongxing – Dream World No. 16 2013 Crystal sticker collage on canvas 120 x 160 cm (42.7 x 69.2″)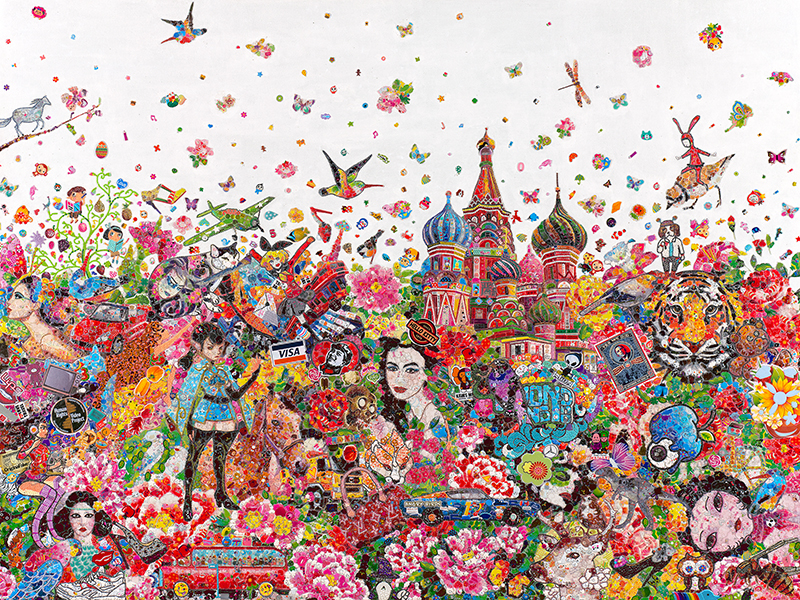 Ye Hongxing – Dream World No.15 2013 Crystal sticker collage on canvas 120 x 160 cm (47.2 x 69.2″)
25th October – 7th December Scream 27-28 Eastcastle Street London W1W 8DH www.screamlondon.com Private View Invite only
Following the overwhelming response to her debut UK exhibition last year, Scream are to present new works by Beijing-based artist Ye Hongxing. Having partnered with luxury shoe designer Christian Louboutin with pop-up exhibitions in both Miami and Hong Kong in the last year, Hongxing's profile and reputation continues to soar as one of China's most relevant and successful contemporary artists.
Born in Guangxi, China in 1972, Hongxing graduated from the prestigious Central Fine Art Academy in Bejing in 1998.
Her creative output has responded to the rapidly changing landscape and economic growth in this region. After the death of Mao Zedong in 1976, Western culture and traditions finally entered the country after years of censorship, and permeated the collective consciousness of Chinese society.
Hongxing's imagery is rich with references to Pop culture, mainstream media, architecture, nature and landscapes of both East and West making her an important voice of her generation.
Hongxing creates jewel-like mosaics of a hybrid reality using a collage of stickers on canvas. Usually collected during childhood, this mass-produced, kitsch material is deftly applied to create kaleidoscopic and highly detailed compositions. This ubiquitous material subtly alludes to mass consumerism and its innocent imagery belies the dystopian ideas that Hongxing explores. Depicting fictional landscapes, nature, modern machinery such as helicopters and guns, fantastical figures and religious imagery, Hongxing juxtaposes these elements to create explosions of colour. The dense layer of stickers allow the colours and textures to reverberate around the canvas, and new elements are found each time the viewer looks at the work. The effect on the eye is of information overload, reminiscent of our digital age. The cacophony of colour and detail present an infinite world that dazzles and envelops you.
Implied narratives can be found in every work, where glamorous figures jostle for space within tropical landscapes where tigers, birds and sea-life seem to burst out of the canvas. A disheartening reminder of the dangers to our environment and the effects of industrialisation. In previous works Hongxing has depicted the symbol of the Mandala – Sanskrit for 'circle', this ancient symbol of concentric diagrams was traditionally used as a visual tool for spiritual teaching, a focus for meditation and devotion. Hongxing renders these religious symbols with her unique, labour-intensive application of colourful stickers, which highlights the disconcerting fusion between the modern material and the sacred ideology it depicts.
Sara Raza, Curator and Asian art historian states that Hongxing's work presents
"a critique into the symptoms of globalisation, where industrial, societal and economic advancements and changes in attitude are moving at such a rapid pace that they are in fact eclipsing culture."
Hongxing was selected by the curator of the Asian Art Museum in California and the director of Art Cologne out of over a thousand emerging Chinese artists as one of China's top twenty rising artists. Hongxing's work has been well received internationally, with exhibitions including China Art Museum, Shanghai Museum of Contemporary Art, Nanjing Museum of Contemporary Art, Art Scene Beijing; the 7th Annual Exhibition of Sculptures and Installations in Venice; Art Taipei in Taiwan, Art Cologne and Miami Basel and her works have been exhibited in the UK, USA, India and Singapore.
Categories
Tags