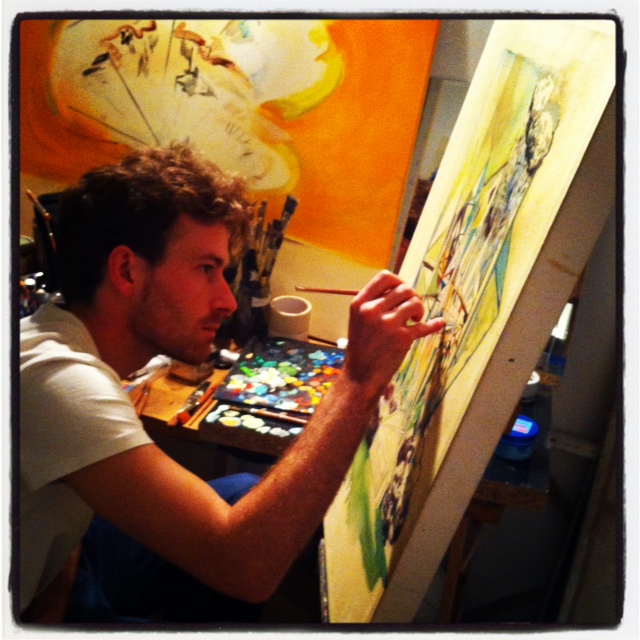 Ahead of showing his work with FAD Contemporary at STRARTA art Fair FAD managed to ask Merlin a few questions
1.If you weren't an artist, what else would you be?
An Architect given my employer could waive my wildly inadequate maths.
2. Can you tell us more about your work and what are the main ideas you would like to express?
I aim to communicate the world as a series of moments drawn observationally. The subject can vary for example; drawing torrents of water and weather systems to rendering the reflection on a skyscraper, but the elements of Architecture, movement and rhythm seem pertinent throughout.
3. How do you start the process of making work?
Sketchbooks have always been the beginning of my work as drawing is the most direct and effective medium for me. Painting expresses depth, layering and convincing inhabitable space more efficiently in my work but the raw immediacy of drawing is something that forms my compositions initially.
4. Do you consider the viewer, when making your work?
The viewer will take from it what they do! my consideration of the viewer would not alter the way I produce my work so to transport the observer to
5. Name 3 artists that have inspired your work.
Julie Mehretu
Leonardo Di Vinci
Per Kirkeby
6. What defines something as a work of art?
A work of art would give meaning to something beyond its function
7. Anytime, any place – which artist's body would you most like to inhabit?
Dali had an a good quality of life, owned an Ocelot and would love to know what was going on in that mind of his!
8. What was the most intelligent thing that someone said or wrote about your work?
Rachel really summed up the way that I work more succinctly than I could:
Each of Ramos' pieces are in situ, and couldn't be any other way. This is not a painter setting up to paint the scene, but rather a diary of an accumulated living experience, with daily fragments and observations coming together to form a new, possible, whole
Rachel Bennett review of stop look listen August 2011
9. Which artists would you most like to rip off, sorry, I mean appropriate as a critique of originality and authorship?
I would like to make a patchwork robbery of a couple of Russian constructivists, Cezanne's early work, Hirst's marketing lot and Michaelangelo's mural team.
10. Do you care what your art costs? State your reasons!
The value of the art is dependant on how much others value and appreciate it and how much you value it yourself. Also having trained for the same time in higher education as a Vet,Doctor or Architect the time invested in the work should reflect that ability and dedication.
11. What's next for you?
Calm, discreet World domination……
and the Other Art fair on the 17th of October !
And Before TOAF You can see some of Merlin's work at FAD contemporary STAND 6B STRARTA art Fair 6th floor, The Saatchi Gallery, Duke of York's HQ, King's Road, London, SW3 4RY 10th-13 October 2013 More Details here : www.fadwebsite.com/fad-goes-live
Categories
Tags