FAD Contemporary STRARTA 6th floor, The Saatchi Gallery, Duke of York's HQ, King's Road, London, SW3 4RY
10th-13 October 2013 Private View Wednesday 9th October Invite only
After six years supporting and promoting emerging and established artists in the digital world, FAD, is about to cross over into the real world this October to showcase a hand-picked selection of London's most exciting emerging and established creative talent at The new STRARTA Art Fair.
FAD has worked with Westall/Sorrell ( A unique new collaborative network with inside-track knowledge of the capital's dynamic art scene) to curate the show and together we have chosen eight artists who have all studied or worked in London, and will form an exciting cross section of contemporary painting within the beautiful Saatchi Gallery space off the Kings Road in Chelsea.
Featuring work by Amir Chasson, Tom Farthing, Haroun Haward, Tom Howse, Gorka Mohamed, Christian Newby, Merlin Ramos and Louise Thomas. The decision to present a concise set of high quality paintings reflects the wider trend towards the use of analogue media, while collectively their work embodies a high regard for the ability of handmade work to still the mind and allow space for contemplation in a modern world saturated by digital media and fast paced living.
STRARTA art fair is the perfect location for this new venture between FAD and Westall/Sorrell because they are a proactive organization that aims to give galleries an individual identity within the art fair environment, making an important difference in the relationship between artists and collectors. STRARTA is proactive in sourcing artists, curators and gallerists with extraordinary talent, reflecting the huge diversity that is active on the international stage.
On view from the 9th of October until the 13th of October on Saatchi Galleries 1st Floor; the exhibition will showcase work by seven exciting and engaging artists working in London today. For more info and Tickets email Mark@FADemail.com

Amir Chasson, The Trap, 2010, oil and charcoal on linen and household paint on canvas
About The Artists
Amir Chasson
Born in Israel, British artist Amir Chasson received his MFA in Fine Art from Goldsmiths University, London, in 2010, preceded by an MA in Design from Middlesex University (2007). Previous exhibitions have included a solo show at Outpost, Norwich and Manmadegod at ArtEco Gallery (now Kristin Hjellegjerde Gallery), both in 2012. Chasson has won numerous awards, including The Abbey Award for a Fellowship at The British School at Rome (2012). His work was twice selected for Bloomberg New Contemporaries (2009 and 2010). Chasson's work can be found in private and public collections, including Goldmiths College and The Saatchi Gallery in London, where it is currently on view as part of 'New Order: British Art Today' running until 29 September 2013. For more information visit www.amirchasson.com

Tom Farthing, Bathers, 2013, oil on canvas, 40.5×50.5cm
Tom Farthing
Born in London, Tom Farthing received his MFA from Chelsea College of Art. Prior to this he received his BA in Fine Art from the Ruskin School of Art, Oxford. His work has been featured in group shows in London and Oxford, including Seven Painters at Blackfriars, Blackfriars Priory, Masterdrive, Wallis Gallery Neals's Yard Galleries, and Back to Mine, (Curated by Edward Fornieles and Joby Williamson).


Haroun Haward, The prodigal son amongst the pigs, 2012, Acrylic, oil, spraypaint?on wood panels, 224 x 164
Haroun Haward
Born in London, Haroun Haward received his MFA in Fine Art from Goldsmiths University in 2010. Prior to this, he received his BA (Hons) in Fine Art Painting from Brighton University (2006). Between degrees, he received a Painting Department Scholarship Award from Nagoya University of Arts in Japan in 2005, followed by an artist residency at the National College of Art in Lahore, Pakistan in 2007. Haward has taken part in numerous exhibitions, including most recently the group show manmadegod at ArtEco (now Kristin Hjellegjerde Gallery), as well as a solo show at Hermann Germann Contemporary, Zurich, both in 2012. Awards include the 2007 shortlist for the Celeste Painting Prize, as well as the winner of the Burt, Crill and Cardens Award for Outstanding Excellency, First Prize (YEAR). For more information, visit www.artecogallery.com

TOM HOWSE – Your Very Special, 2013, Oil on Linen, 66x56cm
Tom Howse
Born in Chester, Tom Howse received his BA in Fine Art from Wimbledon College of Art. He was shortlisted for the Catlin Prize (2012), the Prunella Clough Painting Award (2012) and the Saatch Gallery and Channel 4 New Sensations Prize (2011). His work has also been featured in The Independent, Dazed Digital and Glass Magazine. He currently works in London. For more information visit www.tomhowse.com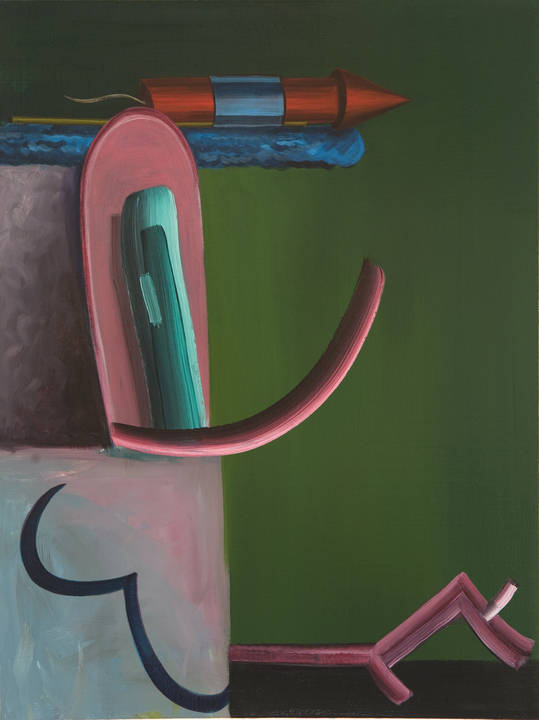 Gorka Mohamed, Rapido, Mas Rapido, 2011, 100x100cm. Acrylic on Linen
Gorka Mohamed
Born in Spain, Gorka Mohamed received his MFA from Goldsmiths College in 2008. Prior to this he received a BA in Art and Design from Escola Massana. Barcelona. Solo exhibitions include 'Riendo Hacia Atrás', Galeria Distrito4. Madrid (2011) Tautologies', Gallery b'one. Seoul, Korea (2010), 'Toon Toon'. Galeria Siboney. Santander, Spain, Cota Uno (Project Room). Arte Santander, Spain (2009) and Puente de la Vision'. Contemporary Museum of Santander, Spain and 'Ghosts and Premonitions'.Galeria Luis Adelantado, Valencia (2006). Group exhibitions include Creekside Open 2013 selected by Ceri Hand. A.P.T. Gallery. London, UK, Ultima pintura en las colecciones del DA2 y la Fundación Coca-Cola. Museo de Arte Contemporáneo de Arrecife (MIAC). Lanzarote, Spain Meaning Making (curated by Monica Alvarez Careaga ), touring show: New York, Washington, Brussels, Lisbon (2013), and Enlaces + Seis Contextos. Museo Patio Herreriano. Valladolid, Spain.
Salon Art Prize.Matt Roberts Arts gallery. London, and Swollen Jungle. Union Gallery, London (2012). For more information visit www.gorkamohamed.com

Christian Newby, Toilet Group Marble, 2013, 122x93cm, Ink on Marbled Paper
Christian Newby
Christian Newby was born in 1979 in Virginia Beach, Virginia and currently lives in London. He received his B.A. in Sculpture and Extended Media at Virginia Commonwealth University in 2002 and then an M.F.A. at the Glasgow School of Art in 2009. Exhibitions include: Le Club des Sous l'Eau at the Palais de Tokyo, Paris; Interior 301, Galerie Alain Gutharc, Paris; Art + Chips, MOT Internatioanl Project Space, London; Newby has just finished attending the Florence Trust in London and has recently been award the Converse/Dazed & Confused Emerging Artist Award shortlist in association with Whitechapel Gallery; as well as attended the Triangle Arts Trust's Triangle France Artist in Residence Programme (2011); Participated in the New Work Scotland Programme with Amelia Bywater at Collective Gallery, Edinburgh; 'Parlour Apes' solo exhibition at Transmission Gallery, Glasgow (both 2011); upcoming exhibitions include a solo exhibition at Space In Between in London and Vitrine Gallery, London. For More information visit www.christiannewby.com

Merlin Ramos, Fallen Geometry, Oil on Canvas, 2013. 91x121cm
Merlin Ramos
Born in Dundee, Merlin Ramos received his BA in Fine Art Painting from Falmouth College of Art, Cornwall (2007) and his MA in Drawing from the Prince's Drawing School (2010), followed by a residency at their studios in the Tea Building, Shoreditch, where he continued his studies. Recent exhibitions include two man shows Stop, Look, Listen at Cob Gallery, Camden (2011), while group exhibitions include London, Brighton, Northern Ireland and Falmouth, including an exhibition at Christie's London. His work can be found in the collection of HRH The Prince of Wales, among other international collectors. For more information, visit www.merlinramos.wordpress.com
Louise Thomas
Following on from my series the artifice of paradise at Bischoff Weiss Gallery. This painting again is taken from a you tube still inside Disney's haunted mansion ride. Chandelier mid swing this painting explores the realms of fun and ceaseless repetition of the ride. Louise graduated from Falmouth School of Art in 2007.
louisethomas.co.uk
STRARTA art fair, The Saatchi Gallery, Duke of York's HQ, King's Road, London, SW3 4RY
10th-13 October 2013 Tickets are available HERE
Categories
Tags