We all know that 'Artageddon' is now upon us as the slow month of August has quickly passed us all by. And you might have loads of shows to catch for first Thursday this September, but can we suggest to try a different route from all the poshness, and head towards the streets of Hackney Wick to witness some ecclectic culture, cool folks and 'wick'ed art!?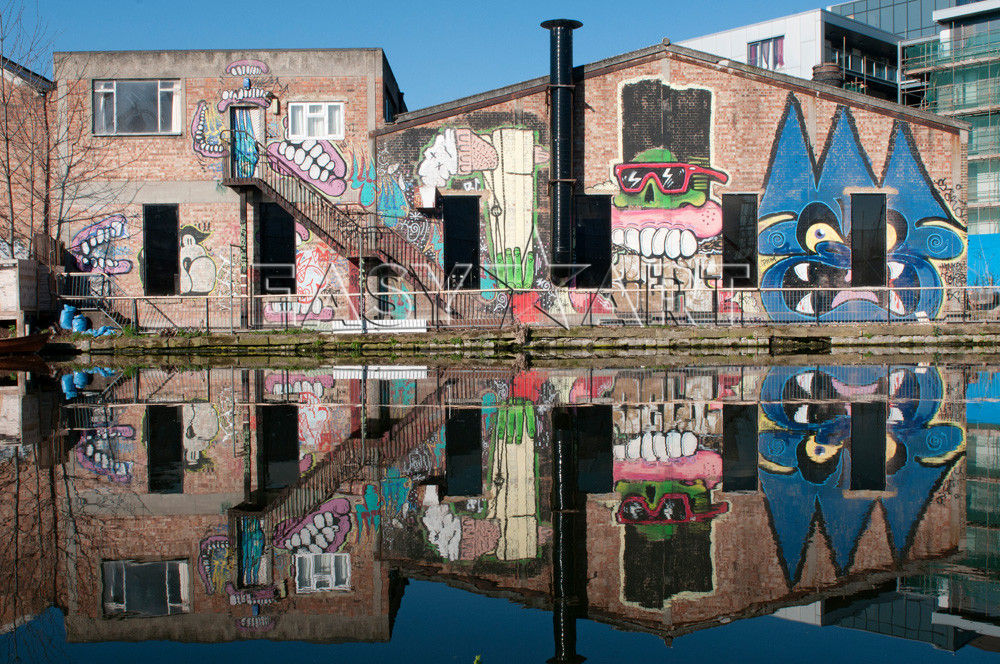 To start things off Stour Space will be hosting their September show 'Giving Something Back' which will feature 3 different Photographic projects from the well- known Isralian Born artist Ben Hopper!
Currently working in Hackney Wick, this unique, multi-faceted exhibition 'Giving Something Back' will feature a concentrated collection of three of Ben Hopper's latest ongoing projects. Rather than a standard solo show, Hopper has chosen to utilize the free flowing energy of Stour Space to ignite an intertwining breadth which successfully characterizes the essence of Hopper's intentions – to give something back. His works, both individually and collaboratively aims to give something back to both the community which has fostered his artistic career and to the creative individuals, whom have supported and inspired him along the way.
One of the first layers of the show is a project called 'Dancers on Rooftops'; inspired by  dancers and unique rustic rooftops ranging from Hackney Wick in East London to Tel Aviv in Israel, "Wherever there's a rooftop, a dancer and a camera". He eloquently and organically captures dancers in mid-pose as they embrace the rawness of the rooftops or the city skylines which aid in fostering and harboring their creative career. "For me, 'Dancers on Rooftops' features 2 of my greatest loves; dance and rooftops. The different perspective you receive when you're on the top of a building has always fascinated me. The toned beautiful bodies of the dancers is a perfect combination."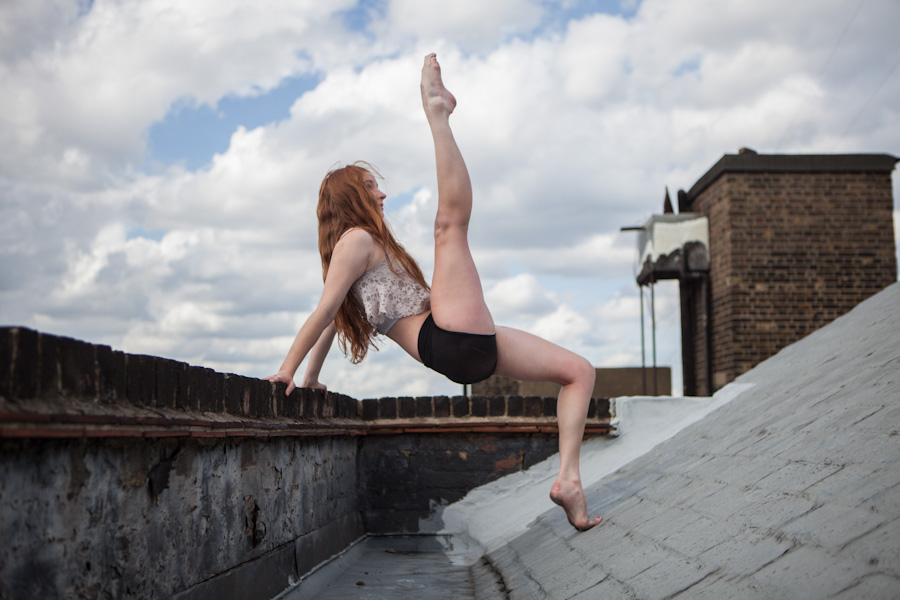 His subtle yet enticing perspective offers an insightful view into what it means to 'dance' on both the metaphorical and literal cityscapes that make up whichever geographical area we choose to call home.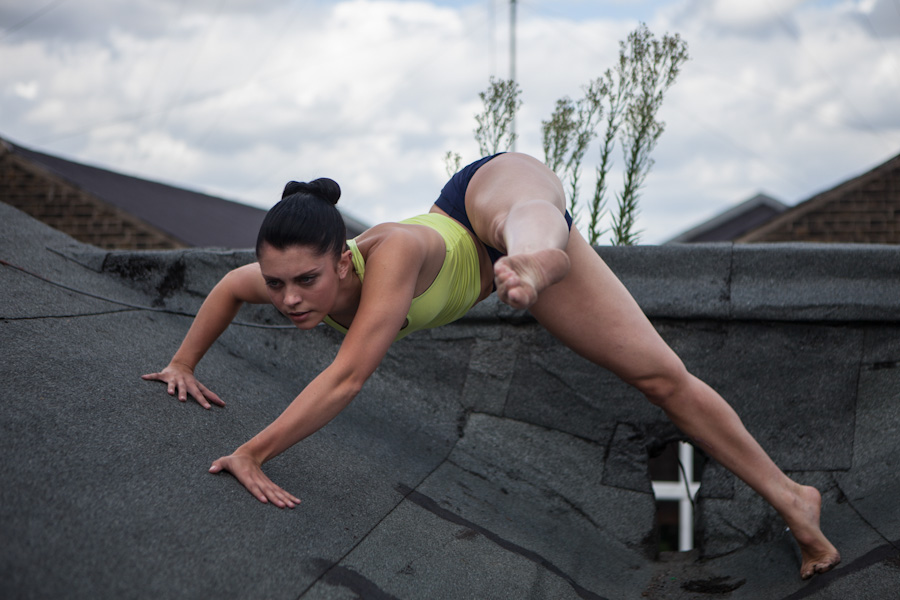 Simultaneously weaved within these alluring portraits, 'Giving Something Back' will also feature a preview to 'The Illustrated' – collaborations with well known illustrators such as Broken Fingaz collective, Harry Yeff (aka beatboxer Reeps One), Alex 'Twiy' Chappell and Iain Macarthur whom organically pump a deeper and even greater eccentric burst of life into his already reflective interpretations of what it truly means to be a visionary in the contemporary international arts scene.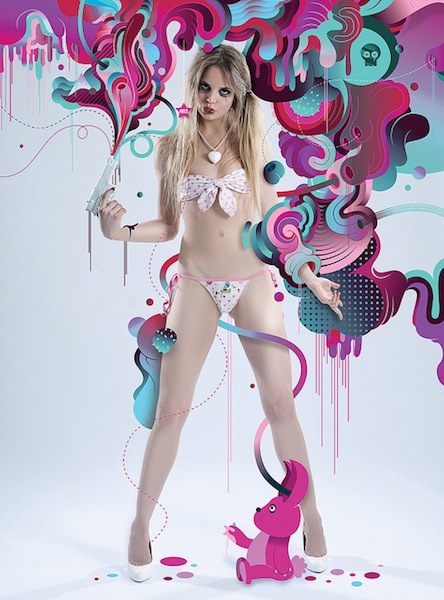 The last, but certainly not least, intrinsic element of this show, 'Hackney Portraits' seamlessly captures the intimate and delightfully humorous nature of the artistic and creative personalities who roam the streets of Hackney Wick on a diurnal basis. These idiosyncratic portraits collectively thread together the fabric which helps to characterize the colourful Hackney Wick, a community which any artist would be proud to be a part of.
This show arouses, titillates, and engages the senses on multiple dimensions, and is sure to be a Stour Space September spectacular you will not want to miss!
Artist statement:My experiences of working in Hackney Wick has been enriching from day one.I've been lucky to befriend and work with some great individuals around these pockets of East London.This show is a firm nod of gratitude towards this eclectic neighborhood as well as the collaborations with some of the world's top graphic artists and dancers.Hackney Wick is a special place full of inspiration, quirkiness, fascinating individuals from all walks of life and every corner of the planet. Art is its lifeblood running through its arteries. My work has been informed by this spirit.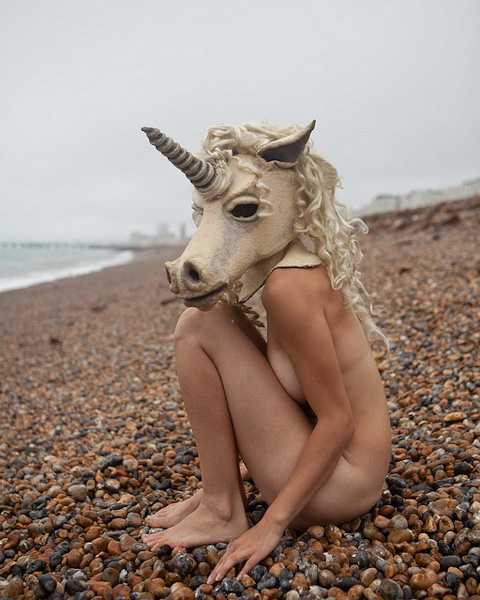 Here is a taste of beat boxer Reeps One work…if you manage to come to the opening you might get the chance to meet this crazy cat!
Within the space which is the Stour, the complimentary Counter Cafe, is tucked just perfectly along the canal allowing for a fruitful view of the olympic stadium. Began only a year ago by brother and sister duo Tom and Jess Seaton, the cafe has embraced enormous success by serving internationally inspired roasted coffees, beautiful yet classic brunch/lunch dishes, and daily made desserts which would put your mama's baking to shame! For the opening however, only locally brewed pints from their sister establishment, Crate Brewery (which is located about a five minute journey along the canal) will be served to the public with saliant smiles.
The show at Stour will be going from 7-11 which gives you plenty of time to catch another opening at Arbeit Gallery 4 White Post Lane (right around the corner from the Hackney Overground) which is featuring the unique works of celebrated artist  Jeannie Driver in the show titled "When Content Becomes Form"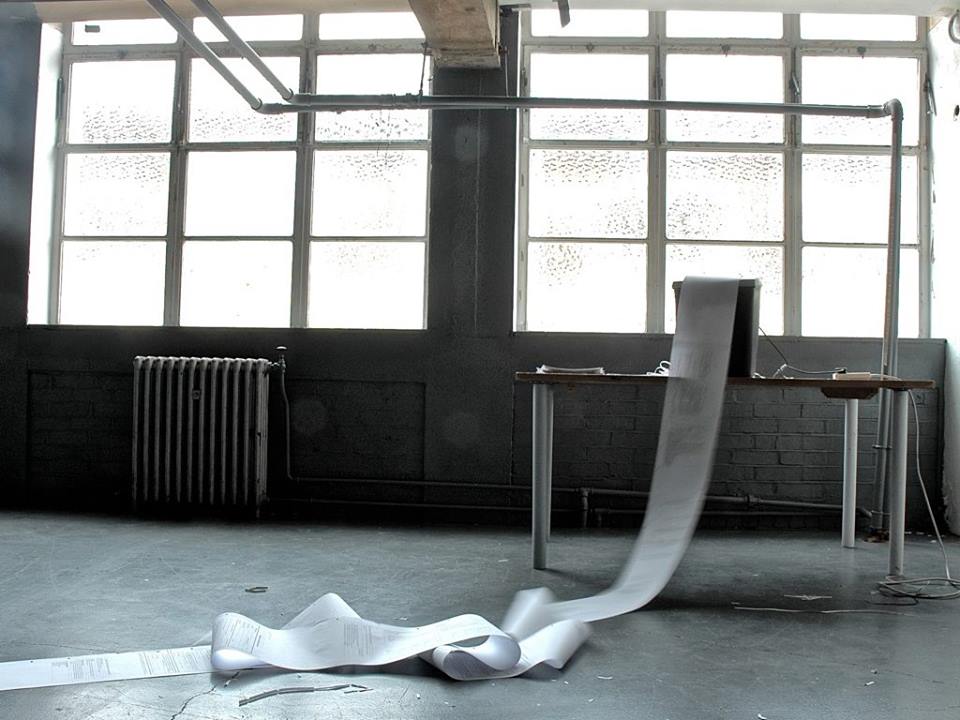 White3 is a scultptural installation constructed from gallery press releases fed through a security level two shredder invites the viewer to walk around and experience the illusion of solidity, fragmentation, focus and unfocused vision. The context of the material in both its content and materiality, and the resulting form of the installation is central to the work and its relationship to the ideas of the gallery as a 'white cube'. Through the deconstruction and reconstruction of the form of the press releases they lose what authority they once held; as code breakers, instructions as toold of enculturation. The work homogenises the content and is represented in a form that captures its original purpose and relationship with the creator. the artwork invites the viewer to look, see and experience rather than read.
Surprising and thought provoking, this exhibition by Jeannie Driver completely gives a firm nod to the great curator Harald Szeeman with his groundbreaking show 'When Attidue Becomes Form' (1969) while inherently inspired by works drawn from composite experiences in the role of the
gallery audience .
After all of this clever looking around the artististically populated Wick area, why not go grab a freshly brewed hand crafted pint and a killer Italian inspired pizza @ Crate Brewery (Queen's Yard, London Borough of Tower Hamlets, E9 5EN)? Between the brilliant minds of Tom and Jess Seaton, Neil Hinchley the superstar brewer of the wick, completes this triumphant triangle by kicking out some of the best lagers and ales in the East.
So between art in the galleries, art in the kitchen, and art in the brewery- come cool out with some quirky imaginatives in Hackney Wick!
To RSVP to the show at Stour Space go: HERE
For more info on Stour Space go: HERE
To RSVP for the show at Arbeit Gallery go: HERE
To check out Counter Cafe's delectable bites go: HERE
For more info on Crate Brewery and to see their stupidly delicious menu go: HERE
Just for some electric 'hoppy' kicks here is some tribe called quest to accompany your ears while your eyes check some more FAD articles out:
Categories
Tags