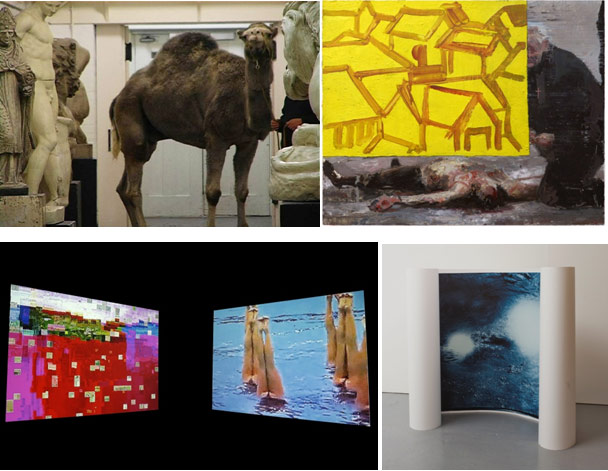 The Four New Sensations Finalists 2013, left to right: Rosie O'Grady, Camellemac; Glenn Kennedy,
The Last Rights; Jack Stanton, The Personality Agreement; Michal BarOr, The Cave.
Channel 4 and The Saatchi Gallery have just announced the shortlist and finalists for this year's New Sensations Prize.
The work of 20 young artists will be exhibited in an exhibition in London opening on 12th October.
Twenty graduates from BA and MA courses at UK and the Republic of Ireland colleges and universities have been chosen by the judges: the artists Adam Broomberg & Oliver Chanarin; Nick Hackworth, founder of Paradise Row, London; Ossian Ward, formerly visual arts editor of Time Out and now at the Lisson Gallery, London; Tabitha Jackson, Commissioning Editor, Arts, Channel 4; and Rebecca Wilson, Chief Curator, Saatchi Online and Director, Saatchi Gallery.
Four finalists have been selected to make a new commission for the exhibition. They are Michal BarOr (Royal College of Art, London), Glenn Kennedy (Glasgow School of Art), Rosie O'Grady (Glasgow School of Art) and Jack Stanton (Oxford University – The Ruskin College). Each of the four finalists will work with Channel 4 film to make a short film about their work which will be aired in October.
This year, for the first time since the Prize was launched, all the entries will be exhibited on Saatchi Online, the largest online gallery for discovering emerging artists from all over the world. Collectors and art lovers not able to attend the New Sensations exhibition in London will be able to discover some of the UK's most promising emerging artists at www.saatchionline.com/newsensations.
PARTNERSHIP WITH ABSOLUT
ABSOLUT, as the key partner of New Sensations, will also be presenting a programme of initiatives at the New Sensations exhibition including an ABSOLUT Art Talk on the topic of collecting emerging art. In addition, ABSOLUT will commission works by three of the shortlisted artists who will be invited to create a new work inspired by their latest limited edition bottle, ABSOLUT Originality. For the second year running ABSOLUT will support the winner of the ABSOLUT commission with a studio fund for one year. This is a continuation of ABSOLUT's long association with artists, including Andy Warhol, Damien Hirst and Louise Bourgeois.
Categories
Tags