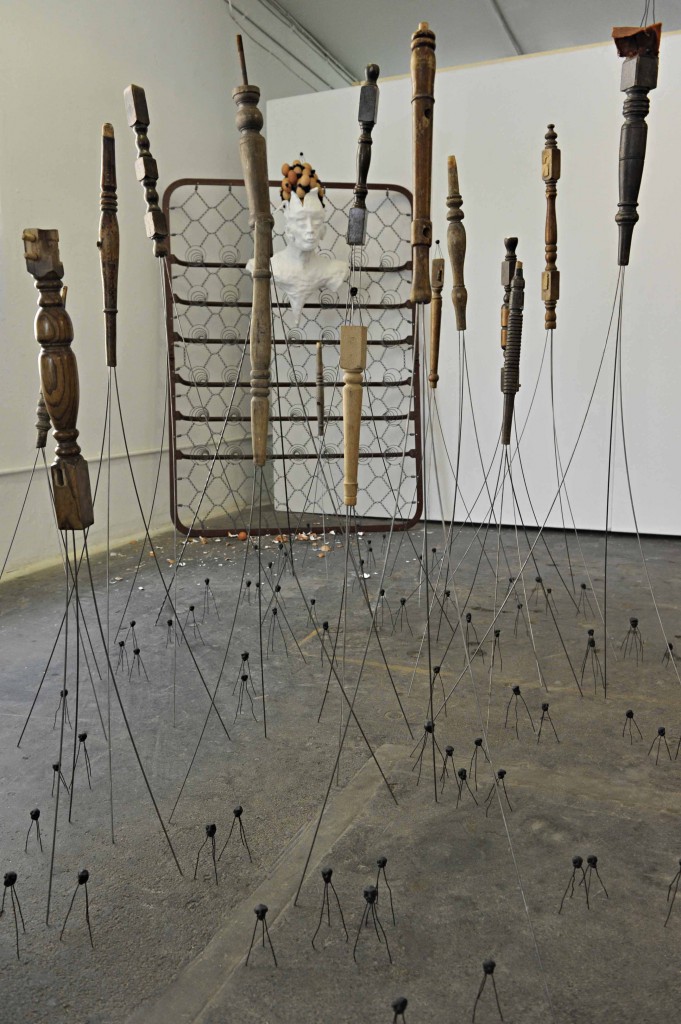 This Year FAD have teamed up with Degree Art and Cass Art to help launch The Free Range Emerging Art Award .
Over the coming weeks we will be interviewing all 10 winners of the 2013 award. As well as reading about the artists on FAD
you will also be able to buy their work via DegreeArt.com and FAD will also be following how all ten progress during the next year .
Here is the 4th Interview with Nathan Little from Bath Spa University Bath Spa University
1.How was Free Range for you?
Very exciting. It was fantastic to be exhibiting with so many talented people from my own uni and others. It was an incredible space and my first opportunity to exhibit in London.
2.What do you hope to achieve in your first year after graduation?
Up until I won this award I really wasn't sure. I was mainly thinking it was great to just make art for 3 years, but now I need to make a living, now it's time to find a real job. However, if I can find a way to make a living doing what I do it would be amazing, the best thing I could hope for. But my main goal is just to be happy and comfortable in whatever I do.
3.Can you tell us more about your work and what are the main ideas you would like to express?
When I was young I was very isolated and preferred my own company to other people my own age. In that time I used to create my own worlds to amuse myself with, filled with imaginary characters. In many ways my current work is an extension of that. The piece exhibited in Free Range was also a symbolic expression of a source from which I draw these bizarre works, my own dreams.
4.How do you start the process of making work?
Usually it begins with an image in my head. Maybe it's surreal or beautiful or just plain cool, but whatever it is I know I need to make it. Then I begin drawing. I draw a lot. Just to work out designs, how this creature will look, how it will function as a piece of sculpture. I usually try to bring in some real world object into the design, giving it a piece of reality to anchor it, and make it stranger by comparison. I tend to collect interesting junk to use, so sometimes the object comes before the image.
5.Do you consider the viewer, when making your work?
I think the best thing to do as an artist is to make something you want to make, and create something as close to your personal vision as possible. If people like it that's a bonus. If you set out thinking about the viewer first and foremost then I think you're less lightly to make something that'll make an impression on anyone, including yourself. I've fallen into that trap before, making to please others more than myself, and it made for some pretty boring work.
6.Name 3 artists that have inspired your work.
I'm a huge fan of the surrealists, particularly Salvador Dali. I loved him before I even liked fine art. I also adore the work of Louise Bourgeois; one of my earliest memories of an art work was seeing Maman in the Tate Modern's Turbine hall. But I think the main reason I make what I do is because of one of my tutors in Canterbury College, Clive Soord. Clive makes a lot of different sculptures, but mainly I love that he makes dragons and has a statue of Batman in his living room window. I think his work was what made me realise I can make whatever I want to make, and if you're passionate about it and it appeals to you that's what matters above all else.
7.What defines something as a work of art?
People have been asking this question for a very long time and will be for a very long time to come; everyone's definition of art differs and it's never going to be set in stone. I guess if anything defines art it's the person behind a creation and their passion for it and effort put into it, but that can't really be measured.
8.Anytime, any place – which artist's body would you most like to inhabit?
Anyone amongst the surrealists in their heyday. To have that much raw talent amongst all those insane people at that incredible time sounds fantastic to me. If you've seen the recent Woody Allen directed movie Midnight in Paris, that movie embodies the nostalgia I feel for that time and place.
9. What was the most intelligent thing that someone said or wrote about your work?
I had a friend tell me something along the lines of "You just make things that are not about anything, and that's great." I love this because in some ways that's exactly what I do, though I know some people hate that. But some people love it too.
9.How did you find exhibiting at Free Range?
A little nerve racking, but mostly exciting. I think the full extent of it only hit me on the opening night when I looked around at what other universities had been making. There was a lot of very impressive and professional stuff. It felt like all these artists had brought all these incredible works of art with them and here I was with my strange little plasticine heads on tripods. Being picked out amongst all that competition was unexpected to say the least.
10.Have you investigated selling your art online?
I've never sold a piece of art, and never made a piece of art with the intent of selling it. It's something I'm going to have to look into if I want to do this full time I guess, though I've made work with the intent of displaying it in a gallery space for a short amount of time; making something that could be bought and is lasting and durable is tricky for me.
11.What's next for you?
I have no idea. All I've been thinking about for the last 3 years is my degree and I never planned ahead for what comes after. I need to spend time to consider my options, maybe move into some sort of craft if the art work doesn't pan out. I never had a gap year; I'd love to go traveling with some friends. But all these possibilities were before I got some recognition. Now, who knows what's to come?
Read Eve Laws Q & A number 1: HERE
Read Charlotte Cousins Q & A number 2 : HERE
Read Ina Tricker Q & A number 3 : HERE
About The Free Range Emerging Art Award
The 'Free Range emerging art award" has been created in conjunction with FAD, Degree Art and Cass Art, designed to support 10 young artists in the year following their graduation.
As an annual showcase of British-based art and design graduates, Free Range brings together a vast network of young graduates for a series of free exhibitions at The Old Truman Brewery on London's Brick Lane. Over a hundred courses and more than 3000 students exhibit their work across five disciplines: fashion & textiles; design; photography & media; contemporary & fine art; interior design & architecture.
FAD, Degree Art & Cass Art are all committed to discovering and nurturing new art talent and, under the guidance of founder and creative director Tamsin O'Hanlon, Free Range has long been dedicated to providing a support network to students after graduation.
The 10 recipients of the award will be selected from the graduate work exhibited at Free Range's Art weeks (28th June – 8th July) by a panel of industry experts: Mark Westall (founder and creative director of FAD), Elinor Olisa (Co-Founder of DegreeArt), James Bidwell, (CEO of Cass Art), Ryan Stanier (Director of The Other Art Fair) and Tamsin O'Hanlon (founder and creative director of Free Range). The 10 artists who the judging panel believe to have the potential to succeed, will all receive:
?????
• Representation and mentoring from DegreeArt, who specialise in identifying and mentoring talented graduates
• On-going editorial coverage and support from FAD
• A £100 bursary from Cass Art
• Automatic entry into the Signature Art Prize
An Exhibition in 2014 at The Truman Brewery
www.free-range.org.uk/ContemporaryandFineArt
ABOUT FREE RANGE
Free Range is an Old Truman Brewery special project set up by Tamsin O'Hanlon to provide new creative graduates with the opportunity to showcase their work on an international level. Attracting visitor numbers of over 100,000, the annual Free Range exhibitions present the work of thousands of art, design students in several distinct categories including: fashion, art, graphics, photography and interior design.
www.free-range.org.uk
ABOUT DEGREEART
DegreeArt.com was founded in 2003 and is one of the UK's first Online Art Galleries. Over the past 10 years, DegreeArt.com has established itself as the market leader in UK student and graduate art sales, hand picking and promoting the most promising artistic talent. DegreeArt.com offers clients the opportunity to invest in the artists of the future.
www.degreeart.com
ABOUT CASS ART
?????????Cass Art is London's leading independent art retailer offering the world's finest art materials. Committed to encouraging everyone to realise their creative talents, Cass Art supports and ?promotes emerging talent through a number of prizes and art initiatives across the capital.
www.cassart.co.uk
About Mark Westall