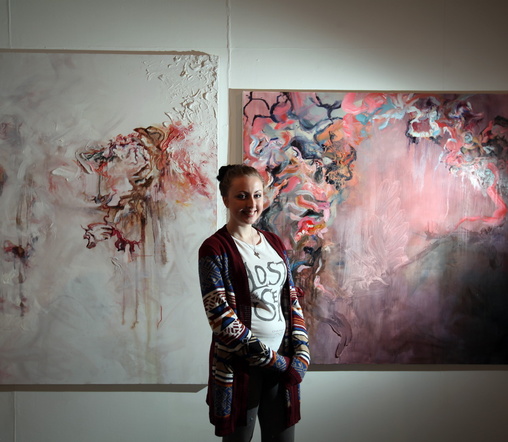 Eve Laws Photographer: Paul Norris, The Journal

'Salt' oil and bone on canvas, 66 x 78 inches, 2013

'Broth' Oil on canvas, 78 inches x 66 inches, 2013
This Year FAD have teamed up with Degree Art and Cass Art to help launch The Free Range Emerging Art Award .
Over the coming weeks we will be interviewing all 10 winners of the 2013 award. As well as reading about the artist on FAD
you will also be able to buy their work via DegreeArt.com and FAD will also be following how all ten progress during the next year . First Up is Eve Laws from Northumbria University.
1.How was Free Range for you?
I loved the atmosphere at Free Range. It was extremely interesting observing the artwork of other graduates across the UK. I engaged in several conversations with one particular graduate and it was both fascinating and inspiring to discuss techniques and inspirations with this artist from another university, an opportunity I would not have had if not for Free Range.
2.What do you hope to achieve in your first year after graduation?
It has always been my greatest passion to become a self employed artist; I plan to continue my paintings and to gain as much exposure as possible. I am extremely driven with my art work and I am the most content when I am painting. I shall be exhibiting in galleries and building a range of contacts.
3.Can you tell us more about your work and what are the main ideas you would like to express?
As a race we are all too aware of our mortality. But even in death, there is beauty. Within the process of decay and decomposition, the colour and form of that process can be regarded not merely as disintegration, but as a transmogrification. When viewers of my work have commented that they find my paintings 'beautiful' and 'stunning', they are at first unaware of the more sinister element. The colours we consider most attractive can all be observed during the decomposing process of the human body. This distortion of our form and the spectrum of colour created takes our corpses, our shells, to a new form of omnipotence. I love to work on large scale to express areas of detail and to contrast them with wide, open voids.
4.How do you start the process of making work?
I begin by creating anatomical drawings and/ or taking photographs of anatomical areas that interest me. These can be either full human bodies, parts or sections that have been preserved in jars. Detail is very inspiring and I use these detailed elements in the photographs/drawings as part of my method in disguising these elements within the paintings.
I use whichever drawing/photograph I instinctively find most inspirational, and incorporate elements of figuration from the drawings into the paintings. I do also study photographs of mortuary and crime scene photographs, creating colour charts from these sources for my work.
5. Do you consider the viewer, when making your work?
I reference a lot of figuration, but this form becomes deliberately ambiguous in the paint. Therefore I like to imagine what people may see hidden within the paint at first glance. Coral reefs, a landscape, even a reminiscent wedding scene, have all been observed in my paintings. I enjoy the power this dark ambiguity holds over the viewer.
6.Name 3 artists that have inspired your work.
Glenn Brown, Cecily Brown and Francis Bacon.
7.What defines something as a work of art?
I believe something is a work of art when it becomes so powerful that it remains with you and is memorable for years to come. It affects you in an emotional way.
8. Anytime, any place – which artist's body would you most like to inhabit?
Hans Holbein the Younger. He lived in a historical period of time that I have a deep rooted interest in. He painted some incredibly famous portraits, including that of Henry VIII – I bet that was a frightening prospect! Caravaggio is also a painter I have a great interest in. I would love to know the secrets of his mysterious life.
9.What was the most intelligent thing that someone said or wrote about your work?
In his review of the group exhibition 'Self' at Whitley Bay, David Whetstone (Arts and Entertainment editor for The Journal) stated that viewers are "seduced" by the colours and forms in my paintings. I would say this is definitely my intention, and also reflects other feedback from the public that I have received. The nature of 'beauty' is by its very definition seductive, and although its opposite aspect (decomposition) is not obviously enchanting, it can become so when manipulated through the texture and technique of oil.
10. How did you find exhibiting at Free Range?
Free Range was a great opportunity. I really enjoyed exhibiting at the venue and future graduates should be very excited at this prospect.
10. Have you investigated selling your art online?
I am currently creating an online portfolio with DegreeArt.
11. What's next for you?
I have several exhibitions coming up and I shall continue to produce more art work. I am exhibiting at Whistle Art Stop in the 'SHED – SUMMER SALON' exhibition which is showcasing emerging artists in the North East from 12th – 30th July 2013, the 'Northern Graduates' exhibition at the Curwen Gallery in London from 7th – 31st August 2013, and I have a solo exhibition planned at Newbiggin Maritime Centre café from December 2013 until January 2014. I plan to fulfil my lifelong ambition of becoming a professional in this career path. More information, including further images of my work, CV and contact details, can be found on my website, www.evefranceslaws.com
About The Artist
Eve Laws is a British artist from the North East of England. Eve has always held a passion for horror film and art after watching Hammer Horror films as a child with her father and horror writer Stephen Laws.
The artist works primarily with oil paint and resin. Eve has always held a passion for figurative art, something she ambiguously explores in her own work. Life and death and the beauty of horrific subjects inspires her paintings. Whilst many are "seduced by the swirling shapes and colours" (David Whetstone, The Journal Newspaper) a horrific and uncanny subject lurks amongst the paint.
Eve completed her Fine Art Degree at Northumbria University in 2013. Eve's work has appeared in local and national newspapers and online blogging sites. Her work has appeared in many group exhibitions and future solo exhibitions are planned.
About The Free Range Emerging Art Award
The 'Free Range emerging art award" has been created in conjunction with FAD, Degree Art and Cass Art, designed to support 10 young artists in the year following their graduation.
As an annual showcase of British-based art and design graduates, Free Range brings together a vast network of young graduates for a series of free exhibitions at The Old Truman Brewery on London's Brick Lane. Over a hundred courses and more than 3000 students exhibit their work across five disciplines: fashion & textiles; design; photography & media; contemporary & fine art; interior design & architecture.
FAD, Degree Art & Cass Art are all committed to discovering and nurturing new art talent and, under the guidance of founder and creative director Tamsin O'Hanlon, Free Range has long been dedicated to providing a support network to students after graduation.
The 10 recipients of the award will be selected from the graduate work exhibited at Free Range's Art weeks (28th June – 8th July) by a panel of industry experts: Mark Westall (founder and creative director of FAD), Elinor Olisa (Co-Founder of DegreeArt), James Bidwell, (CEO of Cass Art), Ryan Stanier (Director of The Other Art Fair) and Tamsin O'Hanlon (founder and creative director of Free Range). The 10 artists who the judging panel believe to have the potential to succeed, will all receive:
?????
• Representation and mentoring from DegreeArt, who specialise in identifying and mentoring talented graduates
• On-going editorial coverage and support from FAD
• A £100 bursary from Cass Art
• Automatic entry into the Signature Art Prize
An Exhibition in 2014 at The Truman Brewery
www.free-range.org.uk/ContemporaryandFineArt
ABOUT FREE RANGE
Free Range is an Old Truman Brewery special project set up by Tamsin O'Hanlon to provide new creative graduates with the opportunity to showcase their work on an international level. Attracting visitor numbers of over 100,000, the annual Free Range exhibitions present the work of thousands of art, design students in several distinct categories including: fashion, art, graphics, photography and interior design.
www.free-range.org.uk
ABOUT DEGREEART
DegreeArt.com was founded in 2003 and is one of the UK's first Online Art Galleries. Over the past 10 years, DegreeArt.com has established itself as the market leader in UK student and graduate art sales, hand picking and promoting the most promising artistic talent. DegreeArt.com offers clients the opportunity to invest in the artists of the future.
www.degreeart.com
ABOUT CASS ART
?????????Cass Art is London's leading independent art retailer offering the world's finest art materials. Committed to encouraging everyone to realise their creative talents, Cass Art supports and ?promotes emerging talent through a number of prizes and art initiatives across the capital.
www.cassart.co.uk
Categories
Tags