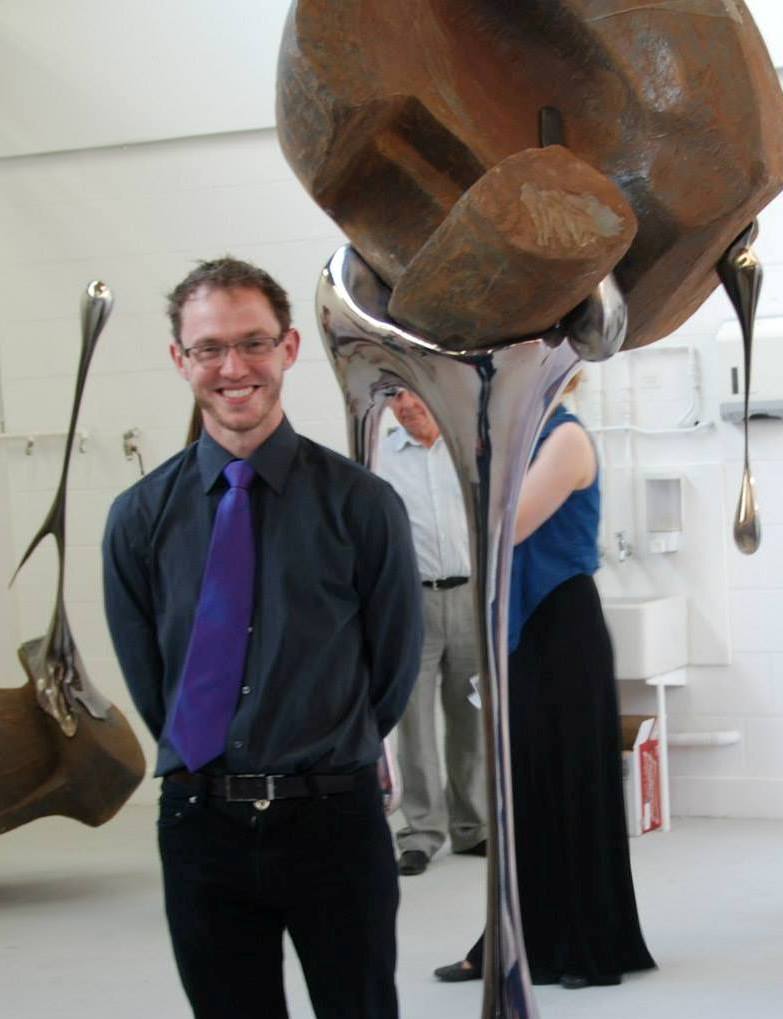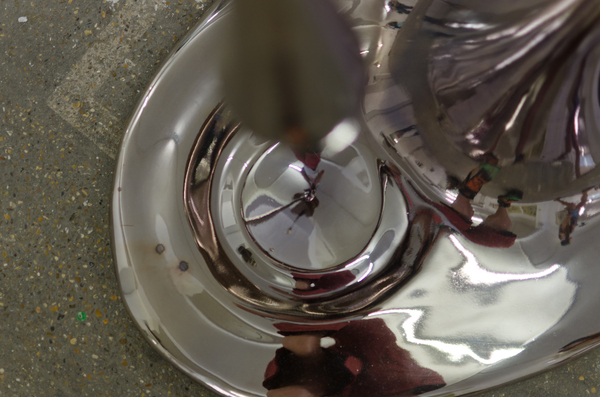 This Year FAD have teamed up with Degree Art and Cass Art to help launch The Free Range Emerging Art Award .
Over the coming weeks we will be interviewing all 10 winners of the 2013 award. As well as reading about the artists on FAD
you will also be able to buy their work via DegreeArt.com and FAD will also be following how all ten progress during the next year .
Here is the third interview with Ian Tricker from Loughborough University
1. How was Free Range for you?
Free Range for me was an exciting and fresh experience and I would recommend getting involved to any graduating student of the arts. There was a lot on offer, in terms of works on show, meeting other university students and interesting members of the public.
2. What do you hope to achieve in your first year after graduation?
I hope to be an active exhibitor and to continue working on commissions while building on my portfolio. I'd also like to experiment with some new materials as this is an integral part of my practice.
3. Can you tell us more about your work and what are the main ideas you would like to express?
My current body of work plays on the language of sculpture, such as balance, tension, form and skin or surface. The surface texture of a sculptural object could be said to be one of the most important elements of sculpture as it is often the first thing a viewer sees and engages with. This being said, I wanted the surface of my sculptures to have its own rules, to inhabit an alternate world. The reflective skin is being pulled off the form by gravity or some other external force in the space, acting almost as liquid and exposing the contrasting awkward iron anatomy beneath. Rusted and decaying, they appear almost as relics of the industrial revolution and that nature is claiming back the materials through force or time. This combination of materials hints at the notion that the objects and processes of the industrial revolution, although radically different in aesthetics, underpin and have given rise to modern technology.
4. How do you start the process of making work?
I set off by collecting found objects and taking photos of inspirational material around me. The rusted exposed forms are influenced by automotive designs, gesturing towards the external and internal body of the car, as well as to more classic, older shapes from engineering such as shipping containers and discarded metal objects. I sketch out my ideas with clay, pen or paint and sometimes use 3D software to develop the idea in a medium in which it's free to evolve.
5. Do you consider the viewer, when making your work?
Working with sculpture and researching its history I find it hard not to consider the viewer, as they so often experience object work through the body. My practice currently particularly involves the viewer, as the mirrored surface engages them physically, reflecting them back at themselves, causing them to impact or change the surface of the sculpture as they inhabit the space around it.
6. Name 3 artists that have inspired your work.
Tony Cragg, Richard Serra, Henry Moore
7. What defines something as a work of art?
I feel that an artwork should always beg a question such as 'how?' or 'what?'. I think art is about making an impact on the audience, however subtle, and that it somehow reaches beyond the normal thinking of the everyday and in turn reaches them internally, to leave a lasting memory of the experience.
8. Anytime, any place – which artist's body would you most like to inhabit?
Auguste Rodin. Rodin was a machine in his production of sculpture. His studio was filled of work that he would turn back to for inspiration. The Gates of Hell was an iconic work that took a life time to complete and led to many of his other famous pieces such as The Thinker. Throughout his sculpting, modelling or carving, it was a work the world knew was going to change the future of sculpture if not the whole art world, even at the time he was making it. Arguably he was the pioneer of Modern sculpture, for the first time leaving the tool marks or the mark of his hands in the clay to be cast, capturing life, expression and movement within the work. To possess his skills and experience the making of such historical works would be invaluable.
9. What was the most intelligent thing that someone said or wrote about your work?
Although this is not strictly what someone has said or written, I think the most intelligent interaction with my work was by a little girl who, on experiencing my sculpture, instinctively and carefully placed her hands underneath one of the drip forms and paused there for a moment as if it was just about to drop into her hands. This is a memory that will stay with me, as it was an uninhibited and innocent response, yet intelligent in the way that it intuitively responded to the concepts of a frozen moment, tension and expectation that are so important to the piece.
10. How did you find exhibiting at Free Range?
I found exhibiting at Free Range to be an unforgettable and valuable experience of how to exhibit my work professionally to a new audience and the logistics of doing so. It was a fantastic opportunity to gain new responses to and perspectives of my work, and to see the talent and new ideas in the work of other universities. Overall, it was a great show and one that I was honoured to be a part of.
11. Have you investigated selling your art online?
I am in the process of building an online portfolio and will also be adding a shop section to my website (www.iantricker.com) very soon. I have also had some enquiries from members of the public that have viewed my website.
11. What's next for you?
I am taking part in Wirksworth festival in Derbyshire in September and am also participating in an exciting group show in China this December. I will be enjoying making some new works, in particular in executing my second public commission piece over the summer. Additionally, I am in the process of applying to various competitions and galleries and seeing what the future has in store!
Read Eve Laws Q & A number 1: HERE
Read Charlotte Cousins Q & A number 2 : HERE
About The Free Range Emerging Art Award
The 'Free Range emerging art award" has been created in conjunction with FAD, Degree Art and Cass Art, designed to support 10 young artists in the year following their graduation.
As an annual showcase of British-based art and design graduates, Free Range brings together a vast network of young graduates for a series of free exhibitions at The Old Truman Brewery on London's Brick Lane. Over a hundred courses and more than 3000 students exhibit their work across five disciplines: fashion & textiles; design; photography & media; contemporary & fine art; interior design & architecture.
FAD, Degree Art & Cass Art are all committed to discovering and nurturing new art talent and, under the guidance of founder and creative director Tamsin O'Hanlon, Free Range has long been dedicated to providing a support network to students after graduation.
The 10 recipients of the award will be selected from the graduate work exhibited at Free Range's Art weeks (28th June – 8th July) by a panel of industry experts: Mark Westall (founder and creative director of FAD), Elinor Olisa (Co-Founder of DegreeArt), James Bidwell, (CEO of Cass Art), Ryan Stanier (Director of The Other Art Fair) and Tamsin O'Hanlon (founder and creative director of Free Range). The 10 artists who the judging panel believe to have the potential to succeed, will all receive:
?????
• Representation and mentoring from DegreeArt, who specialise in identifying and mentoring talented graduates
• On-going editorial coverage and support from FAD
• A £100 bursary from Cass Art
• Automatic entry into the Signature Art Prize
An Exhibition in 2014 at The Truman Brewery
www.free-range.org.uk/ContemporaryandFineArt
ABOUT FREE RANGE
Free Range is an Old Truman Brewery special project set up by Tamsin O'Hanlon to provide new creative graduates with the opportunity to showcase their work on an international level. Attracting visitor numbers of over 100,000, the annual Free Range exhibitions present the work of thousands of art, design students in several distinct categories including: fashion, art, graphics, photography and interior design.
www.free-range.org.uk
ABOUT DEGREEART
DegreeArt.com was founded in 2003 and is one of the UK's first Online Art Galleries. Over the past 10 years, DegreeArt.com has established itself as the market leader in UK student and graduate art sales, hand picking and promoting the most promising artistic talent. DegreeArt.com offers clients the opportunity to invest in the artists of the future.
www.degreeart.com
ABOUT CASS ART
?????????Cass Art is London's leading independent art retailer offering the world's finest art materials. Committed to encouraging everyone to realise their creative talents, Cass Art supports and ?promotes emerging talent through a number of prizes and art initiatives across the capital.
www.cassart.co.uk
About Mark Westall