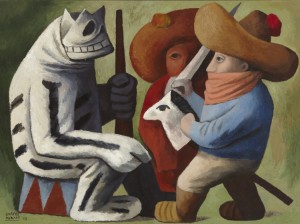 Jose Chavez Morado: Carnaval en Huejotzingo (Carnival in Huejotzingo), 1939
6th July- 29th September, Royal Academy Burlington House Piccadilly, London W1J 0BD www.royalacademy.org.uk
Opening 6th of July at the RA is 'Mexico: A Revolution of Art 1910-1940' featuring ground breaking artists such as  Jose Clemente, David Alfaro Siqueiros, Joze Chavez Morado and of course the infamous leaders of the Mexican pack- Diego Rivera and Frida Kahlo.When most people think of art and politics in the beginning of the twentieth century they probably conjure up images of great artists like Picasso, Matisse, and Gauguin fleeing their homelands in order to seek refuge from war and to better evolve with the changing time which so heavily helped shape their practice.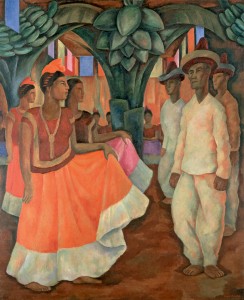 Diego Rivera, Dance in Tehuantepec (Baile in Tehuantepec) 1928
It is quite refreshing that the RA will be hosting an exhibition of this exotic calibre, as it is most certainly an eye opener for both the art historian and the casual art lover. The exhibition which features a mixture of large paintings, stellar photography, lucid watercolours and original newspaper clippings are all arranged to help weave a controversial and inspiring story of chaos and revolt. Mexico at this time was potentially dangerous for most to live, much less to visit, and it was interesting how additional works from other ground breaking international artists who were affected by their experiences in Mexico such as: Edward Burra, Robert Cappa, Henri- Cartier Bresson and Paul Strand are incorporated into the theme and constructs  in order to evoke a full fledged conversation between European artists and the Mexican muralists. Through these metaphorical dialogue questions are raised of whether or not war can transpire beauty, and in the worst of times- can your greatest artistic voice become awakened?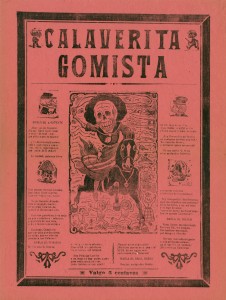 Jose Guadalupe Posada, Little Calavera of (Arnulfor) Gomez, Undated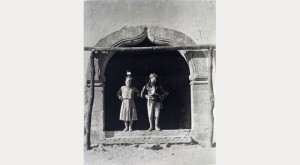 Manuel Alvarez Bravo, Lords of the Dance, 1931
Playful, political, insightful, daring and subtly boisterous, this show captures the essence of Mexico at the peak of a dawning cultural era from multiple perspectives.  It is obvious that we all have a story to tell and I would definitely say this particular story is worth checking out.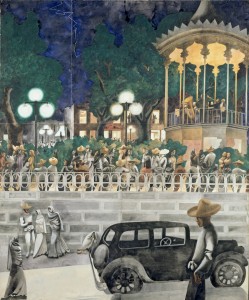 Edward Burra, 'El Paseo', 1938
For more informationand to reserve tickets: www.royalacademy.org.uk
Categories
Tags