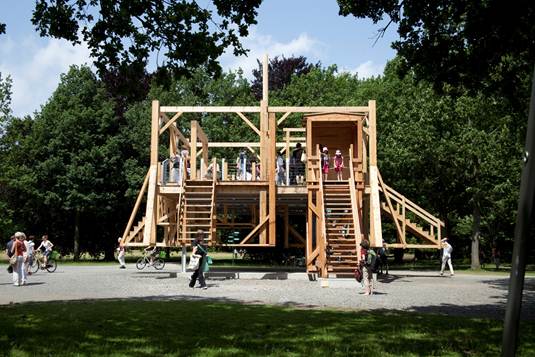 Sam Durant Scaffold 2012 at dOCUMENTA – shortly to be at Jupiter Artland, Edinburgh
25th May – 15th September 2013 Bonnington House Steadings Wilkieston Edinburgh EH27 8BB, UK www.jupiterartland.org
Jupiter Artland has just announced its programme for 2013 which continues the foundation's commitment to showcasing world-class contemporary art across an ever-changing 100-acre landscape.
Highlights for 2013 include the UK-premiere of Sam Durant's work Scaffold; a new exhibition focusing on the collaborative work of Jeremy Deller with Alan Kane; and a group show of new and previously unseen works by Aleana Egan, Lucia Nogueira and Bojan Šar?evi?. Jupiter Artland's Guest Curator for 2013 is Susanna Beaumont.
In May 2013 Jupiter Artland will present the only UK showing of Los Angeles-based artist Sam Durant's acclaimed work Scaffold, (2012). The work was commissioned for and exhibited at (d)OCUMENTA 13 in Kassel, Germany and is arresting both in terms of its vast scale and the history that inspired it. Made of large pieces of wood, Scaffold appears pre-industrial and is at once an immense eco-friendly climbing frame and a towering wooden platform from which a great orator might rouse a troubled crowd.
Rising high over the grounds, visitors will be able to climb upon Scaffold, which will be sited on Jupiter Artland's highest point in the Apple Tree Orchard to the east of Bonnington House, where it will command outstanding views of the Pentland Hills and the surrounding area. The display coincides with an exhibition of the artist's work at Sadie Coles Gallery, London, which is on now until 22nd June 2013.
Also opening in May a group show will feature new and previously unseen works by the Dublin- based artist Aleana Egan, the late celebrated Brazilian artist Lucia Nogueira and Berlin-based sculptor Bojan Šar?evi?. The artists, whose work is brought together at Jupiter Artland for the first time, have been chosen for their particular engagement with mark-making in a range of materials. The exhibition will consider their varied and tactile approaches to making art, featuring watercolour, fabric and plaster.
In August, as part of the 10th edition of the Edinburgh Art Festival, Jupiter Artland will present a new exhibition in the indoor galleries focusing on the collaborative work of Jeremy Deller including two key pieces made in collaboration with the artist Alan Kane.
Featuring their artistic relationship which spans the years since their early 1995 collaborative show at notorious London nightclub, Stringfellow's, the exhibition will include Deller and Kane's joint project, Steam Powered Internet Machine. In Deller's words, this unusual installation developed from 'thinking about something that connects the industrial revolution with the digital revolution'. This piece typifies their unique collaborative style; a celebration of British popular art fused with the aim of giving life to eccentric, unusual concepts. Their quirky, customised tea urn, which exemplifies their joint idiosyncratic style, will also be making an appearance in Jupiter Artland's café this summer.
Deller has collaborated with leading banner-maker Ed Hall and the banners were previously paraded through Manchester in 2009 in a march organised by the artist to celebrate life in contemporary Britain as part of Manchester International Festival. This series of large, colourful and evocative Procession banners, inspired by people he has met, will also be on display at Jupiter Artland this August.
Marking the opening of the exhibition on Saturday 3rd August, previous Deller collaborators, 'Steel Harmony', a Manchester-based Caribbean band, will perform steel band cover songs of hits by bands including Joy Division, the Buzzcocks and other seminal UK indie bands.
About Jupiter Artland
Jupiter Artland is a unique, award winning sculpture garden 12 miles outside Edinburgh which houses the private art collection of Robert and Nicky Wilson. Jupiter Artland is a registered charity and the Foundation is committed to nurturing the work of outstanding contemporary artists, offering an annual residency and continuing to commission new site specific works.
Jupiter Artland opened to the public in May 2009 and in the same year received the prestigious Glenfiddich 'Spirit of Scotland' Art Award, which rewards those who inspire Scotland through their contributions to cultural life. Since 2009 Jupiter has commissioned 30 site-specific works by top-class international artists. Artworks on permanent display in the peaceful woodland and meadows of the Jacobean house include major pieces by leading contemporary sculptors including Nathan Coley, Ian Hamilton Finlay, Laura Ford, Anya Gallaccio, Andy Goldsworthy, Antony Gormley, Charles Jencks, Anish Kapoor, Jim Lambie, Peter Liversidge, Cornelia Parker, Marc Quinn and Shane Waltener.
About Sam Durant
Sam Durant is a multimedia artist whose works engage a variety of social, political, and cultural issues. Often referencing American history, his work explores the varying relationships between culture and politics, engaging subjects as diverse as the civil rights movement, southern rock music, and modernism. His work has been widely exhibited internationally and in the United States. He has had solo museum exhibitions at the Museum of Contemporary Art, Los Angeles; Kunstverein für die Rheinlande und Westfalen, Düsseldorf; S.M.A.K., Ghent, Belgium; and the Govett-Brewster Art Gallery in New Zealand. His work has been included in the Panamá, Sydney, Venice and Whitney Biennales. Durant teaches art at the California Institute of the Arts in Valencia, California.
About Jeremy Deller
2004 Turner Prize winner Jeremy Deller commandeers the everyday, making it stand out in sharp relief. He is a modern age hunter gatherer of artifacts and ideas with an infectious interest in the creativity of others, overturning cultural hierarchies and staging opportunities for interaction. Deller's way of working as artist, orchestrator, filmmaker, curator and cultural archivist is both highly influential and often collaborative. People often take centre stage in Deller's practice and, over the last two decades, the artist has collaborated with groups as diverse as former miners, bat behavioural experts, Depeche Mode fans and a range of musicians. Jeremy Deller will present a solo exhibition in the British Pavilion at the 55th International Art Exhibition in Venice from 1 June to 24 November 2013.
About Alan Kane
A conceptual artist focusing on blurring the boundaries between the valuable and the obscure, Alan Kane's work centres around the themes of categorisation, discovery and exploration. Taking an interactive approach, his work seeks to bring art to the masses and provide alternative options to mass production and design. Kane has had previous solo exhibitions at London College of Fashion, Art Basel Miami Beach and Ancient & Modern at Martos Gallery New York and his work has spanned from a live Channel 4 broadcast of life drawing classes organised by Artangel, to a diverse collection of forgotten ceramic treasures for the Children's Art Commission, produced through an artist-audience collaboration. Commissioned by London's Art on the Underground scheme, Kane was also responsible for The Stratford Hoard, highlighting the notion that anybody can be an art collector.
About Susanna Beaumont
Susanna Beaumont is an independent curator based in Edinburgh. She was founder director of doggerfisher, a contemporary art gallery in Edinburgh from 2000-2010. She was Director at Frith Street Gallery, London from 2011 – 2012, where she curated Look With All Your Eyes, Look with Rachel Adams, Sara Barker, Neil Clements, Alex Dordoy, David Malijkovic, Helen Mirra, Rudolf Polanszky and Erin Shirreff in 2011.
Categories
Tags