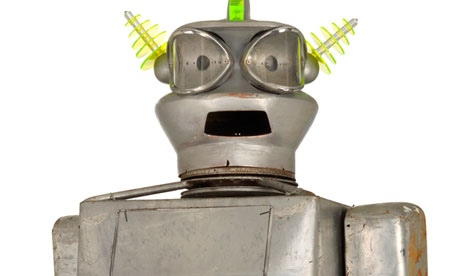 Christie?s Out of the Ordinary sale on 5th September 2013 will feature an eclectic selection of fascinating items, spanning all eras from the prehistoric natural world to the surreal realm of science fiction. A summer exhibition will precede the auction displaying the intriguing items for five weeks from 5th August until the auction on 5th September.
Out of the Ordinary will comprise over 150 lots ranging from £1,000 to around £100,000 and will be for collectors with all budgets. One of the coolest items in the sale is Cygan, a giant robot made in 1957. Created in the year that Sputnik, the world?s first satellite was launched into space and the same year Britain tested the H-bomb, Cygan epitomises this new era of technological innovation.
The eight-foot giant is a monumental relic of the atomic age and was a great celebrity of the 1950s and 60s. This remarkable item will be offered with an estimate of £6,000 – 8,000. The impressive cyborg is one of the most sophisticated robots of its time, pre-dating PCs by over a decade and the internet by over 33 years.
Designed by Dr Ing Fiorito, an enthusiastic aeromodeller from Turin, Cygan could originally walk forwards or backwards, turn right or left, raise its arms and could lift or carry items. It was an extremely advanced model for the time, with a capacity to accept spoken commands and signals and respond to light rays. Not only could it raise its arms from a resting position in just three seconds, but it could shift its enormous weight of 1,000 lbs at a staggering rate of 10 feet per minute. Cygan was first presented at the Milan sample fair in 1957 and then travelled to London, Olympia in 1958 to perform in front of astonished crowds. The colossal robot captivated children and adults alike, walking around the auditorium and even showing off its dance moves with a well-dressed lady. It would have been an extraordinary experience to witness the workings of such an advanced robot and Dr. Ing Fiorito was most likely considered an innovator of the time. Before completing Cygan, he worked on a series of models, which he fitted with radio control circuits. The first prototype and following two or three models were built around five feet high, in preparation for the impressive final design, over eight feet high.
Further highlights in the sale include a huge Titanic bell, used in the 1958 film, "A Night to Remember?, a full size taxidermy ostrich, a fossilised skeleton of a cave bear, some buffalo-headed wooden chairs and a Rolls Royce titanium turbine fan. Out of the Ordinary encompasses the unusual, the unconventional and the unexpected.
Categories
Tags