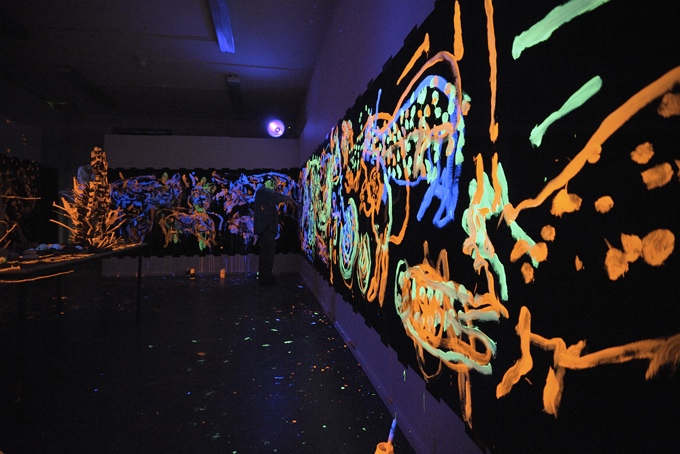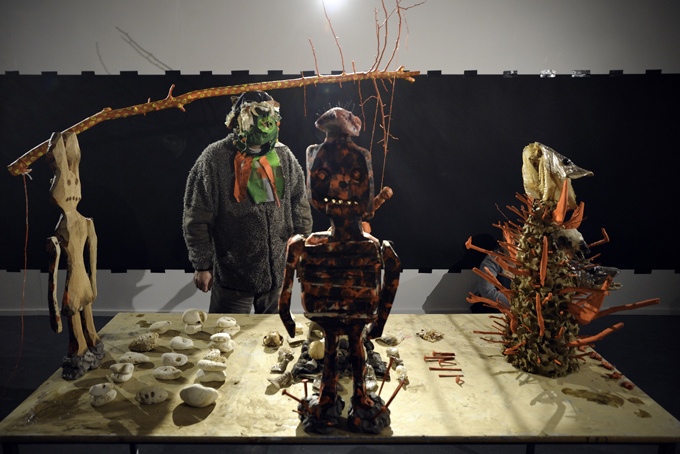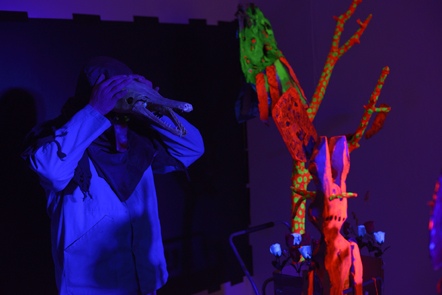 FAD have teamed up with Maurice Einhardt Neu Gallery (MEN)gallery to bring you :
'THREE DAY WEEK' A program of performance and installations at The Other Art Fair.
Friday 26th April 3 – 6pm – Shaun Caton 'Unscene Underbelly'
Saturday 27 / Sunday 28 – Derrick Santini – 'Blue'
www.shauncaton.co.uk
www.derricksantini.com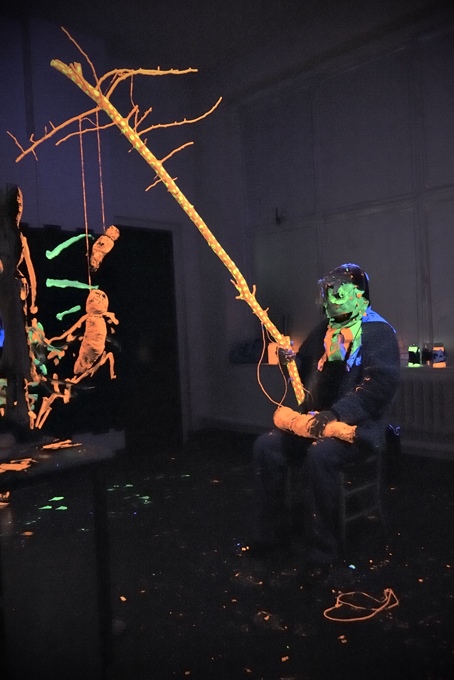 Shaun Caton 'Widdershins' 5 hour performance at York St John University.
11 November 2011 Photo by Julius G Beltrame
Friday 26th April 2013 3pm – 6pm SHAUN CATON 'UNSCENE UNDERBELLY' A 4 hour non-stop performance.
Renowned British performance artist Shaun Caton (UK) has presented some 280 performances in major galleries, museums and festivals worldwide since the early 1980's. He calls his performances 'living breathing images' and often paints/draws during a self induced trance. His work has been variously described as 'epic primordial performance' (TACTILEbosch, Cardiff) 'genuinely terrifying' (The Scotsman) and amongst other things, a 'cyber shamanic rave' (Flux Magazine).
Caton's performances are uniquely created for each space and are characterised by long duration, expressionistic use of colour, shadows and experi- mental lighting with 'endless variations' (Stewart Home, 2009). American poet, Clayton Eshleman, recently described Caton's performances as a 'su- pernatural garden'. Caton is deeply preoccupied with creating a seething magical cosmology of images and signs that emerge from some prehistoric/ futuristic dreamtime. Watching his work unravel, expand, and contract through time, is deeply absorbing and takes the viewer on a journey into a fragmentary history of shattered, shifting metamorphic images. The effort and concentration applied to each performance is so demanding that every gesture and nuance is a punctuation mark in a living, breathing, picture.
' the drawing has a life force of its own, I am merely the hooded and veined conduit through which it flows'
( Shaun Caton Mobile 3, France pub- lished October 2013)
Caton's performance is like watching a curious ritual game being played in which automatic drawings act as monstrous pointers to a world far be- yond the everyday. Caton builds layer upon layer of images, interweaving connections between drawings and totemic objects that evoke their own spectral world. This is performance in its pure, raw state, that beckons the viewer inside. It's hypnotic, and leaves spectators with lasting impressions long after the performance has ended.
' Drawing is like alchemy for me, a process of subtle and often violent transmutation. Visually I am dependent on accidents and chance occurrences, chemical reactions of ink with water and paint, spectacular bleeds, a certain visceral corporeality, a simulacrum of the prehistoric without being derivative or 'copying'.
(Shaun Caton 'Notes on Drawing' 2013)
x 12 Signed artworks available to buy from the performance priced £1000.00 each
Please pre order before performance phone MEN gallery 020 7729 7948 or email
martin@neugalleries.com / info@neugalleries.com
Mixed media on :
Red colour cartridge 594mm x 841mm
Yellow colour cartridge 594mm x 841mm
Blue colour cartridge 594mm x 841mm
Music by Brownsierra Documentry photographer Julius G Beltrame Filming Robert Pugh
www.shauncaton.co.uk
Categories
Tags