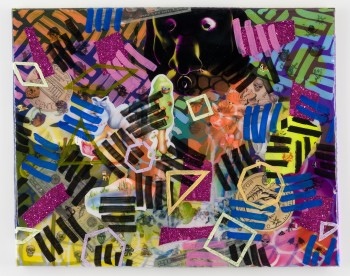 Hot Corners 1, John Walter, Mixed Media, 2013.
24th April 2013 – 1st June 2013 Vitrine Bermondsey Street First Floor 183 – 185 Bermondsey Street
London SE1 3UW www.vitrinegallery.co.uk/
An exhibition of new paintings by John Walter encapsulating the ornate, bold and iconoclastic vision of his maximalist aesthetic.
'The Rococo Riots' encompasses digitally printed grounds, resin and layers of mark making and imagery that are built up into paintings that use grids, craquelure and collage to achieve spatial flatness.
Walter's work in performance and virtual and digital media is used as a way of gathering imagery to embed in his paintings. In this new work, he explores resin as a device for creating ever more layered and dense surfaces that incorporate this imagery. Incorporating collage and texture into his surfaces before returning them to flatness via a self-levelling pour of resin, which can then in turn be drawn over, Walter plays with notions of depth and flatness, collage and perspective, illusion and reality.
John Walter says of the exhibition:
"Compounding Rococo with Riot suggests a visual excess that is jocular and lavish whilst simultaneously aggressive and punchy; these dualities are a constant presence in my work. In conceiving of the show I have tried to make a body of work that is full of beauty and visual luxury and stimulation as well as serious subject matter – the former being the seduction into the latter."
Categories
Tags