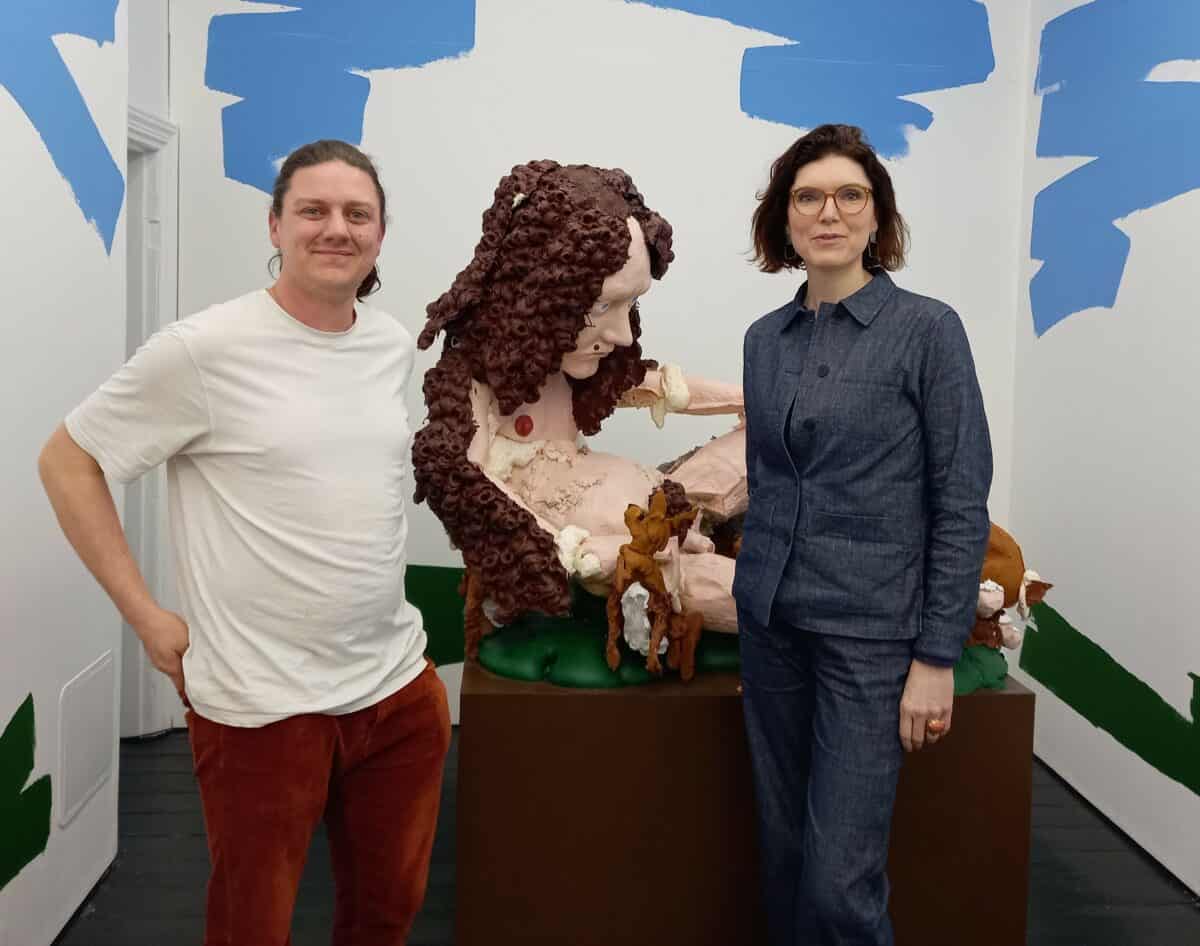 Jamie Fitzpatrick and Alys Williams in 'Psycho Home-Counties' at VITRINE, Fitzrovia until 10 June 2023.
VITRINE, 38 Riding House Street, London W1W 7ES / 15 Bermondsey Square, London SE1 3UN
www.vitrinegallery.com   Instagram: @vitrinegallery
VITRINE, following the opening of a new Fitzrovia space in May 2022 and last month's relaunch of its original Bermondsey space – a shopfront-style space – might now be seen as a mega-gallery, even if a modest one, as it is now formed of three spaces in two countries: the UK and Switzerland. Alys Williams  founded the gallery in 2010, when the long glass frontage on Bermondsey Square was the original vitrine. This space now operates a collaborative model which Alys believes may gain increasing traction. The current installation of Georgian artist Nika Kutateladze is produced jointly with Gallery Artbeat, Tbilisi. A second location – also a transparent one so that viewing is from without, 24/7 – was opened in Basel in 2020; and a third space in spring 2022.
That latest addition on Fitzrovia's Riding House Street is more orthodox: you can walk into Jamie Fitzpatrick's current show of amniotronic sculptural figures, and listen to their politically pointed musings and songs (the title 'Psycho Home-Counties' gives a flavour). This solo show and new body of work makes the most of the inside space, as have for example Ludovica Gioscia, Mamali Shafahi, Milly Peck and Sacha Ingber before him. There is an additional room downstairs, where you can currently see Fitzpatrick's explorations of media more reliably permanent in bronze and aluminium than his established use of wax and foam. Yet the unusual format on Bermondsey Square has proved a site-specific inspiration to many: Sophie Jung, Charlie Godet Thomas, Wil Murray, Leah Capaldi and previous Fitzpatrick appearances come to mind. All channel a preference for interdisciplinary and experimental installations, also evident in out-of-gallery projects, art fairs, and digital offerings. Straight painting shows are so rare I can't recall one.
London's gallery scene is varied, from small artist-run spaces to major institutions and everything in between. Each week, art writer and curator Paul Carey-Kent gives a personal view of a space worth visiting.
Categories
Tags