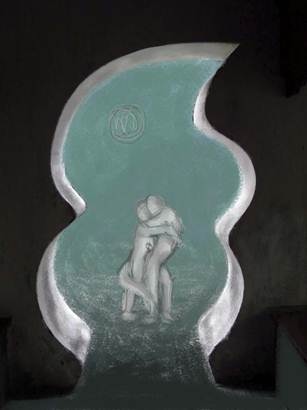 With a career in painting spanning over 40 years, Clemente has delved into the world of digital technology to create his latest work – in line with David Hockney's recent experiments with the iPad. Take a glimpse into the mind of the artist and witness the creation process of Clemente's drawings. February, Perfect and Untitled are released as part of his THERE MUST BE SOMEONE TO REWRITE LOVE collection. The three works are each are now available starting at $100, in editions of 500.
Works are streamed directly from our platform or through one of the free s[edition] apps on Samsung Smart TVs, Samsung Allshare-enabled devices, iPads and iPhones.
While Francesco Clemente's art has explored a great variety of mediums, from fresco to pastel, from encaustic to watercolor, from oil paint to tempera, THERE MUST BE SOMEONE TO REWRITE LOVE sees the artist having created a series of drawings using the iPad and photography for the first time. In a palimpsest-like process, creating an image upon the remnants of past mark-making, Clemente uploaded photographs that he had taken to his iPad, then created digitized drawings directly in response to these. Furthermore, each of these works is itself the result of Clemente's collaboration with the Nobel Prize nominee, Chinese poet Bei Dao; the two created a book of poetry and responsive drawings with titles including Arrival, Creation, Perfect, Background, February, Progress, Bright Mirror and Morning.
You can view the artwork HERE and also watch a video below .
About s[edition]
s[edition] is the leading platform used by the world's most renowned contemporary artists to offer their works in digital limited editions for collectors to enjoy and display on connected devices and screens. s[edition] offers everyone an easy, enjoyable and social way to experience collecting, at affordable prices. The s[edition] platform allows members to follow artists, browse, collect and sell works, send editions as gifts to friends, and build their own collections. s[edition] offers works by Damien Hirst, Shepard Fairey, Tracey Emin, Jenny Holzer, Yoko Ono, Elmgreen & Dragset and Bill Viola among others.
Categories
Tags