Kate Moss, No 12, Gloucestershire, 2010. Photograph: Juergen Teller

This article titled "Juergen Teller: fame laid bare" was written by Alex Needham, for The Observer on Sunday 6th January 2013 00.05 UTC
Prudish types who believe elderly women should be wrapped up in a blanket and plonked in front of Downton Abbey had best avoid the ICA gallery in London. The exhibition there features three enormous photographs of the naked Vivienne Westwood, shot three years ago when the fashion designer was 68. In two of the images she reclines on an antique sofa which sets off her Tippex-white skin, and in one she sits legs akimbo, holding the camera with a smile and an exultant gaze, and exposing ginger pubes that chicly match her cushions.
Only one person could have taken this photograph – Juergen Teller. The subject of this month's ICA show is showing me its floor plan over a mug of tea in his kitchen in the smart house he shares with his wife, gallerist Sadie Coles, just off Ladbroke Grove in west London. The mug bears the slogan "I [heart] My Dad", the surfaces boast a selection of cookery books, pictures by his two children, and a Jeremy Deller fridge magnet with the slogan "Bless this acid house". An avuncular German who celebrates his 49th birthday this month, Teller is stripped for action in a blue-T-shirt, trainers and skimpy running shorts. Only his enthusiastic sucking on a succession of cigarettes spoils the athletic effect.
He has worked with Westwood for years, shooting her label's ad campaigns, which feature her and her husband Andreas as the models. The nudes, however, were a personal project. In German-accented English (he moved here in 1986) Teller says he put the idea to Westwood, and "she said yes – that's how she is. We made [the portrait] in her house, then I chose that couch, and then I got nervous and kept saying: 'Can I have another cup of tea? Can we talk a bit more?' And she said: 'Well are we going to do this or not?' 'OK, we'll do it. On that couch please.' And she took off her clothes and then she started to sit down like that" – Teller opens his legs – "and I just thought: 'Fuck! Woah, fuck, I can't believe this! This is actually so right!'"
He denies that the aim is to shock. "There should be nothing shocking about it apart from that she looks so beautiful and that she's so comfortable and open with herself… I think people should be like that. She also looks in a way like a seductive teenager. There's nothing about an old, old person. She's smiling. I would not use the word shocking." However, he concedes, "other people go in there and go: 'Oh, my God!'"
Teller is one of the most sought-after – and highly paid – fashion photographers in the world. He got his break at the end of the 80s shooting for British style magazines such as The Face and i-D and rapidly graduated to fashion's A-list where he has remained ever since, working for magazines and producing ad campaigns for the likes of Marc Jacobs, Céline and Yves Saint Laurent. He also enjoys a parallel career as an art photographer. He won the Citibank Prize in 2007 and his work has been shown at Tate Modern, New York's Museum of Modern Art and the Venice Bienale. He's produced 20 monographs.
The afternoon I meet him, Teller has just wrapped up shooting the next season's ad campaigns and that morning photographed the last of a portfolio of 36 film stars for W magazine, which includes stars such as Tom Cruise. His photographic style is instantly recognisable – a harshly lit anti-glamour, shot on film (not digital) and never retouched.
"It's a year full of movies that are not very glamorous – movies about war, slavery, torture – very raw," says Stefano Tonchi, W's editor-in-chief. "I think we took one photographer that can really get that."
Teller's images can look almost snapshot-like, though he had a rigorous formal training at Munich's Bayerische Staatslehranstalt für Photographie in the 80s, and his pictures tend to be carefully staged, though not posed.
To be photographed by him is to accept a dare. It's also a badge of prestige – Victoria Beckham's rebranding as a serious player in the fashion industry was cemented when Teller shot her for a Marc Jacobs ad, her legs sticking out of a shopping bag. His portraits are often brutal. Even Kate Moss looked distinctly rough in a 2010 shoot for Self Service magazine, while a shot of Bryan Ferry on a 2010 cover of magazine Fantastic Man mercilessly displayed the singer's double chin. Teller's technique – to attack his subject with a barrage of flashes from two Contax G2 cameras, one in each hand – reveals aspects of even very familiar people that other photographers simply don't capture. His 2008 photograph of David Hockney reclining on a couch smoking a cigarette seems to capture the artist on the point of dreaming up a picture, while a 1993 shot of Björk and her son in a hot spring radiates tenderness and intimacy.
"Juergen's got something very rare, he's got really good taste, and more than anything that makes him good at his work," says Westwood. "He gets to the root of the matter every time he takes a photograph. He likes and really cares about people. Through his photography he is always finding out about people, I think that makes him very happy and stimulated in his work."
"You feel like he's capturing the speed of life and the speed of light," says Charlotte Rampling. "I think he brings out a particular side of people and that's what photography is to me. However he gets there doesn't really matter technically, but what he sees is the Juergen Teller view on something."
Rampling is a regular collaborator, one of a small coterie, including models Lily Cole and Kristen McMenamy, the subjects of some of Teller's most out-there photographs. He shot Rampling and Brazilian model Raquel Zimmermann posing naked in front of the Mona Lisa in the Louvre ("One of the great experiences of my life," says Rampling, "if a little bit chilly"); McMenamy exposing her anus in a shoot for 032c that resulted in the magazine being pulled off the shelves; a similarly unclothed Cole being sniffed by puppies on an Indian rubbish dump enraged the readers of German paper Die Zeit when it was published in the course of a series called On the Road with Juergen Teller.
A further session with Rampling, shot at the Louis XV hotel in Paris, features one image of Teller pissing in a plant pot, another with his penis nestling by her ear and another naked with his legs in the air on a grand piano being played by Rampling. Though some of the images were used in a Marc Jacobs menswear campaign – despite featuring no clothes from the collection, beyond a single pair of shorts, as Teller was too portly to fit into them – the shoot stretched far beyond the conventions of fashion photography. "For me," says Teller, "that whole series is about a love relationship between a glamorous older lady and a slightly overweight younger man, and how they can be sweet and tender and silly and stupid and all of it together."
"The idea of stripping [the subject] until you're defenceless – he's wonderful at that," says Tonchi. "He exposes himself to encourage you in where he's going. That's been a very important part of his career, taking off his clothes and creating embarrassment for himself."
"He suddenly has these crazy ideas and says: 'Why don't we do this?' And I say: 'OK, why don't we do it?'" says Rampling. "And you see how you can get away with it and even make it into a work of art. He's very down to earth and upfront. He's not in any way tricky or perverse or creepy – he's very transparent."
The notion of fashion photography as being creepy and coercive received an unwelcome boost late last year. Kate Moss claimed she was pressured into taking her bra off on a 1990 shoot by Corinne Day, one of Teller's contemporaries, that launched the model's career. Teller is adamant that he has never exploited a photographic subject.
"I think my moral ground is very much intact," he says. "I would never ask somebody to do something where I felt that it's not right or it puts someone in an uncomfortable position. If I do a portrait I know what they can take. If somebody's a sweet, shy person, the photographs will be sweet and shy. Of course, you ask people to do something which they might not have done before, but that's the journey, the fun element. You use this photographing exercise as an [excuse for] doing something which is not real – it's a fantasy and we play that out and it becomes something magical. It's a communication with each other."
So has he ever made someone cry on a shoot?
"Yes, I did," he admits. "That was, funnily enough, Kate Moss. You know how it goes [in fashion], you have to photograph spring/summer clothes in the autumn/winter and then the autumn/winter clothes in the stupid spring." Teller and his then-partner, stylist Venetia Scott, photographed Moss on a horse in the Cornwall countryside and after a three-day shoot in dreadful weather with Moss wearing just a dress, "she sits on this horse freezing, and that's when she cries – and that's when I said: 'We've got to fucking do this picture!' Please, let's do it!'"
Did he feel awful? "No," Teller says. "That's actually the fucking job of the model, and it's not so out of the question. I photographed myself shitting in the snow – that was a lot more uncomfortable. But I wanted to see what it feels like to be photographed like this and how much you can stand. And what other people complain about is nothing!"
His snow picture is one of a number of frank self-portraits Teller has made. He has photographed himself passed out in a plate of suckling piglet and standing naked at his father's grave, one foot on a football, drinking a pint and smoking a cigarette. Teller's father, who he describes as an "abusive alcoholic", committed suicide when the photographer was 24. He took the picture because, "I felt a bit sorry for him and I wanted to be with him. I wanted to show to him, or to me, my vulnerability, too, that I had problems with drinking and smoking." His father, says Teller, was never really interested in football, unlike him and his mother, who watched it together. Like the picture of himself shitting in the snow, the portrait shows, Teller says, that "life is difficult".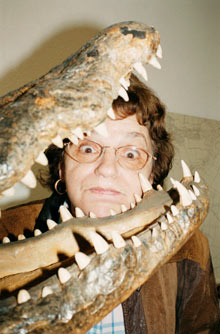 This is one of many images that dig into Teller's childhood in Erlangen, Germany. The ICA show features a wall of pictures of his mother – who married the photographer's uncle after his father's suicide – in the woods near Teller's childhood home. Another project, collected in the book Nürnberg, photographs plants growing in the cracks in the wall of Deutsches Stadion, the crumbling arena built by Albert Speer to hold Nazi rallies, and which was a place of simultaneous fear and attraction when Teller was a child. "When you're a kid, what you learn in school about being German has a sort of heaviness about it, and you have a sort of guilt with you. Even when I was a teenager and started travelling [abroad] on my own, when you were in a café you didn't want to be recognised as German – you'd speak very quietly." After moving to London, he would be "flattened out" when people would joke to him: "Don't mention the war."
Such weighty themes seep through Teller's non-commercial photography – family, history, nationhood – and seem to mark a big divide between that and his fashion work. "There's very much a divide," says Teller. "Nobody's asking me to photograph these plants. Nobody's saying to me, 'Go with your mother and photograph the forest.' But if I do an assignment, somebody's going to ask me to photograph their clothes and their handbags – it's an entirely different thing."
Titled woo, after a sarcastic exclamation of enthusiasm in the Will Ferrell-produced comedy Eastbound & Down, one of Teller's favourite TV shows, the ICA exhibition will display Teller's personal projects in frames, while a room upstairs will be plastered with tear sheets of his commercial work. This sounds denigrating, but Teller maintains that he is merely showing it as it was intended. "I'm just producing work and I try to find channels where I can express myself," he says. "That can be a magazine, a book, a poster… whether it's art or photography I really don't care."
Besides, as Teller says, his enormous success as a fashion photographer has made the other projects possible. "If I gave up commercial work and nobody bought my work, that's a problem – you have to make a living. So I do both – I sell my work but I'm standing on two feet in two different areas and I find that quite pleasant."
Fashion has also opened doors that would be closed to him otherwise, introducing him to people like Westwood and McMenamy. Because Westwood was holding a fashion show in Vienna's Kulturhistorisches Museum, Teller was able to shoot there. "But if I go on my own and say, 'Hi! Can I do some pictures in front of a Velasquez?' they'll say, 'You're fucking mad.'"
Nevertheless, Teller has credibility in the art world, as well as the respect and friendship of photographers such as William Eggleston and Ar?k?. "I consider him a great artist," says Tonchi. "He's stayed very faithful to his vision."
Does he think about whether his work will endure long-term? "No, I don't actually," says Teller. "I think it will find its place on its own, without me." Then he offers me a biscuit made by his mum, and makes another cup of tea.
Juergen Teller: Woo is at the ICA from 23 January to 17 March (ica.org.uk). Admission: free
guardian.co.uk © Guardian News & Media Limited 2010
Published via the Guardian News Feed plugin for WordPress.
Categories
Tags