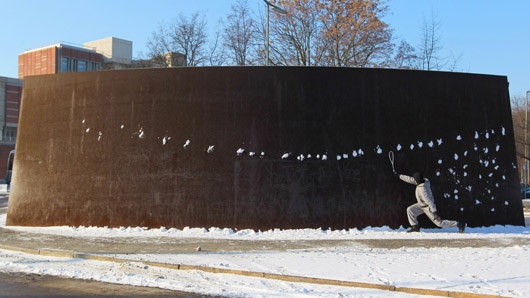 ROBIN RHODE | Open Court, 2012 | Lehmann Maupin
Running from December 5th to 8th, Art Video Nights will showcase 60 film and video works on the 7,000-square-foot outdoor projection wall of the Frank Gehry-designed New World Center in SoundScape Park.
Presented by participating galleries of Art Basel Miami Beach:
A Gentil Carioca, Altman Siegel Gallery SF, Blum & Poe, Galerie Mor Charpentier, Chemould Prescott Road, James Cohan Gallery, CRG Gallery, Eleven Rivington, Konrad Fischer Galerie, Marion Goodman Gallery, Goodman Gallery, Greenberg Van Doren Gallery, Kavi Gupta Gallery, Harris Lieberman, Hauser & Wirth, i8 Gallery, Ibid, Galerie Michael Janssen, Galerie Kamm, Johann Konig, Andrew Kreps Gallery, Labor, Galerie Yvon Lambert, Lehmann Maupin, Galleria Leme, Ignacio Liprandi Arte Contemporaneo, Lombard-Fried Projects, Long March Space, Luhring Augustine, Marlborough Gallery, McCaffrey Fine Art, Mendes Wood, kamel mennour, Victoria Miro Gallery, NON, Galeria OMR, Perrotin, Praz-Delavalade, Galeria Nara Roesler, Lia Rumma, Salon 94, ShanghART & H Space, Stevenson, Team Gallery, Travesia Cuatro, Susanne Vielmetter Los Angeles Projects, Galleri Nicolai Wallner, White Cube, Zero…
the program features works by artists:
Nick Abrahams, David Adamo, Eija-Liisa Ahtila, Julieta Aranda, Daniel Arsham, Guy Ben Ner, Pierre Bismuth, Marie Bovo, Andrea Bowers, Nate Boyce, Mircea Cantor, Kudzanai Chiurai, Tim Davis, Simon Dybbroe Moller, Jack Early, Cao Fei, Theaster Gates, Terence Gower, Shilap Gupta, Karl Haendel and Petter Ringbom, Drew Heitzler and Sam Sharit, Jesper Just, Stanya Kahn with Llyn Foulkes, Amar Kanwar, William Kentridge, Ragnar Kjartansson, Gonzalo Lebrija, Mauricio Lupini, Evandro Machado, Jumana Manna, Ari Marcopoulos, Josiah McElheny, Ryan McGinley, Jessica Mein, Sefer Memisoglu, Muntean & Rosenblum, Takeshi Murata and Billy Grant, Rashaad Newsome, Yoshua Okun, Ana Prvacki, Pedro Reyes, Robin Rhode, Julika Rudelius, Michael Sailstorfer, Sam Samore, Gigi Scaria, Hans Schabus, Dineo Seshee Bopape, Adam Shecter, Melanie Smith, Daniel Steegmann Mangrane, Rubin Ortiz Torres, Emmanuel Lubezki, Susanna Wallin, Stephen Willats, Jordan Wolfson, Hu Xiangqlan, Chen Xiaoyun, Nina Yuen, David Zink Yi.
Art Video Nights will also feature a special dusk-to-dawn screening of the 12-hour long film Bliss by Ragnar Kjartansson, presented by Art Basel in collaboration with the Museum of Contemporary Art (MOCA) North Miami and the New World Center on Saturday, December 8 at 6pm.
Art Video is organized in association with David Gryn, Director of London's Artprojx and Art Basel.
www.artbasel.com/videonights
www.facebook.com/artbaselmiamibeach/events
miamibeach.artbasel.com/global/show
Categories
Tags