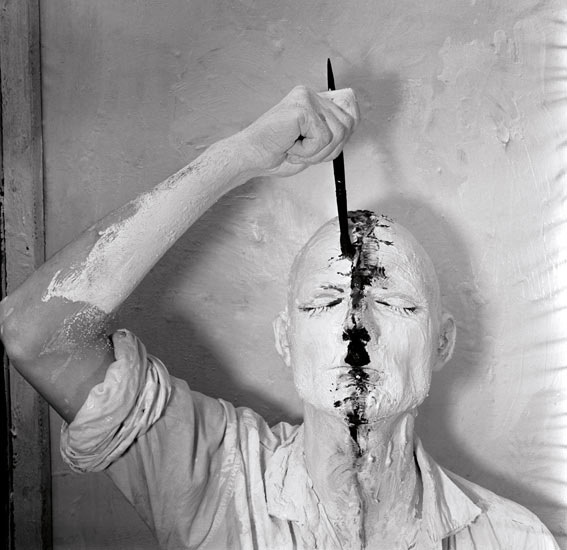 Günter Brus's Self-Painting/ Selbstbemalung 1964: 'He roves the streets of Vienna until arrested by the local police.' Photograph: Courtesy Museum Moderner kunst Stiftung Ludwig Wien, donation of the artist
This article titled "A Bigger Splash: Painting after performance – review" was written by Laura Cumming, for The Observer on Sunday 18th November 2012 00.02 UTC
Some years ago, a curator at Tate Modern made a withering quip to some critics. If the museum got any more successful, he said, it would have to mount deliberately unpopular shows. Too many ticket sales meant less public funding, so the trick would be to deter the audience at all costs with the most unappealing propositions, preferably once a year in winter when the tourist count was low. The joke looked uneasily prophetic.
This year's dud could so easily be A Bigger Splash: Painting After Performance, a curatorial take on "painting's entanglement with performativity" in the dismal prose of the catalogue. Anyone glumly predicting plentiful confusion and specious theorising will be right, to some extent. The eponymous painting that opens this show, for instance, appears to be quite out of place.
A Bigger Splash, David Hockney's stunning diagram of LA heat and cool blue water, of liquid blossoming into frozen chaos, doesn't seem to have anything to do with performances of any kind except the act of painting itself, in this case done very slowly. The splash alone took two weeks to paint.
But that is the point. Hockney is paired here with Jackson Pollock because the former's controlled spray of fissuring lines is at least in part a jokey reprise of the latter's action-painting spatters; and both artists are shown performing on screen.
Pollock prowls around his canvas, dripping and skeining it with paint in Hans Namuth and Paul Falkenberg's 1950s documentary, a work nearly as famous as the actions it records. With his Wyoming twang, heavy boots and tobacco, Pollock is presented as the cowboy outsider, painting his lyrical Summertime 9A outdoors in the heat and dust. And here it is, laid flat on the ground so that you see it as he painted it and not as a billion-dollar investment on a wall.
And here too is Hockney, meticulously adjusting his tones with a tiny paintbrush in Jack Hazan's 1970s film – as cool as the swimming pool. Which of the two is the more accomplished performer?
Painting and performance go together in these films (and these careers) as they do in the exhibition itself. Almost every work here is accompanied by some kind of record of its making. These may be far more compelling than the paintings themselves – action shots, newsreel, dramatic footage – or they may be bleary polaroids of some long-forgotten happening. But the combination proves unexpectedly entertaining and even moving, no matter that the show itself is a sprawling great shambles.
Jackson drips, Hermann Nitsch squelches and rips, Yves Klein uses nude models as living brushes: art history is happening before your very eyes. Niki de Saint Phalle is photographed firing at paintballs that explode on the canvas in viscous globs, long since congealed to dullness (you had to be there). Günter Brus roves the streets of Vienna painted white, a black line zipping his body from head to toe, until arrested by the local police. The film is hilarious, The Third Man with clowns (you didn't have to be there).
That's the spirit of the show, which assembles any number of bizarre projects in one noisy carnival of action, music, flickering image and sticky canvas. Torching, shooting, scissoring the canvas; smearing paint on body, walls and floor: the impulses behind all this are so diverse that the emphasis is thrown – unusually – on motive.
So barmy old Yayoi Kusama believes that if she paints Richard Nixon with her trademark dots in the 60s he will be sufficiently soothed to halt the Vietnam war; whereas the Chinese artist Wang Peng is ritually coating himself with ink to "cleanse" Chinese calligraphy of its political past.
Cindy Sherman paints herself into (and out of) any number of fictional roles in her classic Untitled Film Stills – part performance, part painting with make-up – in a sustained essay on the relationship between character and appearance; while a feminist like Lynn Hershman paints her face by numbers in Revlon and Max Factor to illustrate the tyranny of make-up.
These photographs from the 70s feel quite utopian compared to all the art-about-art in this show. Unstretched canvases, empty frames, hands or feet used as primitive brushes, pig's blood instead of pigment, pigment doubling as blood: so many of these works restate the obvious – that all painting is a performance of some sort, that all pigments resemble bodily fluids to some extent, that all paintings are simultaneously images and physical objects.
Titian painted with his fingers; Munch painted with his own semen; the means were hardly the point. The nearer we get to modern times the more empty and repetitive the work becomes. When you've seen one orgiastic ritual lubricated with oil paint, you've seen them all. I only wish they had included Paul McCarthy's Painter, that marvellous parody of painting as an almighty feat of creativity, performed in ketchup. The video belongs to Tate Modern and it would have extended the thrifty recycling of the collection so conspicuous in this show.
Still there are works of powerful originality here. Bruce Nauman's slow camouflaging of himself back in 1968, first with white paint, then with black, is an attempt to get out of his own body that fails in the most melancholy fashion (who hasn't wished to disappear?). The Cuban artist Ana Mendieta's use of red paint as a kind of atavistic woad is also properly disturbing.
And Jackson Pollock's paintings, above all, still hold the very energy used to make them after more than 60 years. They remain quick with the maker's mark.
Was painting changed by performance art? This show skirts the question it proposes without attempting any response. And the badly edited catalogue and wall texts are no help either. Or rather, in their dead, institutional way, they exemplify the kind of establishment thinking that so many of these artists were rejecting in their own generation. So ignore the instructions and relish the free spirit of the art.
guardian.co.uk © Guardian News & Media Limited 2010
Published via the Guardian News Feed plugin for WordPress.
Categories
Tags