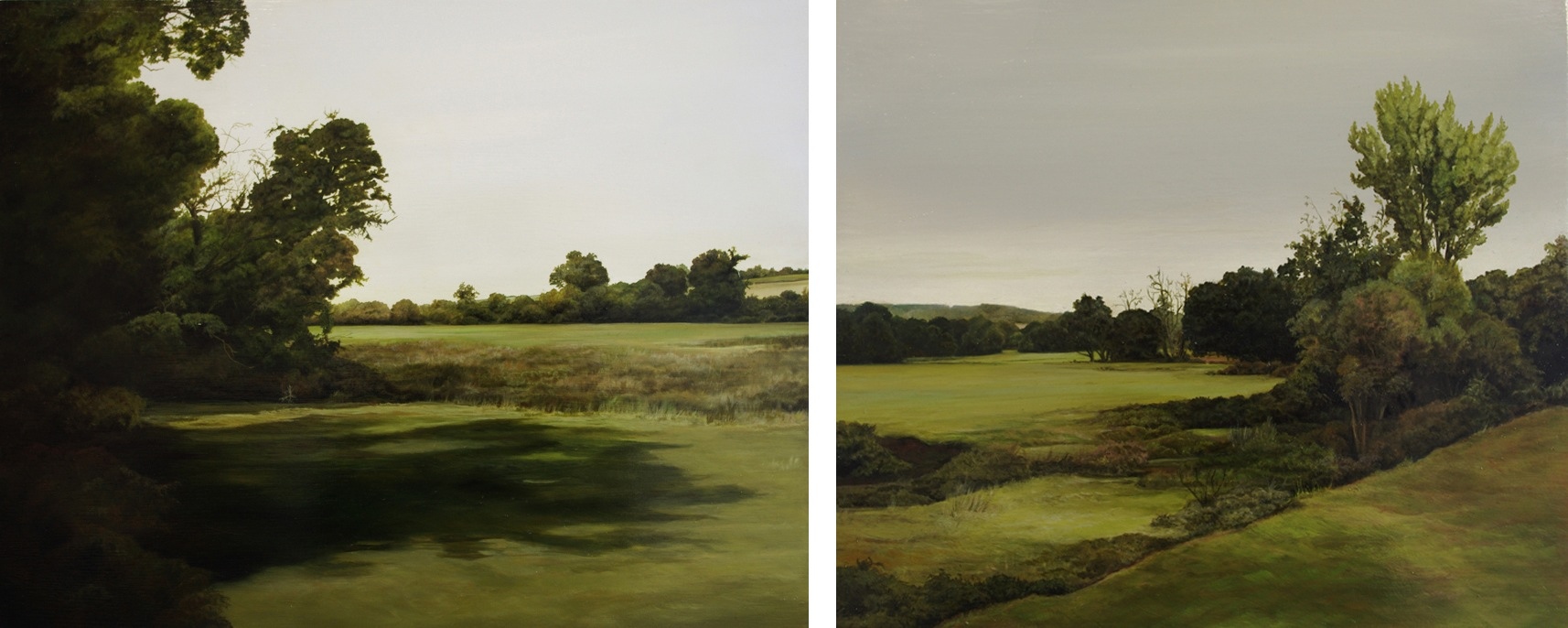 "I have never understood why more women did not paint landscape. Historically, hordes of them took views in pencil or pen and ink and wash, but virtually none ever set about making a view into a picture" Germaine Greer
PayneShurvell is to present a new solo show with the painter Hannah Brown.
Hannah Brown describes herself unapologetically as an English landscape painter. Working within and against the omnipresent legacy of the English landscape tradition, she searches for quiet, often overlooked places with a particular type of beauty, and makes intimate oil paintings that at first appear archaic.
The new paintings in The Unseen Landscape at PayneShurvell are carefully mediated versions of our landscape. These are not the traditional views of vastness or the impression of scale that we expect. Brown's focus is on the everyday landscape. Devoid of human presence they nonetheless examine the physical relationship between landscape and human experience.
Brown's work is documentary like in its approach, but it is also a falsehood. We are shown only small sections of the area in mid-Devon she has been exploring for the last couple of years. The editing process increases in her studio as Brown empties the landscape of people and obvious signs of human life, buildings are removed, trees added, a river perhaps ignored. Light sources are swapped around, and blue skies are replaced by flat English greys.
In a genre traditionally dominated by men, Brown is interested in not only the historical nature of landscape painting but more importantly the legacy it has left behind. As our relationship to the countryside continues to gently shift, one element appears to remain constant; a lament for the loss of something that previously seemed to exist, albeit predominately in our imagination.
Hannah Brown (b 1977) in Salisbury, Wiltshire lives and works in London. She has an MA in Sculpture from the Royal College of Art (2006) and she's had solo shows at Gimpel Fils and Barts Gallery in London. Selected group exhibitions include the Threadneedle Prize, Creekside Open, Danielle Arnaud, MOT, Camden Arts Centre, Globe Gallery, Newcastle, and Spacex Gallery, Exeter. Hannah was shortlisted for this year's John Moores Painting Prize and for the Jerwood's Artist's platform in 2007.
PayneShurvell/16 Hewett Street/London/EC2A 3NN
www.payneshurvell.com/
Categories
Tags