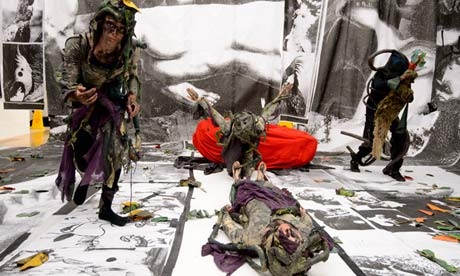 'Like being hit over the head with a pig's bladder' … Spartacus Chetwynd's performance at Tate Britain in the 2012 Turner prize exhibition. Photograph: Jonathan Hordle/Rex Features
This article titled "Turner prize 2012 exhibition review: is this the best one yet?" was written by Adrian Searle, for The Guardian on Monday 1st October 2012 13.08 UTC
Opening on Tuesday at Tate Britain, the 2012 Turner prize exhibition is one of the most demanding and thoughtful in the award's history. High seriousness and scatological humour, ribald performance, death and despair all play their part.
It also takes the longest to see. Glasgow-based Luke Fowler's 2011 film All Divided Selves, about Scottish psychiatrist, analyst and writer RD Laing, clocks in at 90 minutes. The live and recorded performances by Spartacus Chetwynd and her troupe of collaborators can spin out the day. Elizabeth Price's 20-minute video, The Woolworths Choir of 1979, invites repeat viewing. Paul Noble's drawings are so full of detail and incident they can make you forget lunch. As it is, they can put you off food entirely.
Noble opens the show, with a selection of drawings spanning 16 years. He has created an entire fictive world, based on the imaginary town and environs of Nobson. There are parks, palaces, desert dwellings and gardens, all precisely rendered in pencil, and peopled by perky little turds, pointed at both ends. The world he has created – last shown in an extensive show at London's Gagosian Gallery – is peculiar and original. His humour drives him, and has kept him locked in his studio for nearly two decades. I love the litter of rocks retreating to a far horizon, the filigree railings and wonky modernist buildings, the rain on the water – though all the excrement gets wearying.
Recently Noble announced he was done with Nobson and the years of obsessive graft with a hard pencil. This show is a further recapitulation of this extensive body of work. The interesting thing now is less what he has already achieved, substantial though it is, than what comes next. Noble's recent small and exquisitely carved marble sculptures replay Henry Moore's mother-and-child theme: baby turd sits on Mummy poo's lap. These sculptures aren't nearly so good as Sarah Lucas's writhing, involuted plays on intestinal form, never mind Louise Bourgeois's carvings or, dare I say, the works of Moore himself. Noble's sculptures are just going through the motions.
All Divided Selves is Luke Fowler's third film in a decade about RD Laing. It concerns madness and sanity, among whose cast of troubled minds Laing is revealed as another pursued by demons, and it pithily observes that the definitions of schizophrenia are so all-encompassing – and such a mish-mash – that anyone might be sectioned should a psychiatrist be of a mind to commit them. Along the way we meet distressed schizophrenics, old-school psychiatrists of the drug-'em-and-electroshock-'em regime – Laing's anti-psychiatry colleague David Cooper (who himself went on to have his own crisis) – and Gay Byrne, the Irish TV presenter, who accuses Laing on his chatshow of being drunk. Even Janet Street-Porter gets a fatuous soundbite.
You have to know a bit about Laing, his circle and his times, to follow this. The film is beautifully edited, though you want it to move on. It is the cleverly used archive footage that really fascinates – though not nearly so effectively as similar material did in John Amkomfrah's moving film about the social thinker Stuart Hall, showing at the current Liverpool Biennial. Both works are studies of the construction of identity and the self. Fowler uses his art, and Laing's evident flaws, as a hedge against a more thoroughgoing critique. We keep drifting off into the landscape. There's no doubt Laing was an important and passionate figure, and Fowler casts him as flawed hero. Perhaps he was, but Fowler's work studiously avoids the analytical. Laing's sexual politics, for a start, are never examined.
Elizabeth Price makes every second count in her 20-minute, high-definition video. She also makes much use of archive and internet footage, and digital imagery. To begin with you think you are watching an animated Powerpoint lecture on church architecture. There are descriptions of nave and parclose, rood screen and choir, with animated 3D drawings and still black-and-white close-ups of choir stalls; there are ornaments, medieval beasts, foliage and people. Carved bodies writhe. Suddenly, the 1960s bad-girl band the Shangri-Las come crashing in, and we're lifted by the beats and rhythms as they sing their hit Out on the Street.
Exhilaration suddenly turns to terror. Song becomes scream. The Shangri-Las' finger-snapping is edited to singular effect, as sudden as gunfire. A synchronised dance move, with waving arms, becomes another arm flailing – news footage of a girl at a barred window trying to attract help, in a 1979 fire at a Woolworths department store in Manchester that killed 10 people.
Price's work is controlled down to the last microsecond. She lifts you up and slams you flat. The turn of events becomes genuinely distressing. Throughout the film words and phrases erupt on the screen, or appear as graphic footnotes. There is no spoken commentary, but rather moments of blackness and silence, punchy slogans, and the fire service's own filmed reconstruction of the fire, set among stacks of furniture in an abandoned factory. Pearly smoke fills the screen. This is almost a poem, with its repeated and evolving phrases, the counterpoint of sound, image and words. The texture of the work fits exactly – it is both hot and cold, brittle and brutal, an elegy and a power-pop dance. Price's work has a violent lyricism and an incredibly deadpan restraint. It is so measured it might soon come to look mannered and dated. She is certainly doing something new – but how do you tell the modish from the timely? Will it last? The question won't go away.
Spartacus Chetwynd's art is rumbustious, bonkers, daft and discombobulating. It is like being hit over the head with a pig's bladder. Chetwynd has built two sets for performance in her space. They need her and her co-performers to animate them. On their own, they're a bit dismal, as empty stages always are. Performance is the thing: a puppet show of Jesus and Barabbas, and a further work based on the sprawling Odd Man Out, which Chetwynd first performed last year.
There are living tree-people with root-like appendages, and a dance that teeters on the edge of "I am a tree" new age nonsense but also casts itself as a morality play. It's all mummery and flummery, and conducted with a winning amateurishness. I lay on the floor and a mandrake-root puppet whispered something secret to me about teeth; then I was ushered out by a tree-man.
Chetwynd's troupe remind me of the Austrian performance collective Gelitin. Both draw on the medieval and the carnivalesque. It's a world turned upside down. You can watch further performances on monitors while seated on an overturned, inflatable slide. This galumphing object wheezes and squeaks, and so does Chatwynd's art. Liberating though it is meant to be, there is no catharsis. She wants to free us up, audience and performers alike, but freedom's a fleeting thing.
The death of a Turner prize judge, Michael Stanley, director of Modern Art Oxford, on 21 September casts a shadow over an exhibition concerned with inner and outer worlds, what we have inherited and what we make.
Deciding who should win the prize this year is difficult, and feels a bit pointless. Better to concentrate on the art.
• The Turner prize winner will be announced on 3 December.
guardian.co.uk © Guardian News & Media Limited 2010
Published via the Guardian News Feed plugin for WordPress.
Categories
Tags