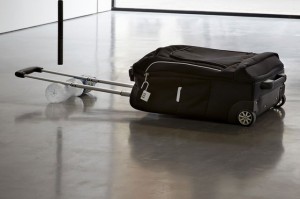 Through to September 22nd
Two objects: one black trolley suitcase, with wheels, and telescopic handle pulled out.  Beneath the handle an empty 1.5 litre PET water bottle. Its label removed, it is anonymous and unremarkable. The bottle is slowly crushed by the suitcase handle and the sound it makes is captured and transformed by the microphone that dangles above it. The sound – the cracking and crackling – transforms the ways in which we look and experience the objects, and the room in which they are situated. The sound brings both humour and intrigue to an installation without the obvious triggers of emotion or beauty. The objects merely produce the sensations of mind-numbing ordinariness. The suitcase and the water bottle are banal: we take them for granted, and we don't really think about them at all.  They serve a function, and depending on where in the world we are situated, they are discarded, recycled or re-used in other forms. Here they enter the world of the gallery following a history that begins – most visibly at least, with Duchamp and the vocabulary of the 'readymade' (the most well-known of which is perhaps Fountain the urinal that he signed 'R. Mutt 1917').  The questions Natascha Sadr Haghighian's throwaway, disposable objects produce speak not necessarily of what can or cannot be art. Rather they signal the innocuous rituals of contemporary life, eroding a world that moves forward with ever accelerating speed and urgency as we consume, discard, travel and migrate.
In an adjacent room, I take in an installation constructed out of official documents, copious flight routes marking out airline network maps, more of the ubiquitous water bottle, and photographic images that speak with some intimacy of our relationship to water. The photographs are hung alongside one another: their unassuming scale draw us closer. They are all black and white, and appear to be early 20th century images of public drinking fountains.  At each of these fountains I see intimate shots of men, women or children drinking freely.  One of the photographs depicts a public water trough for horses: lined up against each other, the animals quench their thirst. On the floor, leaning against the wall, beneath these images is another photograph this time in colour. To see it I have to kneel on the floor in front of it as though in a state of worship. It is of a water fountain that is also a shrine corroded by time. The label tells me that this is St Ann's well in Buxton, Derbyshire. Buxton's natural spring water is commercial property entangled in histories of corporate acquisitions and the commercial interests of the local borough council. This room – with its installation of documents, objects and images – generates questions about water, its meanings both sacred and profane, and its politics. In a highly commercialised world water is a commodity, and some waters – or so labels and advertising slogans tell us – are more desirable than others.  An official letter tells us too of the relationship between water, ownership and the constraints put in place by the law.
In Haghighian's work, an aesthetic of the banal is deployed in ways that draw attention to the absurd rituals and regulations of contemporary life. Systems of thought, myth-making, and the politics of perception are staged in installations of objects, moving images, sounds and effects of light. At times objects become anthropomorphic: a microscope transforms the act of looking into one of listening. Its authority subverted by the ridiculous buzzing sound that emanates from it: as I turn my ear closer I hear what sounds like a digitised, karaoke-like version of Police's 'Every Breath you Take'.  I enjoyed the performative aspects of the show and the ways in which we are drawn, physically, into the experience of the installations, the sounds they produce, and the spaces they occupy. Walking down a concrete stairwell floodlights snap on and then off with dramatic effect, followed by the sensation of being confronted with a mysterious, phosphorescent text – in fact, an extract from Kathy Acker's 1988 novel Empire of the Senses. In Acker's imagined future, Paris is destroyed by an Algerian revolution and in its aftermath nothing ordinarily assumed is knowable or certain.  I watch as the text disappears. Just as I think I have grasped meaning, words and letters are transformed into ghostly remains, ephemeral and without a ground.
This is Haghighian's first solo show in London. It follows a trajectory of exceptionally well-curated exhibitions at the Carroll/Fletcher gallery which opened in London in February this year.
Review by Yvette Greslé
Natascha Sadr Haghighian is on at Carroll/Fletcher until 22 September 2012. For more details see: www.carrollfletcher.com
Categories
Tags