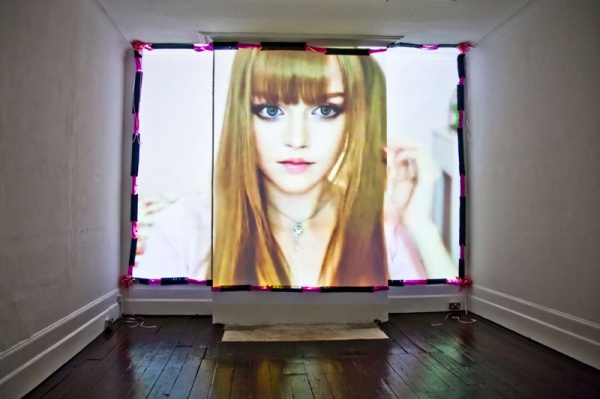 Once again this year, Dazed is partnering with Converse and the Whitechapel Gallery for the Emerging Artists Award, which offers a platform for emerging unrepresented artists under 35.
And continuing FAD's support for the merging art scene we are running Q&A's with all of the shortlist
here is Number Three :Leslie Kulesh www.lesliekulesh.com/
1.If you weren't an artist, what else would you be?
I'd definitely be an artist.
2. Can you tell us more about your work and what are the main ideas you would like to express?I make sculpture and performance using popular aesthetics in order to locate the political just beneath the surface.
3. How do you start the process of making work?
Usually with a notebook and a pen.
4.Do you consider the viewer, when making your work?
Yes.
5. Name 3 artists that have inspired your work?
donna haraway, dale carrico, david king
6. Name 3 of your least favourite artists.
n/a
7. What defines something as a work of art?
I guess that's like porn – you know it when you see it.
8. In times of austerity, do you think art has a moral obligation to respond topically?not necessarily – in hard times, decorative art can be a useful escape.
?9. Anytime, any place – which artist's body would you most like to inhabit?
gloria vanderbilt is pretty cool, she's in her 70's and just wrote an erotic novel.
Auto Italia LIVE: Double Dip Concession from Auto Italia on Vimeo.
10. What is your favourite 'ism'?
GISM
11. What was the most intelligent thing that someone said or wrote about your work?
that i have a 'can do' attitude. i like that.
12. And the dumbest?
don't know.
?13. Which artists would you most like to rip off, sorry, I mean appropriate as a critique of originality and authorship?
the people who design auto parts images for sale on ebay.
14. Do you care what your art costs? State your reasons!
i make the cost relational to the materials and the time spent working on it.
?15. If Moma and the Tate and the Pompidou wanted to acquire one of your works each, which would you want them to have?
a performance as it won't sit in storage somewhere.
16. What's next for you?
I have a solo show – 'Oh My Goddess!' at French Riviera in London opening October 3rd.
Find out more about The Dazed/Converse Emerging Art Award Here
Categories
Tags