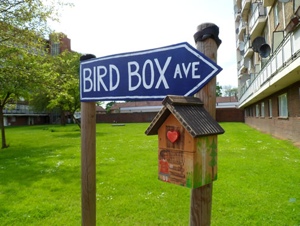 1st -16th September 2012
In two weeks professional, emerging and amateur artists all over Walthamstow, North East London, will be opening their doors for the E17 Art Trail.
Homes, studios, galleries, cafes, shops – anywhere with some space – will be filled by artists exhibitions and installations. A diverse and immersive arts menu serves up theatre, talks, tours, new writing, recitals, sound, comedy and sights to surprise us on the streets. A unique and exciting 16 days of art and culture in a community that already has so much charm to offer. Visitors will be delighted by the newly refurbished William Morris Gallery and shoppers indulged in the renovated Wood Street Indoor Market. As you explore the trail, you won't just find art, art will find you too: get your portrait drawn by a 'Magnificent Magical Drawing Machine', or in 'Pop-Up Paris Portraiture', find a slice of Parisian bohemia on the streets of E17.
Collect from 'The Bank of Walthamstow', limited edition local currency; or double take at a human figure in the distance – one of 6 life size sculptures waiting around Walthamstow. There are even trails within the trail; read, listen and interact with words on the Walthamstow Poetry Trail and discover screens showing shorts from Walthamstow International Film Festival. After spending a day around the trail, enjoy your evenings too with live arts in the Vestry House Museum garden, acoustic dance music performed in living rooms, Serbian fairy tales in Walthamstow Library, dine in a pop up restuarant and cafe, snack on indian street food and welcome the dawn with a sitar serenade.
The art doesn't stop! A giant Pass the Parcel through Walthamstow Market launches the E17 Art Trail at midday on Saturday 1st September and a host of other events are planned to get you started. Join us to cut the ribbon on two weeks of delightful, thoughtful, surreal, challenging and entertaining art.
"This year's E17 Art Trail theme is 'bestow' and once more we are overwhelmed by the creativity and innovation that is being shared in our borough. This means that, as a community of artists of all backgrounds and experience, we have collectively created an enormously rich and varied programme for our festival. There are almost too many highlights to mention, and we are looking forward to many surprises and discoveries along the way" —Laura Kerry, Festival Coordinator
The full programme and event listings can be found on the festival website, you can download a phone app or pick up the Trail Guide from Waltham Forest libraries and participating venues.
www.e17arttrail.co.uk
Categories
Tags